A Capital Love Affair (Part 2)
Love it or loathe it, you'll have probably noticed an abundance of red hearts have started to appear to remind us all that Valentine's Day is fast approaching. With the help of some of our reviewers, we've compiled a wish list of places that we'd like to go and things we'd like to see... Here's the second part of our London lowdown...
If you are looking for a romantic stroll this Valentine's Day then the Millenium Bridge is one of our favourites for some stunning & easily accessible views of the London skyline, this can then be combined with a visit to the Tate Modern which is open until 10pm on Fridays & Saturdays. Featuring concessionary admission for special exhibitions and free carer's entrance (general admission is free), the Tate Modern also provides Audioguides, Touch Tours and BSL Multimedia Guides. Disabled parking spaces, wheelchairs and mobility scooters are also available but must be booked in advance.
For the animal lover in your life look no further than London Zoo's Adopt An Animal scheme. Costing £35 (or £40 if you choose the option that comes with your own cuddly miniature) you can choose from characters such as Thug the Pygmy Hippo, Pipsqueak the Meerkat and Savannah the Giraffe. Animals are based at both London Zoo and Whipsnade Zoo and include admission to the zoo to see your furry friend up close.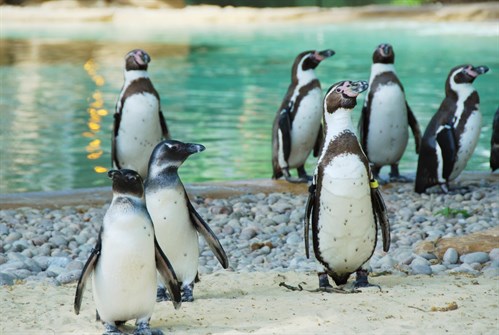 The Merchants of Bollywood is one of our more colourful suggestions brought to London by Sadler's Wells. Glamour and glitter are promised as part of this dance extravaganza which has been seen by over 2 million people worldwide. Sadler's Wells operate a free to join Access Scheme that will keep you up to date with what's on and members of the scheme may also be entitled to a reduction on the cost of your ticket. Or how about visiting the London Coliseum for the English National Opera performance of Verdi's Rigoletto? The ENO's Access Scheme entitles people with a disability to purchase tickets at a discount and priority booking. On registering, you will also have the option to receive information in number of accessible formats including CD, large print and braille.
If you feel like serenading your loved one then how about the Lucky Voice Karaoke Bar? We've heard good things about the Islington venue - the rooms are all on the ground floor and there is an accessible loo but we haven't had any reviews for Lucky Voice or any other Karaoke Bars in London, so if you've visited one that you can recommend then please let us know! If you can't make it in person there is the option to treat your loved one to a song in the comfort of your own home with a subscription to Lucky Voice online karaoke.
Tell us what you're up to this Valentine's Day & recommend your romantic favourites!
Locations: London