Accessible Tourism Conference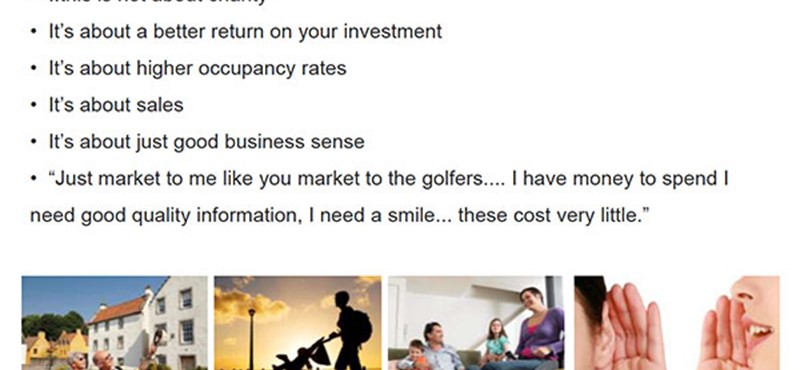 Well well well… what an interesting day! We were at today's Accessible Tourism Conference which was held as part of Scottish Tourism Week.
It was great to have the statistics there in black & white… Here's what VisitScotland says:
The accessible market is a growing and lucrative one. Currently 11 million people in the UK are disabled – that's 16% of the population. In our most recent Scotland Visitor Survey results, it was revealed that almost a third (32%) of Scotland's visitors over 2011 – 2012 were over 55 years old and 31% of UK visitors travelled with their children.
With the value of Accessible Tourism being estimated at around £325m per annum, VisitScotland is encouraging tourism businesses to tap into the market to benefit from better return on investment, higher occupancy rates, and a loyal and returning customer base.
But mainly it was great to feel the positivity during the day with everyone realising how things can be improved for the accessible audience and the fact that it makes good business sense too.
It was really frustrating not to be able to tell people about what we're up to as Euan's Guide could be such an integral part to some of the activities and services that were being talked about. We did however make a few contacts who we'll certainly be getting in touch with soon to introduce Euan's Guide properly.
The day's timetable was:
Welcome and introduction Mike Cantlay, Chairman, VisitScotland
Shona Robison MSP, Minister for Commonwealth Games and Sport
Scotland welcomes the World Mike Cantlay, Chairman, VisitScotland
The business case for accessible tourism Chris McCoy, Equality & Diversity Manager
Thinking differently about accessibility Caroline Casey, Founder, Kanchi
Educational breakout sessions:
A – Accessible customer care tips - Ian McNeil, Capability Scotland, Philip Biggs, Hearing Dogs for Deaf People & Bela Gor, Legal Director, Business Disability Forum
B – Best Practice case studies – learning from others - Elspeth Grant, Cairngorms National Park, Miranda Geoghegan, Forestry Commission & Elaine Hamilton, Dundream
C – Improving customer information - Chris Veitch, European Network for Accessible Tourism
Glasgow Commonwealth 2014 David Grevemberg, CEO, Glasgow 2014 Commonwealth Games
All the speakers and sessions were great and we learnt lots! Things we really liked & think will be very relevant to Euan's Guide included:
Chris McCoy, Equality & Diversity Manager, VisitScotland
As well as expanding on the statistics above, Chris gave a great insight into the steps that VisitScotland were taking to encourage Accessible Tourism. She also stressed the business case for Accessible Tourism – effectively advocating that businesses can't afford NOT to cater for the growing accessible market.
One of our aims is for visitors with accessible needs travelling to Glasgow for the 2014 games to be using the site – both for researching and submitting reviews. David talked about making sure the Games will be inclusive and their legacy the three key aims of "Attitude, Information & Access" we feel this will fit together very nicely!
Caroline Casey, Founder of not-for-profit organisation Kanchi - 

Caroline gave an amazingly inspirational talk referring to her own past experiences and what she currently does. She has so much enthusiasm & passion – we're really looking forward to introducing the Euan's guide concept to her shortly!
Chris Veitch, European Network for Accessible Tourism
"If you've got it, flaunt it!" It's no use having fantastic accessible facilities if you don't tell people about them.
"Access statements = marketing opportunities" They are another opportunity to communicate and show your audience that you're willing to go the extra mile
"Win, win, win" Accessible tourism should be seen as beneficial for businesses & destinations as well as visitors
Thanks all for a really informative day & we look forward to speaking to you all soon!