Celebrating Burns Night
On January 25th every year, there's a celebration of the life and poetry of Scottish poet Robert Burns. Suppers are held to commemorate the poet's birthday with a serving of traditional haggis, neaps and tatties, some cranachan for dessert and the dram of whisky to finish the evening! We've listed some events below that are taking place in Scotland and virtually to get involved with on Burns Night.
Scotch Whisky Experience, Edinburgh
As it's Burns Night, you might as well find out more about the 'water of life' – malt whisky! Take the accessible tour of the Scotch Whisky Experience, which is situated on the Royal Mile just next to Edinburgh Castle. Learn about the heritage of whisky, the distilling process and the different tastes and notes that might invigorate your tastebuds to commence your whisky journey. Visit the shop to grab a bottle to drink at your leisure too!
And if you want a traditional Burns Night meal then the Amber Restaurant at the Scotch Whisky Experience could be just the ticket! Their 'Burns Supper' menu will explore a range of Scottish classics, including Balmoral chicken with a turnip fondant, cranachan and a tower of haggis, neaps and tatties with a generous dousing of whisky sauce. And of course, this will be concluded with a specially selected whisky for the occasion.
Read reviews of the Scotch Whisky Experience and the Amber Restaurant on Euan's Guide. Visit the Scotch Whisky Experience website to find out more about their Burns Night festivities!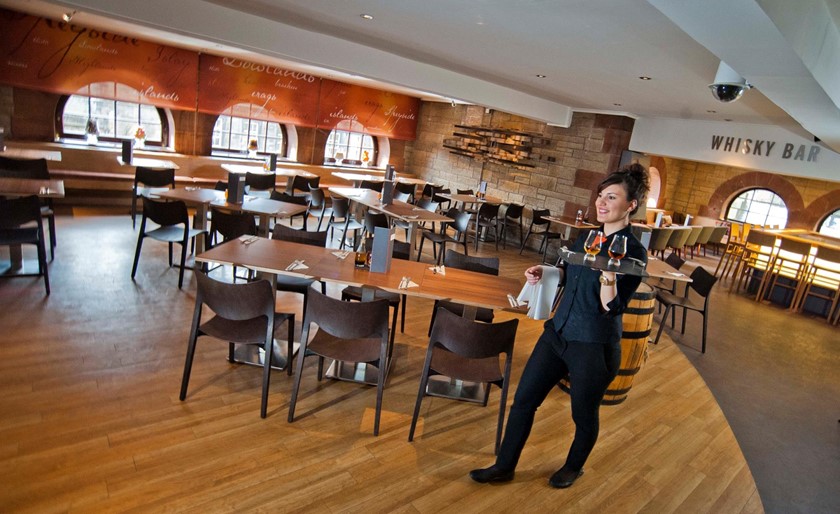 Photo of: Whisky being carried to a table.
Òran Mór, Glasgow
Enjoy a traditional Scottish celebration in Glasgow at an arts and entertainment venue that was formerly the Kelvinside Parish Church. Òran Mór, Gaelic for 'great melody of life' or 'big song', hosts the ultimate Burns Night celebration. Upon arrival a welcome dram awaits, a traditional three-course meal will follow – with the obligatory haggis dish, of course – including an evening of Scottish music from Dave Anderson and some friends.
When AlisonBannister visited the venue for a meal and gig, she said the venue "have made a good effort at making this old building accessible, the surroundings plus the helpful attitude make for a relaxed out."
The venue also hosts concerts during Celtic Connections, the annual, folk, roots and world music festival that showcases live music, ceilidhs, talks, art exhibitions, workshops and free events – and Rabbie Burns celebrations, of course! You might also want to explore the list of concerts that will take place between 20th January to 6th February.
Read more about Òran Mór on Euan's Guide and check out how you can enjoy their Burns Night on the Òran Mór website! 
Contini, Edinburgh
You could take a visit to Contini and sample their Burns Supper with a ceilidh, or you could just do it all at home. Their 'Burns at Home' kit can be delivered to residents in Edinburgh and the surrounding areas in a taxi or you can pick up your order from their George Street restaurant, which has a couple of reviews on Euan's Guide! 
Choose from three or four courses with an option to add some wine and a wee dram too. Sample Contini's homemade focaccia or some locally sourced smoked salmon before moving to the haggis, neaps and tatties. Finish off with some cranachan and stick on Contini's Burns Supper playlist to get into the spirit of Burns Night!
If you're able to attend in-person, you'll enjoy a traditional Burns Supper with the addition of a traditional piper and an address to the haggis. The carouse at Contini's also features some live music. Find out more about their Burns Supper event.

Photo of: The exterior of Contini, where you could be picking up your Burns at Home supper.
Royal Yacht Britannia, Edinburgh
Our reviewer clairedall once described Royal Yacht Britannia as the "accessible museum on water." Well, you could have a Burns Supper aboard the floating Royal residence.
Over two dates, you could sample a five-course Burns Supper in their most luxury dining room with cuisine prepared and cooked by some of Scotland's finest chefs. Traditional Scottish music will be played throughout with the obligatory piper – and of course, an address to the haggis and a round of whisky tasting.
Find out how you can get involved with the Burns Supper at Royal Yacht Britannia and check the handful of reviews on Euan's Guide!
Big Burns Supper, online
If you're choosing to celebrate at home this year, Big Burns Supper has decided to go virtual this year instead of running its usual festivities in the South of Scotland. Online events will include an immersive murder mystery, spoken word and poetry, and the main event itself – Eddi Reader's Big Burns Supper. The singer will be joined by a range of comedians and TV personalities, including former captain of Glasgow wheelchair basketball team Mark Dougan. Expect performances, entertainment and some interviews, with KT Tunstall on the other side of the world getting involved too.
These events are free, so combine them with a Contini 'Burns at Home' kit and it could be the perfect evening. Find out more about Big Burns Supper events.
What are you doing for Burns Night this year? Let us know by tagging us in on social media @EuansGuide or tell us in the comments section!