Covid Confident Tips and Tricks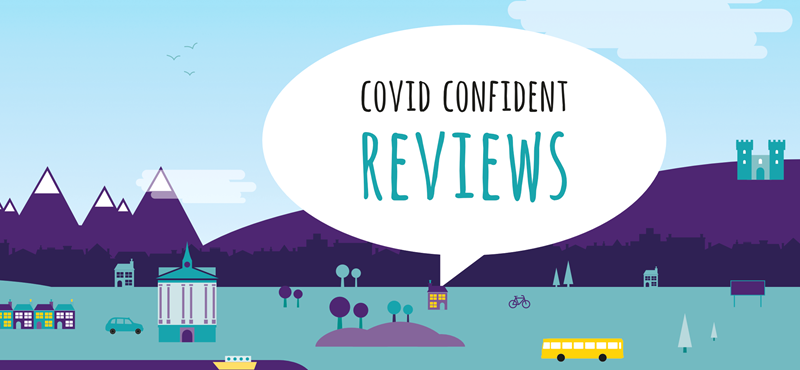 In the first part of a new series of blogs we will be looking at some of the best and most useful tips and tricks that you have shared in your reviews about how to stay Covid Confident when out and about. The reviews that I have selected for this blog are only a small selection of some of the fantastic Covid confident reviews that are available on Euan's Guide. In this particular blog, I have chosen to focus on reviews which were written between June and September 2021.
Track and Trace to stay safe
Many of our reviewers mention in the reviews the benefits of being able to login to or sign into a venue to give details of the date and time of when you were there. Reviewer kscott7 highlights the advantage of the system in his review of the Kilted Donut based in Edinburgh.
Kieran's visit to The Kilted Donut
Another helpful feature of visiting restaurants is that many still do home delivery if you don't feel confident yet about going out to the venue itself. For many restaurants and cafes people can now also order before they arrive via an app or order from their table which is an easier process for a lot of disabled people.
Another excellent Covid Confident review came from inewansworld. This reviewer spoke about taking their brother out for something to eat for the first time since lockdown who had been shielding and the importance of him feeling Covid safe. "There were hand sanitisers on the wall outside and just inside the doors by the touch screen and because there wasn't anyone else in there (even staff) it felt very Covid safe for my brother who has been shielding so very much enjoyed the opportunity to see somewhere new."
Venue layout and organisation
A key feature of many Covid confident reviews is that people feel more comfortable and safe when the venue is well organised and spacious. Karine1985 talks about how the space and layout of the Saint James' Quarter Shopping Centre helped her to feel Covid Safe. "I am very impressed with the wide spaces and loads of roomy lifts to take you between levels. Staff are out wiping surfaces clean so felt Covid safe. The centre is open at each side so very airy. The accessible toilet worked for me: it is spacious and clean. They even have a Changing Places Toilet."
Positive staff attitudes and willingness to help
Several reviewers have spoken about how the help of staff has been vital in helping them to navigate around large venues for the first time since lockdown in a calm and reassuring way. Someone taking a few extra minutes to help can make all the difference to the visitor experience. GaryS tells us about the help staff gave him to navigate the one-way system and find the quickest way back to his car when he attended his Covid vaccination in the Younger building in Edinburgh.
"The staff directed me all the way. At all times I felt safe and at ease. They took me to the side so I wasn't waiting in the queue and brought me forward once the person that was ahead of me got taken. 
"As it had a one way system going on,  it was easier for me to access the car via the entrance door so security stopped everyone coming in and took me out the entrance to make it easier than going out the usual way and having to go all the way around the building to get to my car. Excellent service from start to finish."
Gary visits The Younger Building
Specific arrival and departure times
Having specific times to visit and leave a venue help to ensure but not too many people arrive and leave at once. SarahMarieMather emphasises the importance of individual arrival and departure times when she got her vaccination at Edinburgh International Conference Centre. "The security on the door are ensuring that only people getting the vaccine that day are allowed in."
Sarah's trip to get her Vaccine
Face coverings and hand sanitiser
An excellent review which highlights the importance of wearing masks and the helpfulness of staff came from Laurabee when she went out for a birthday meal with her family. "All staff wore masks and/or face visors. There is also the option to order and pay at the table via an app if you want to cut down on contact. While the restaurant was busy even on a Thursday evening, the tables were well spaced and we never felt crowded or unsafe."
Outdoor venues, places and spaces
Several reviewers have spoken about feeling more comfortable socialising with others outdoors where there is more space for social distancing. whilst everyone can still enjoy the atmosphere of an outdoor venue. KayFerg0ne tells us about how good it feels to be outside and have plenty of space rolling on wider pathways in Saughton Park.
"I visited the park with some friends recently, and actually went back the next day solo as I felt extremely safe and happy with the access and environment."
Kayleigh's review of Saughton Park
Covid Precautions at outdoor music events
As lockdown began to ease the warmer summer months saw the reintroduction of some outdoor music events where everyone could come together again while still maintaining Covid precautions Starling14 sent us a fantastic review of her experience of 'Beats without Borders' an event held in Inverness after shielding for so many months. It sounds like Karis had a fantastic time with her friends and family!
"The Track and Trace System was still in place when I visited and there were hand sanitising stations and a one-way system into the building itself. Tables were distanced and capacity was controlled. Obviously dancing always has an element of Covid risk but as this area was outdoors in open air, I never felt in danger; I felt Eden Court did all that they could to balance everyone's health and enjoyment. I have to give a special mention to Karawane who were brilliant too and made me feel part of the crowd and included and truly represented 'DJs without borders' both in music and in community; thank you Karawane!"
I hope you have found the tips and tricks shared within this blog helpful. Thank you very much to all the reviewers who continue to share your fantastic Covid confident reviews There are measures and assistance in place at many venues, places and spaces to help disabled people, their friends and family get used to gradually going out and about again. We do understand at Euan's Guide that for many people the risk of venturing back out again is still too great and that's completely understandable. We want to share these reviews with you to give you the knowledge and understanding of what help and precautions are in place when you do feel ready to take the first step.
If you have a Covid Confident review that you would like to share then we would love to hear from you. Also if you have a suggestion of something a venue could do to help you or your family feel safer when you're out and about then please do let us know. You can contact us by emailing hello@euansguide.com
Written by

Zoe Maclean

, Volunteer Coordinator