Essential Accessible Toilet Info for Venues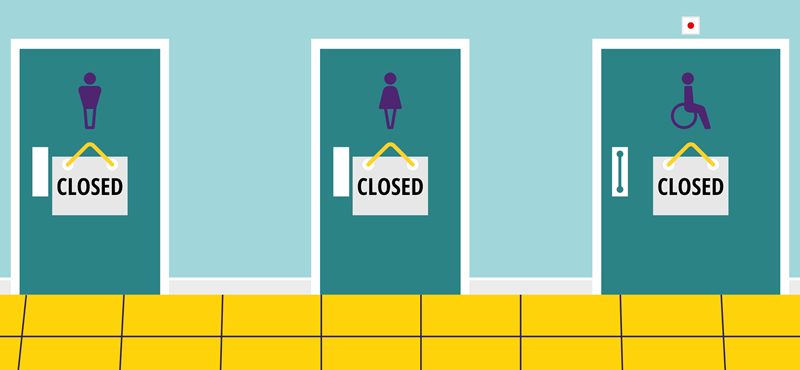 Accessible toilets, often called disabled toilets, come in all different shapes and sizes but sometimes disabled people are faced with the same issue time and time again. With World Toilet Day approaching this week, here are a few tips that might help your venue improve its accessible toilet.
Red emergency cords
A topic close to our hearts! Euan's Guide help make tens of thousands of accessible toilets safer with our Red Cord Cards.
Order some Red Cord Cards here
It's extremely important that your red emergency cord is untangled and hangs freely to the floor. How can you make sure it stays like this?
Our Red Cord Cards raise awareness of red cords not being tied up, cut short, out of reach or missing entirely. They are pocket-sized notices that easily attach onto a red emergency cord. The card reads: "This red emergency cord must hang freely to the floor. If it does not, it may prevent a disabled person from asking for help."
Many reviewers on Euan's Guide lower their ratings of venues that have tied up or improper red emergency cords. Some people regularly tag us on social media with two pictures: one demonstrating how a venue might have wrongly presented their red cord, and another with a new Red Cord Card attached onto the red cord to inform a venue not to repeat the same mistake.
You also might want to check that the red emergency cord works properly, so here are some top tips:
Red emergency cords should be easily identifiable and usually red in colour
Each cord has two red bangles attached to aid the person easily pulling the alarm cord
One of the bangles should be reachable from the floor and close to the WC
Visual and audible indicators should alert people that the alarm has been triggered
A means of resetting the alarm should be within the accessible toilet and easily reachable
The alarm signal to warn staff that someone needs help should be located in a suitable location and staff trained in how to respond.
We suggest you test your red emergency cord often and ensure everything in the above criteria is met. But there's also the situation of how staff respond to the alarm in the event of an emergency:
Staff should respond to the alarm as quickly as possible.
On approaching the WC the staff member should first knock on the door to check if the person inside is responding and, if so, if assistance is still required. 
Staff should try asking if it is safe for them to open the door.
The staff member should then open the door. This will likely require opening the door from the outside when it has been locked on the inside, so staff should have been shown how to safely do this. 
As someone is responding to the situation, staff can turn off the alarm if it is safe to do so.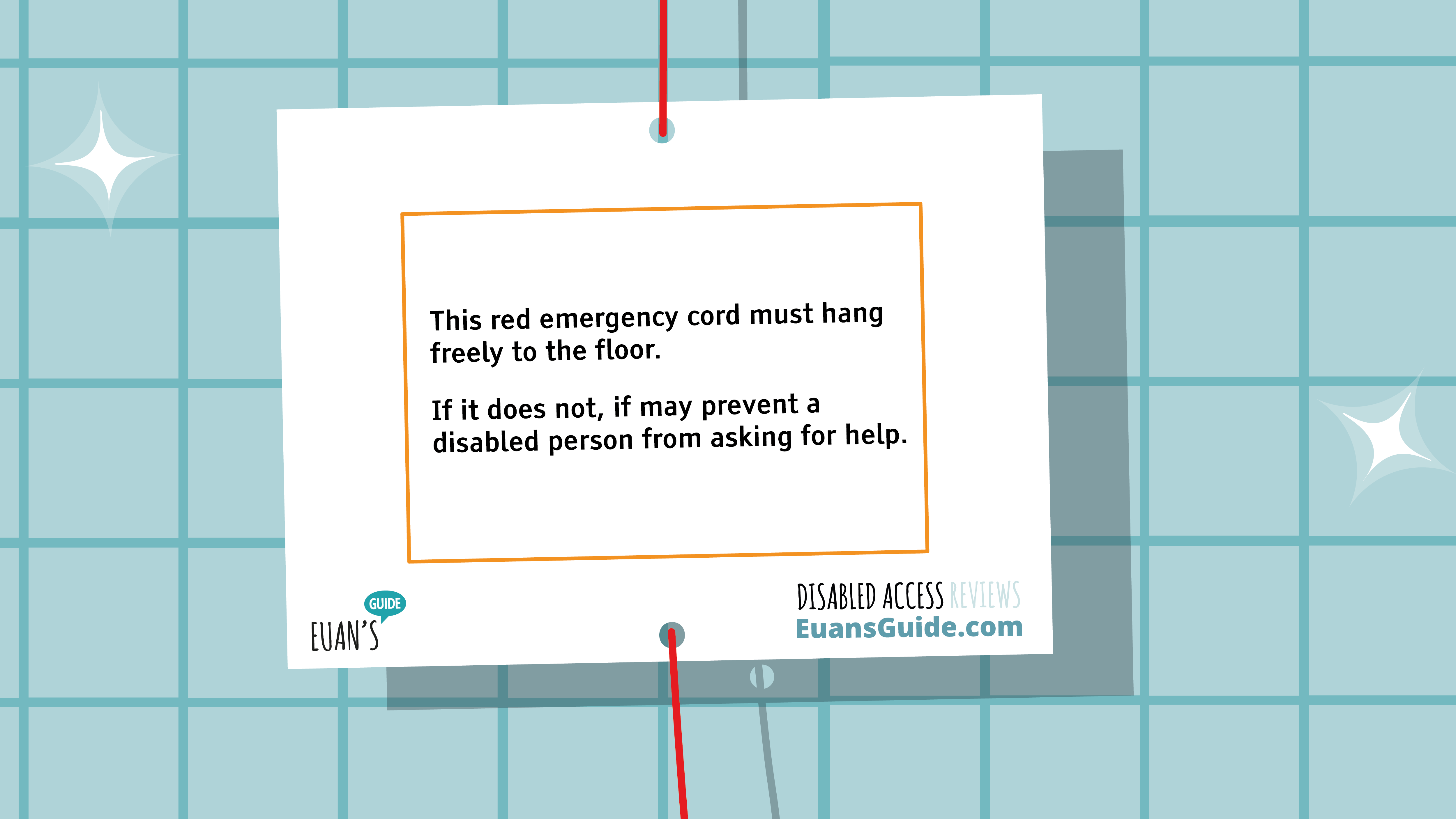 Photo of: A Red Cord Card dangling on a red emergency cord.
We regularly get asked about how to improve accessible toilets and the following tips are often mentioned by our users:
Toilet height and flush
Toilets in accessible loos are normally positioned higher than standard toilets to make them roughly even in height with wheelchairs so transferring can be as easy as possible. Your venue might want to consider the flush being on the side nearest to the transfer space, for people to easily flush the toilet while in a seated position in the wheelchair where their transfer space is.
Grab rails
These are essential to help many people maintain balance when standing or transferring from a wheelchair to the toilet. Occasionally grab rails can be unsteady and not attached properly, making them rickety, but crucially they must be easily adjustable. This means they must be secure but easy to raise or lower when sitting down, yet raised when leaving or after cleaning.
Space (and no clutter!)
Usually for accessible loos it's the bigger, the better. Reviewers on Euan's Guide often speak about how much space they had to move around, how wide the door was, if the door was heavy and whether it opened inwards or outwards. An outward door is better as there is more room inside the toilet and nobody is likely to get trapped.
Make sure your accessible toilet is clean and tidy. This is something else our reviewers mention when visiting accessible toilets at venues. Loos are sometimes used as a storage cupboard, which can cause several obstructions. Items our reviewers have come across have included traffic cones, bikes and clothing.
Transfer space
Accessible toilets have a transfer space, left or right, to enable wheelchair users to move and align with the toilet, use the grab rails and move onto the toilet. Changing Places Toilets have transfer spaces on both sides of the toilet. 
It is important to keep the transfer space clear of bins and other items. Random obstructions in a transfer space can instantly undo all your good work. If wheelchair users cannot get close enough to transfer in the way that works for them then your toilet changes from being accessible to just being a toilet. You might think that popping a bin against the wall isn't going to be a problem but if a wheelchair cannot reverse into the space and right up to the rear wall then transfer becomes much more difficult and dangerous.
Sinks and bins
Make sure the sink is positioned close to the toilet and that they are fitted at a height that allows a wheelchair user to position their legs beneath. They are also near the loo as often people need to wash their hands before using the toilet or moving. You will want the soap dispenser within reach and easy to use. That includes having paper towels right next to the sink with a disposal bin not obstructing the space underneath the sink but conveniently to one side of the sink away from the toilet.
What else should you consider?
You might want to consider a mirror big or long enough for somebody standing or sitting, with an easy reach shelf nearby for people to put their items or essential equipment on while using the facilities.
Coat hooks are normally high up on the door, but it's a good idea to have a second one lower down that can be reached from a seated position.
Good clear signage and making sure there is a clear path to the toilet door are also important. More venues are starting to use signage that represents invisible disabilities too. Grace's Sign is a good example of this.
RADAR Key
Implement a RADAR Key system so that it can keep your accessible toilet locked at all times and prevent people from using it when they shouldn't. Most disabled people will carry their own key, but make sure your venue has a spare key in case somebody has forgotten theirs!
Changing Places Toilets
Changing Places Toilets are provided in addition to standard accessible toilets. They are traditionally fitted with the following equipment: a height-adjustable changing bench; an overhead track or mobile hoist; a peninsular toilet; privacy screen; and ample space for up to two carers.
Discover all the venues listed on Euan's Guide that have Changing Places Toilets, or read through some of our favourite Changing Places Toilets.
We hope all this information will help you improve your accessible loo. Start listing your venue on Euan's Guide today and check out some our top tips for your listed venue on Euan's Guide.