Glasgow Student Hangouts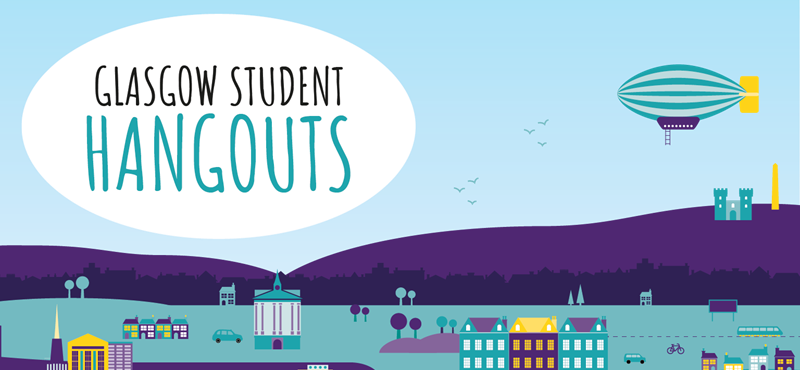 Student life for everyone usually involves a lot of studying, but we can't forget socialising. Planning can be the most stressful part of any day out, especially if you're a student in a busy city with not a clue of what to do. It's good to take breaks and make some lifelong memories – from finding those picturesque locations to sourcing the best coffee. 
In the final instalment of our Student Hangout series, we explore the many things to do in Glasgow. Here are some Euan's Guide reviews to prove it.
Saint Luke's provides live entertainment to keep you hooked. They offer a little bit of everything with arts, comedy, music, and theatre – whether that be a performance from Brighton rock band Black Honey or enjoying the American alternative pop band The Aces. To keep track of what entertainment is on the horizon, click here.
It's a great location for celebrating yourself getting through the student week. Before you dance around the gig venue, The Winged Ox will serve you food seven days a week to warm your soul with the likes of burgers and chicken wings. The eclectic menu goes further, with cheeseburger spring rolls and their famous boneless angel wings.
It's a trendy space with a lot of energy, making it perfect for student socials. There's enjoyable entertainment and accessible features, alongside the top-notch food.
Reviewer Pavement_boy rated the accessibility: "The entrance is good if you use the glass side door, there is an electric lift up to the hall, otherwise there are three shallow steps up to the hall."
Organise your visit beforehand by checking out the venue's website, but you might want to choose your food before you even leave the house and get that appetite rolling. The venue has their lovely 'Dog of the Week' posts too.
Check out their listing on Euan's Guide!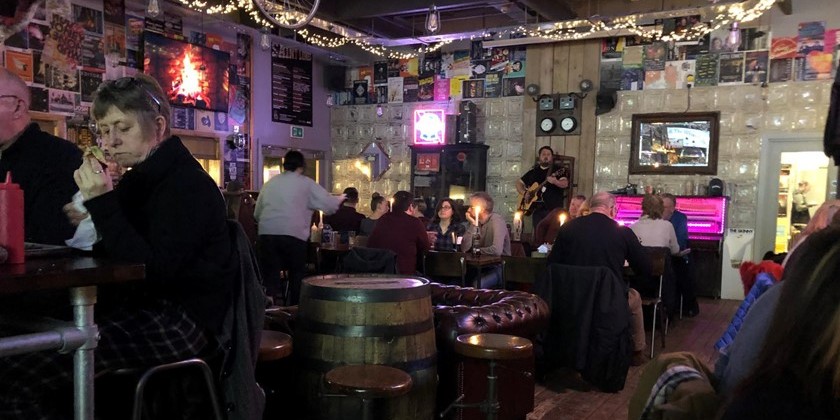 Photo of: People embracing live music at Saint Luke's and The Winged Ox while eating food.
Of course, we should start with one of Scotland's most visited attractions: the Kelvingrove Art Gallery and Museum. Glasgow Life is a charitable organisation that thrives on achieving cultural, sporting and learning activities on behalf of the Glasgow City Council. It makes for an insightful experience for students, with community activities such as the Word Factory Writers' Group. Or naturally, you can have a nose at the museum collections, such as the Avant Armour then dive right into the Natural History collection.
On his visit, DrDonald enjoyed a weekend outing at Kelvingrove Art Gallery and Museum with good accessibility: "Entrance is absolutely fine, the lift is a little tight, but manageable with a couple of friends as well."
Craig71 also agreed on the venue's accessibility on his visit: "Amazing place to spend the day. Plenty of space among exhibits to manoeuvre scooter, apart from one exhibit and that's Dali's Christ of Saint John of the Cross (though you can see it fine)."
Both reviewers praised the warm and welcoming reception from staff. With plenty of exhibitions and workshops to enlighten you, your day will be packed with activities. It is Covid Confident and there are plenty of toilets in the venue that are well signposted.
Afternoon tea anyone? For a more relaxed approach at a catch-up, you can eat in the historic Mackintosh at the Willow tearooms. After you've had your fill of delicious cakes and tea, you can visit their new interactive visitor centre and browse their retail store.
If you're less interested in those features, why don't you and your friends take a cocktail masterclass? You'll be the hit of student socials all year round. Whether you decide to go for the 'Shake and Share Masterclass' or the 'Time For Gin Masterclass', it's a sure way to shake up your day.
EMacleod said it was a beautiful place to have an excellent afternoon tea, while being accessible: "There are no steps into the tea rooms and there is a ramp into the shop are then a ramp into the tea rooms."
Forever keeping things fresh, the venue has a menu for everyone. You can go for afternoon tea, or you can class it up even more by enjoying the roof terrace menu. You can find out what you're going to eat by viewing the menu here.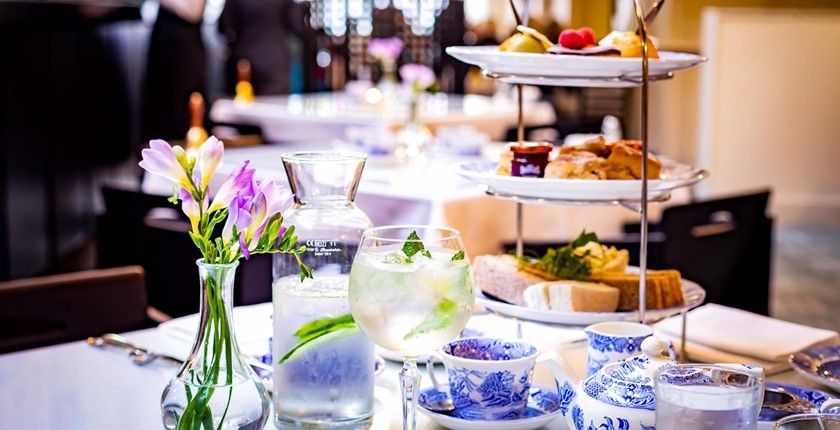 Photo of: The afternoon tea at Mackintosh at the Willow.
If you want to explore the nightlife, try out The Dockyard Social. It's a street food warehouse that has been highly reviewed by Kempster66 numerous times with some of the best grub in Glasgow.
This is a social dining experience that would be gutting to miss out on. The former pop-up venue is now permanent, offering you "a true taste of global comfort food." And they do not slack when it comes to their offerings, from traditional Thai to authentic Southern American. They've got all the treats for your tastebuds.
Kempster66 thoroughly enjoyed the easily accessible social spot, highly applauding the staff: "What makes it special to me is that I am treated like family and nothing about my disability is an issue. They see me, not the chair."
You might want to keep up-to-date with what The Dockyard Social are offering on a weekly basis by checking their website. Everyone is welcome – and you can bring your dog too! Pop by and sip on a lush watermelon daiquiri to some old school hits. It has everything to make your night memorable.
It's a must-see visitor attraction and there are many activities to make the hours breeze by, proving you are never too old to be amazed. After all, the Glasgow Science Centre is a space where you can embrace wonder.
And you can achieve that by enjoying otherworldly experiences in The Planetarium. This is a stunning state-of-the-art, full-dome digital projection system: go get lost in the stars. Or you can tease your mind by visiting the 'A Question of Perception' exhibition that tricks your eyes with intriguing illusions and stimulates your senses.
JonWatkins appreciated the accessibility of the venue: "In both the theatre and planetarium there were a good number of wheelchair spaces with regular seats next to them on the back row so both shows were easy to watch." Not to mention this venue has accessible toilets on each floor.
Finish off your day with a bite to eat at The Taste Café, where you can munch on anything from a fresh panini to pizza. You can take a look at the menu here to decide what you want to feast on before arriving.
The Glasgow Science Centre is one of those places to visit perhaps on a rainy day or when you're looking to explore the wonders of science. If you visit their website, you will find lots of things to explore – from lectures to exhibits inspired by the band Pink Floyd.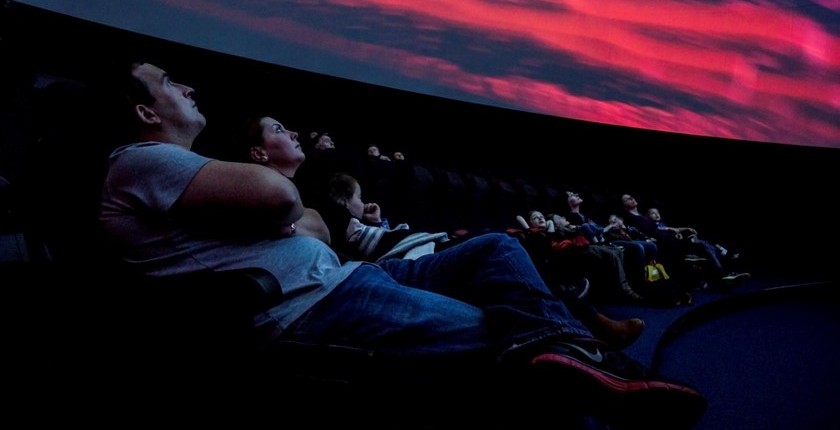 Photo of: The Planetarium at Glasgow Science Centre.
Adventures can be accessible for everyone and being a student can be stressful. If you need an accessible and fun-filled day out, you can plan out your day and find great places to go on Euan's Guide. Have you been to any of the venues above or know of accessible student hangouts in Glasgow? Write a review today.
| | |
| --- | --- |
| | Written by Iman Mackenzie, Communications Intern |
Locations: Glasgow