Meet the Team: Abby
As you might expect from our Communications Manager, Abby is an expert in talking about Euan's Guide! She loves to shout about reviews that come in and share content that our users will find useful and interesting. Abby is always on the lookout for opportunities to let more people know about our review website and the projects we work on, including our annual Access Survey and our lifesaving Red Cord Cards.  We had a chat with Abby whilst she is working from home.
What have you been up to recently?
I've spent my extra time at home trying new recipes. So far, I've baked the classic banana bread, some fruit scones and maple and pecan muffins. All three were great as I was able to use ingredients I had lying around. As well as baking, I've been doing a bit of embroidery, I do like doing crafts, but it is something I usually dip in and out of, so it is quite nice to be able to work on projects without many of the usual distractions. 
We've been working from home recently, are you enjoying it or do you prefer the office?
I have experienced working from home in the past and so I do know that sometimes it can be really productive for allowing you to get on with tasks that need your full concertation without the noise of an office environment. However, in the past I didn't have the distraction of working alongside my partner and our cat (the latter quite likes to make a brief appearance on our video calls!).
I think the answer is mixed, I do miss lots about working in the office, particularly being able to see everyone, hear how they are doing and share ideas easily. I also miss being able to meet people outside the organisation and hear about what they are doing or talk to them about Euan's Guide. However, I do think that part of me will miss the ease and convenience of being able to work from home. The great thing is that we do have the option to work from home so there is the potential to mix it up and get the best of both worlds.
What do you miss most about getting out and about?
I definitely miss spending time with friends and family the most. Just chatting and catching up. We are still talking on the phone, messaging each other and doing the odd video call but it just isn't the same as being together in the same room. I also love to eat out, so I'm missing not being able to go to restaurants and cafes for food and sweet treats. A fresh cinnamon bun, lemon sorbet and a gooey caramel brownie are definitely near the top of my wish list right now.
How long have you been working at Euan's Guide and where did you hear about it?
I started working for Euan's Guide a year ago. The first time I heard about Euan's Guide was actually when the tourist attraction I was working for was featured in one of Euan's Guide's Accessible Highlights guides. Later I was involved in a project to update the exhibitions inside the attraction and we tried to ensure that everything that went into the new exhibitions was more accessible than what had been there before. The more I became interested in accessibility the more I would come across Euan's Guide! I really liked the fact that the website was all about disabled people leaving reviews and sharing their experiences to help other disabled people find new places to visit.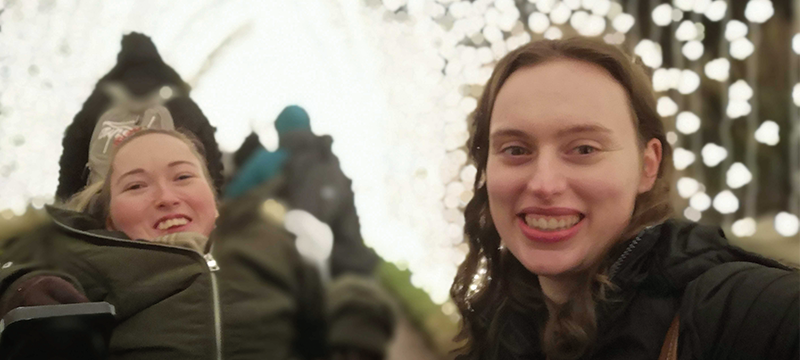 What does a typical day as Communications Manager look like?
I work on content for the website, manage our social media channels, help create any new marketing materials and work on our campaigns and other projects. I usually start my week by checking emails and making a to do list of everything I want to accomplish that week. I'll then spend some time working on content for the website, or for social media. I could then move on to working on a media release or putting together a strategy and tactics for a specific campaign to help us reach a wider audience. I also do a fair bit of analytics, from analysing our website stats through to analysing the results of the latest access survey. I'll spend time catching up with the team and seeing how I can assist them and speaking to people outside the organisation on ways we can work together. 
Euan's Guide has a strong following which is getting bigger every day. Can you share some tips on how to gain an audience
Post regularly on your platform(s) of choice. Maintaining an active social media presence can take a lot more time than you might expect, so if it is brand new to you I'd definitely suggest starting with one platform and then only taking on other platforms once you know you have the time to manage it.
Put out content people want to see. People like people's stories so make sure you keep it authentic to you, but you will quickly see if people prefer pictures of your immaculately presented baked goods or your face covered in flour, perhaps they'll like a mix of both!
Connect with others! Social media is really about connecting, so don't be afraid to join conversations, respond to messages and see what comes out of it.
What is your favourite thing about Euan's Guide?
"The customer is always right." A phrase I'm sure we're all very familiar with, but one that Euan's Guide puts in practice with great results. What makes Euan's Guide so powerful are all the reviews left by disabled people and those closest to them. These disabled access reviews give other people the confidence to visit and also give valuable feedback to venues on how they could improve their accessibility. 
Do you have a favourite accessible venue?
One of my favourite venues is the National Museum of Scotland, I probably go there about once every six months and every time I go, I discover something I missed the last time I visited. They have shown how an old building can be made accessible, thanks at least in part to their level entrance, lifts, Changing Places toilet and sensory backpacks. 
Do you have any goals for the next year or two?
A personal goal of mine is to see more of the UK. I like going on day trips, weekends away and little minibreaks to explore new places. As part of that I'd also like to visit more Scottish islands, I've loved all the ones I've visited so far, the only thing that has ever put me off is the boat trips – I'm not a big fan of travelling on boats and ferries!
Of course, I'll be following the government guidelines and not doing any travelling until it is safe to do so.
Want to talk to Abby or anyone else at Euan's Guide? Get in touch!
Meet the Euan's Guide team!