Silent Faces Theatre – Delighting audiences with modern clowns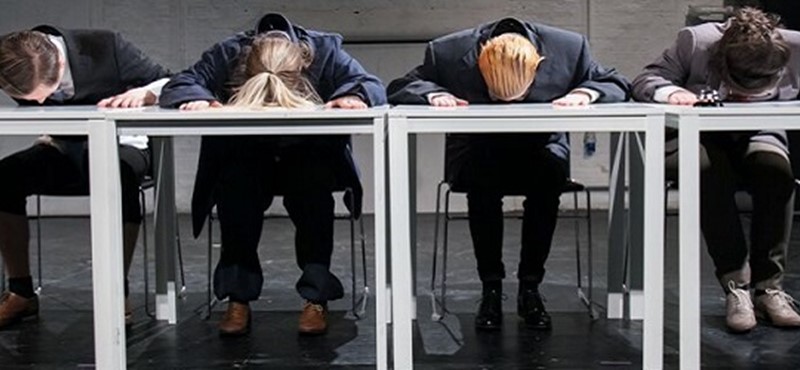 Silent Faces Theatre is an integrated company of disabled and non-disabled performers founded by three people with a 'love of clown'. Clowning and silent theatre are their forte, and their devised theatre piece 'Follow Suit' was nominated for Best Young Production at Brighton Fringe in 2016. Now, they're getting ready to perform in Edinburgh to shock and delight audiences at the world's largest arts festival, The Edinburgh Festival Fringe. Josie, a Silent Faces Theatre founder, told us a little more about the company and Follow Suit.
How many people work with Silent Faces Theatre and how did your troupe come together?
Silent Faces was founded by Josie Underwood, Cordelia Stevenson and Jay Wakely at Goldsmiths University in 2015. Brought together by a love of clown and desire to make politically engaged work, we went on to become Goldsmiths Associate Artists 2015/16, and started picking up other artists along the way. There are now 10 people working with the company, and many more friends and collaborators that we share our work with and take part in workshops that we run.

You say you explore 'the unique possibilities that arise from working with disabled and non-disabled performers'. Can you tell us a little bit more about this?
Working with clown allows us to build character and devise material based specifically on the people in the company. This means that the characters we create play to each performer's strengths, and embrace areas where performers may not be as physically able. We choreograph the work using the bodies of the performers we have, which rather than limiting the process often results in much more interesting movement, and gives us braver and better ideas. 'Follow Suit' is a very physical show, but we want to show audiences that the physical ability of each performer does not limit the quality of physical performance that they can produce, but will instead make the work more interesting, individual and unique.
We also work with artists that suffer with ill mental health, and we endeavour to create a space where the artists are not isolated, but instead are able to work as hard as everyone else within their own limitations. This challenges our process, not only as theatre makers, but as people, to be kind to one another and accept the fact that no one is feeling 100% all the time – and that's ok! We think it is totally possible to be kind and caring to one another without compromising the quality of the work!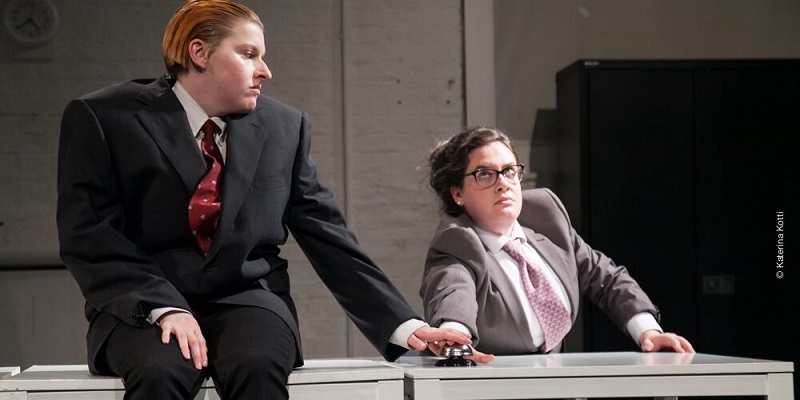 What's it like rehearsing devised theatre without the audience present to interact with you?
Difficult! There are few things more deflating than being a clown without an audience! That's why we like to have as big an audience (normally consisting of our very hard-working stage manager and the rest of the team who have seen the show hundreds of times!) when we rehearse, and when we can we invite other artists and friends along so that the performers have an audience to play with. Sometimes it's so difficult to know what is working without an audience and that's often the scariest thing when bringing the work to a new crowd, just having to hope that they get on board with the level of silliness in the show.
Your work is often described as 'political clowning'. What role do modern day clowns have on stage and how do audiences respond to them?
Modern audiences often don't know what to expect from a clown. In a theatre world where we are used to listening to dialogue, and understanding story through words, it is refreshing to communicate with an audience on a very different plain. We plummet the audience in at the deep end, dropping them into silence from the get go, and thankfully they usually decide to come with us! The politics within our work clashes purposely with the comedy that comes from the clown, and we love to embrace this with our audience.

Your debut Fringe show 'Follow Suit' interestingly has no use of language. What methods do you use to communicate with your audience?
Follow Suit communicates through movement and facial expression, and builds audience-performer relationships by totally ignoring any notion of a fourth wall. We keep the audience lit throughout the performance so that, not only can the audience see the performers, but the performers can see and interact with the audience. But don't worry, our office clowns are too busy trying to police the chaos in their workplace, so you won't be pulled up onstage!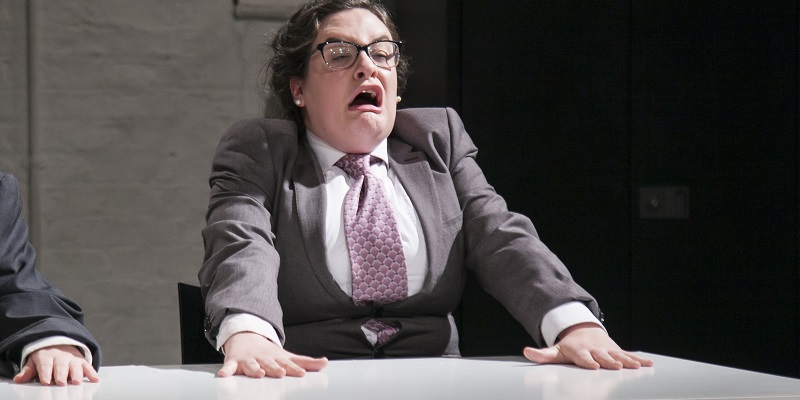 How are you all feeling about the Edinburgh Fringe Festival? What are you most excited about?
Excited, nervous, slightly scatty. It being our first year we are bound to forget lots of things, but we've made lots of friends before heading to the festival so hopefully there will be nice people giving us helpful hints here and there.
I think we are most excited about sharing Follow Suit with the open-minded and varied audiences that flock to the festival, and seeing the work of other emerging artists. There are so many fab companies at the Fringe with us this year that we feel very lucky to be able to see it all!

What are you hoping to do next?
We are already working on the next show for a work-in-progress season at the wonderful Camden People's Theatre back in London in November, which will be a clown show that explores the debilitating nature of depression through movement and comedy. We also hope to take Follow Suit to more audiences. We are so proud of this ridiculous show, we'd love the chance to tour it – but we'll see what's in store!
See Follow Suit at the Edinburgh Festival Fringe on dates between 2nd and 28th August 2017. You can view dates, times and tickets here.
You might also enjoy:
Roundabout – A flatpack touring theatre with disabled access