What does it take to make a sporting event accessible?
Written by Euan MacDonald, co-founder of Euan's Guide
As a sports fan, I've been determined not to let my Motor Neurone Disease diagnosis get in the way of getting out there to watch live sport. At times this has been challenging, particularly as I have had to adapt to my changing access requirements, but I'm pleased to say that I have attended many sporting events since becoming a powerchair user. 
The biggest barriers disabled people often face when it comes to attending sporting events, or events and venues of any kind, are poor accessibility and a lack of transparent disabled access information. These are precisely the problems that we are trying to address at Euan's Guide, the charity I founded with my sister Kiki which hopes to make it easier for disabled people to find great places to go. 
We launched our website EuansGuide.com in November 2013, that following summer I was thrilled to see how Glasgow exceeded all expectations with the 2014 Commonwealth Games. It was clear that the event organisers for the games were determined to create an inclusive and accessible environment and leave a lasting legacy in the city. I certainly experienced the accessible improvements being made first-hand when I visited a few of the venues ahead of the games. 
Five years on and this year's major Scottish sporting event was the return of the Solheim Cup, which had not been held in Scotland since 2000. 2019 was also the first time in the history of the competition that it was held at the prestigious PGA Centenary Course at Gleneagles. We were delighted to hear from the event organisers in the planning stage who told us that they wanted to make this year the most inclusive edition of the event in Solheim Cup's history. It was a bold claim to make so I thought I'd better see for myself what the event was like, so I went along on Sunday 15th September, the final day of the competition.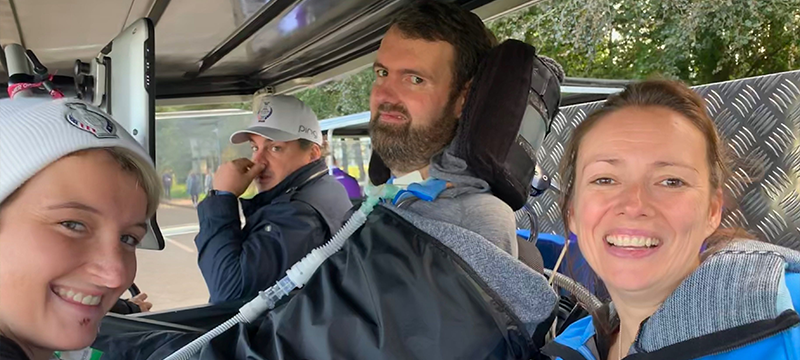 Photo of Euan MacDonald and friends at the Solheim Cup © Euan's Guide.
Planning my trip was made easier thanks to the Solheim Cup's dedicated accessibility webpage which was easy to find and filled with relevant and useful access information. We arranged our tickets in advance and made sure we had a space booked in the Blue Badge holders car park, the closest one to the event, and off we went on the drive north to the event itself. Upon arrival at the car park we were given a warm welcome and swiftly taken on the accessible shuttle service to the main event space. 
Arriving at the main event space we enjoyed travelling along the obstacle-free routes around several of the holes and watching the women play from the designated accessible viewing areas. There were some great views, and the ease of access made the experience stand out. 
Toilets are always a consideration for people with access requirements and I was delighted to see that the Solheim Cup was providing two Changing Places toilets in addition to several accessible toilets. Having one located at the car park was particularly handy. Changing Places facilities have all the necessary equipment and space so disabled people and their carers can use the loo comfortably and safely. This includes an adult sized changing bench and a hoist.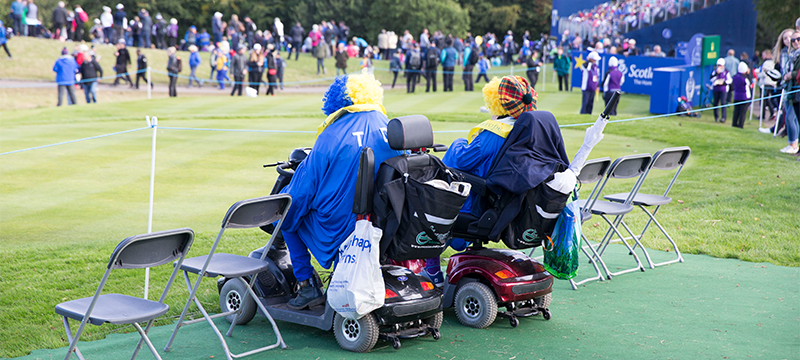 Photo of spectators at an accessible viewing area at the Solheim Cup © VisitScotland/Kenny Lam.
All the staff and volunteers we encountered throughout the afternoon were friendly and couldn't do enough to help. Staff training and awareness is vital to creating an inclusive environment. Solheim Cup had a number of specially trained access buddies around who were there to provide specific help to people with limited mobility, sensory impairment, older spectators, people on the autism spectrum and anyone who need a little bit of extra help to find their way about. 
Overall, I had a fantastic day out.  It was clear to see that the Solheim Cup took its accessibility and inclusivity seriously and I'm sure that they did manage to create the most accessible Solheim Cup yet. I look forward to seeing how they improve on this going forward.
A venue's or event's accessibility should never be static, it is all about engaging in a two-way dialogue with disabled people and finding new ways to improve and exceed visitors' expectations.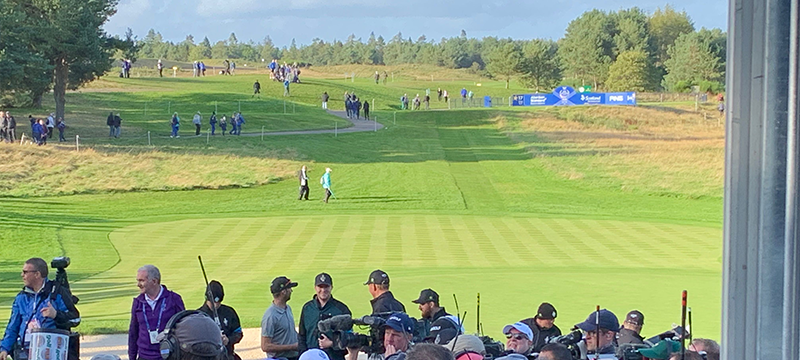 Photo of people gathering to watch the golf at the Solheim Cup © Euan's Guide.
Tips for creating an accessible sporting event
Work with disabled people. Involve disabled people in the design of the event. Ask for their feedback and suggestions and listen to what has been said about previous events. Everyone has individual access requirements so it is good to speak to a range of different people who have different access requirements at the planning stage. 
Have plenty of information available ahead of the event. Having an access guide or an access statement detailing what facilities will be there, where Blue Badge holders can park, what the toilets will be like and how people can get around the event is all vital. 
Create accessible viewing areas. Make sure that these viewing areas give wheelchair users who are at seated height unobstructed views. This will likely mean that the viewing area needs to be raised to see above anyone standing in front or positioned at the very front of the viewing area. It is also worth adding seats for other disabled people, their friends or carers to use. 
Make sure there are plenty of accessible toilets. You should also plan on getting a Changing Places toilet as these provide additional equipment which are not available in accessible toilets but that many people require to use the toilet safely and comfortably. 
Create accessible pathways. Having accessible boardwalks or pathways on major routes makes it easier for people to get around, especially for those using wheelchairs, crutches or anybody who requires a stable surface to walk on. It is particularly relevant for outdoor events in the UK where the conditions underfoot can deteriorate quickly with a change in weather or large crowds! 
Have clear signage. No-one wants to be wandering around lost missing the action. Make it easy to find the entrance, exit, toilets, first-aid, and the main event space using clear signage.
Top image: Photo of a golfer taking part in the Solheim Cup © VisitScotland/Kenny Lam.