Our Campaigns
As a charity, we work on a number of important campaigns in addition to running the disabled access review website. Here are a few campaigns we think might be relevant for you in your role as a health and social care professional. 
QMU OT Students review challenge!
We spoke to Queen Margaret University (QMU) first year Occupational Therapy (OT) students to tell them all about Euan's Guide and our disabled access review website. Occupational Therapists play a key role in tackling access inequalities and promoting the independence and quality of life of others. QMU OT students are key to increasing awareness of Euan's Guide throughout their practice placements and future careers, to ensure disabled people, their family and carers can access good quality accessibility information. We set them a review challenge to help with their learning and understanding of the reviewing process.
Take a look at how they got on with their review challenge!
Covid Concerns and Precautions Survey

We ran the Covid Concerns and Precautions Survey this summer to find out what disabled people were worried about as lockdown restrictions were beginning to lift across the UK. The results of this survey can be used to help inform businesses and venues of disabled people's concerns and implement the appropriate measures for disabled access and Covid precautions in their reopening.
Over four hundred people took part in the survey, the results have been published and can be found in the links below.
You can access the PDF version of the 2020 Covid survey here
To download the word version, click here
An Easy Read PDF version can be viewed here
Key findings from the survey include 
Top concerns that disabled people have about visiting places as lockdown restrictions lift:
People not respecting and honouring social distancing.
Not having access to venues' or public toilets when outside.
Having to queue or wait outside venues, especially when weather is bad.
Top requirements that disabled people think would help them return to venues:
Having access to sanitising stations that are at an accessible height.
Having an accessible route that disabled people can navigate independently.
Having clear markings to ensure people social distance. 
Based on these findings, Euan MacDonald said:
"As lockdown restrictions ease, we want to make sure that disabled people feel safe and confident in finding places to go or returning to venues that they already know. Venues need to share detailed and up-to-date information on their Covid precautions and disabled access online. This information is useful to anyone and everyone that wants to stay safe after being so cautious in the past few months."
The Access Survey
The Access Survey is the longest running survey of its kind in the UK. It gives an annual insight into what disabled people think of access provision in public places and spaces. 
Each year people share what they've found good and not so good about access at the places they visit and rate how accessible they find different types of venues. 
The survey is carried out from October to December with the results published the following year. The survey is open to disabled people, their family and friends as well as individuals who work closely with disabled people such as carers or healthcare professionals. In 2019 over 1,000 took part and shared their views.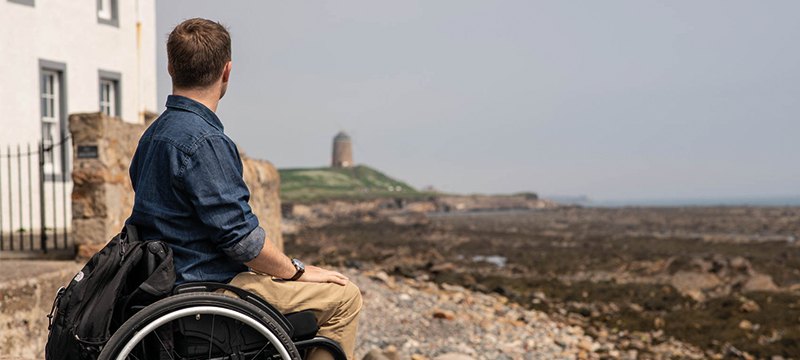 The 2019 survey showed that:
The vast majority (93%) of disabled people try to find information on a place's accessibility before visiting somewhere new 
It is not uncommon for this information to be inaccurate (77%) or hard to find (70% of people are using two or more sources) 
79% have experienced a disappointing trip or had to change plans at last minute because of poor accessibility
More than half (53%) of disabled people feel unconfident about visiting new places
Click here to access a PDF copy of the 2019 Access Survey report
For alternative formats or to access the results from previous years click here
Red Cord Cards
This lifesaving project educates people about the importance of red emergency cords and makes accessible toilets safer. Thanks to the support of individuals and venues across the UK we've already distributed over 60,000 Red Cord Cards!
Order your Red Cord Cards today
What are Red Cord Cards?
Red Cord Cards are pocket-sized splash-proof notices designed to hang on red emergency cords in accessible toilets. They remind everyone of the importance of keeping the cord hanging freely so that it could be reached by someone lying on the ground. 
The text on each card reads: 'This red emergency cord must hang freely all the way to the floor. If it does not, it may prevent a disabled person from asking for help.'
Our cards are designed to easily slide onto emergency cords without setting off the alarm and are printed in an easy-to-read font.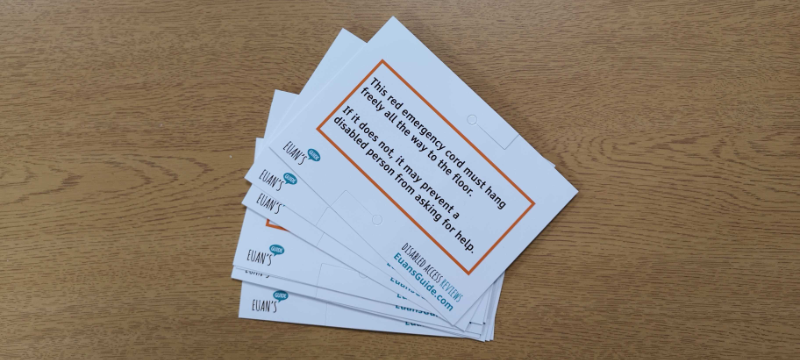 What is the problem?
Far too often red emergency cords are cut too short, tied up or placed out of reach. This means that someone in distress might not be able to use the cord to raise the alarm to ask for assistance. Sometimes people can be left stuck for extended periods of time without any other way of asking for help.
How to use Red Cord Cards
Add Red Cord Cards to every red emergency cord you see, that way it will remind everyone to leave correctly positioned cords as they are, and it will alert venues and staff to cords that are not safe and need to be fixed. 
Individuals, health professionals and social care professionals can all order these cards free of charge. If you or any of your service users would like to get involved and help make more accessible toilets safer then please complete this form to request Red Cord Cards today. If you require a larger quantity (more than 20 Red Cord Cards), please email your request to hello@euansguide.com.
Euan's Guide Forum
Shortly after the coronavirus lockdown was introduced, we turned our attention to enabling people to find a new way to stay connected and find things to do. We are a charity all about making it easier to get out and find accessible places to visit so we wanted to create an online community where people could go to find and share interesting things to do will we are all staying in and self-isolating. Our solution was Euan's Guide Forum, a platform designed to be a positive space to share advice, ideas, suggestions and support. Like our review website, this online community has been designed for disabled people, their family and friends. Users will be able to contribute their own ideas and shape the platform to work for them. We hope to have Euan's Guide Forum continue alongside our review website long after the lockdown has lifted.
The forum is a great alternative for anyone looking to limit their news consumption or the amount of time they spend on social media. It covers a wide range of interests, from staying physically active, creative ideas, recipes, what to watch and listen to, ways to learn new skills, game ideas, self care tips, and more! 
Take a look to see what people have already been sharing over on the forum