Access in August - An Edinburgh Festival Guide

Edinburgh is home to twelve major festivals and dozens of other independent festivals which run year round and come alive in August when thousands of performers and artists descend upon the city. Here's what you need to know about disabled access during Edinburgh's festival season!
What's going on in Edinburgh?
A small city with a big presence, it's hard not to be captivated by Edinburgh's World Heritage cityscape and friendly locals! Hilly, windy and bumpy it may be; Edinburgh is surprisingly accessible as demonstrated by the hundreds of reviews written on Euan's Guide by disabled locals, tourists and visitors to Scotland's capital. Search reviews and discover more about 'Auld Reekie' in our guide featuring accessible hotels, attractions and more before you visit. Read our Edinburgh guide >>
Getting around
If you're visiting Edinburgh in August, you won't be alone! The city's population more than doubles each year as hundreds of thousands of festival-goers attend events at five of Edinburgh's major festivals. It's a good idea to get acquainted with the city's public transport before you arrive to beat the crowds and move around the city with ease. Thankfully, Edinburgh has some excellent accessible transport options!
Lothian Buses
Buses are the most popular way to get around Edinburgh, and Lothian Buses all have wheelchair access on-board! They also have a handy app which you can use to buy tickets if you're short on change, or to check arrival times and routes around the city. One wheelchair user reviewed Lothian Buses on Euan's Guide saying:
'The buses lower to the ground with a ramp that comes out, allowing for easy access. The wheelchair area at the front of the bus is relatively easy to manoeuvre into depending on how busy the bus is.' Read the full review >>
Edinburgh Trams
A favourite mode of transport among local disabled people, Edinburgh Trams are a fantastic way to move between the airport and the city centre. They also beat the traffic on Edinburgh's busy Princes Street! One reviewer and wheelchair user loved how smooth the journey was from start to finish:
'Staff were friendly and helpful. When checking our tickets on the tram they asked where we would be getting off. They then passed this info on to the driver so he could give us extra time at our stop to get off.' Read the full review >>
Changing Places facilities in Edinburgh
There are good Changing Places facilities at The Scottish Parliament, The Booking Office and Murrayfield Stadium. Check out the Changing Places UK Toilet Map for a full list of locations in Edinburgh!
Edinburgh International Festival
5 August – 29 August 2016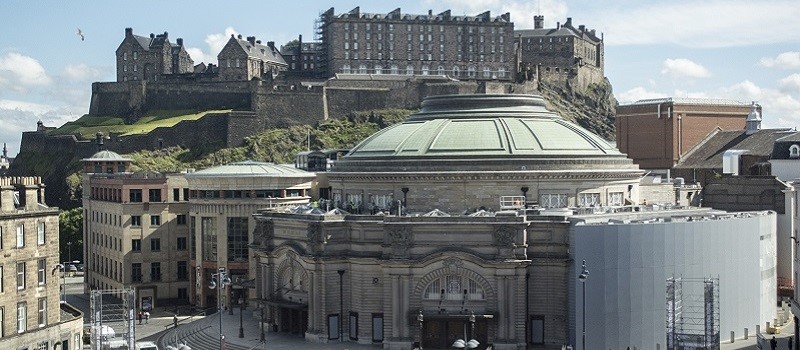 Watch Edinburgh's major theatres and concert venues showcase some of the world's best music, drama, opera and dance over three weeks this August! It's a treat for the senses, and each year Edinburgh audiences are delighted by a show stopping festival opening – this year it's 'Deep Time', a stunning display projected onto the rock and walls of the city's landmark castle.
Bigger is better at the Edinburgh International Festival, and performances are held at landmark venues including Usher Hall and the Festival Theatre. We have an entire page dedicated to accessible events during the festival which you can view here.
'Sometimes the unexpected can be fantastic! Never expected to be able to go on stage as a powerchair user; let alone explore the dressing rooms, wardrobe, under the stage, and more!' Read full review of Festival Theatre >>
Edinburgh Festival Fringe
5 August – 29 August 2016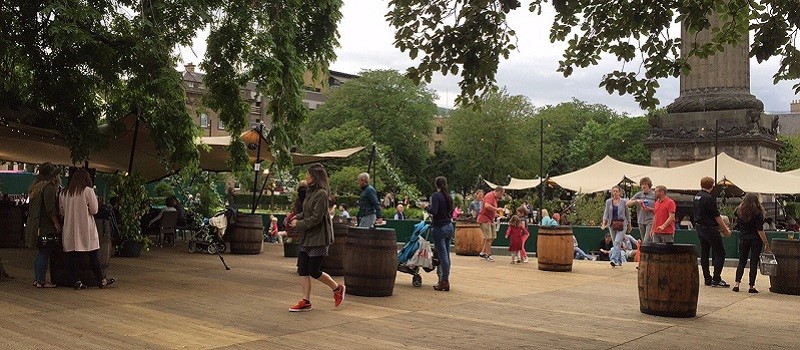 It's that time of year when Edinburgh is transformed by the world's largest arts festival, welcoming thousands of talented acts to hundreds of venues throughout the city. Who knows what you'll discover in famous Edinburgh haunts and pop-ups all around the Old and New towns!
You can find comedy, cabaret and theatre in the transformed St Andrew Square in the city centre. One wheelchair user loved it saying:
'To go and watch a comedy in a tent in the middle of a busy square in Edinburgh during the Fringe could seem a challenge. It actually worked out very well with good access, a great view and friendly folk on hand to help'. Read review >>
There are more pop-up venues like this all around the city, including in George Square where there are plenty of food and drink stalls to enjoy in between shows, and the Meadows which transforms into the Underbelly's Circus Hub with two massive tents, Lafayette and Beauty, as well as a lively bar for ticket holders.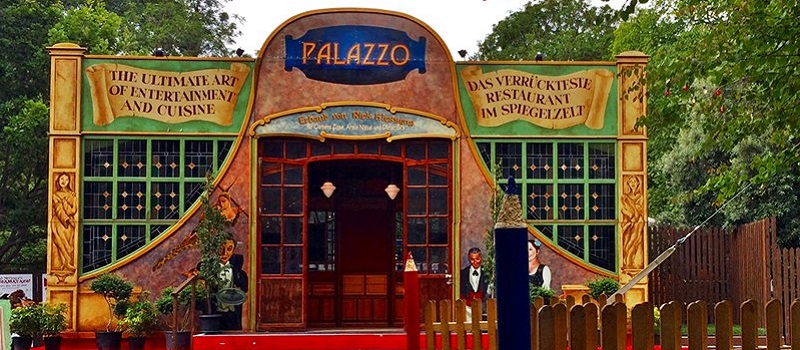 Of course a big part of the Fringe's charm is that hundreds of events are held in the city's own venues! Dance Base in the historic Grassmarket won the Euan's Guide Accessible Fringe Award in 2015 and has several excellent disabled access reviews. One reviewer loved it saying:
'Push pad auto doors let you in and the reception counter is fab as it's at wheelchair height. In the studio there was plenty of space and my viewing position at the front of the seated tier was fabulous.' Read review >>
We have also been running 'Just Ask' Disability Equality Training workshops with Fringe staff in 2016 to help the festival achieve its vision of becoming the 'most inclusive open-access arts festival in the world.' There are numerous ways to browse shows from the app to the brochure, and the festival's dedicated Access Line offers various routes to find information about access and book tickets! Find out more here >>
The Royal Edinburgh Military Tattoo
5 August – 27 August 2016
A gathering of musicians, dancers and performers from all over the world, the Tattoo is a spectacular event held against the backdrop of Edinburgh Castle! Every year over 200,000 people turn up to experience this magical show, and this year the theme is Tunes of Glory.
'The ushers, military police and regular police were extremely helpful, polite and cheerful. They made it as easy as possible for wheelchair users to access the event.' Read the full review >>
'Wonderful evening – definitely go if you get the chance. They make provision for induction loop users but this needs to be booked with your tickets.' Read the full review >>
Edinburgh International Book Festival
13 August – 29 August 2016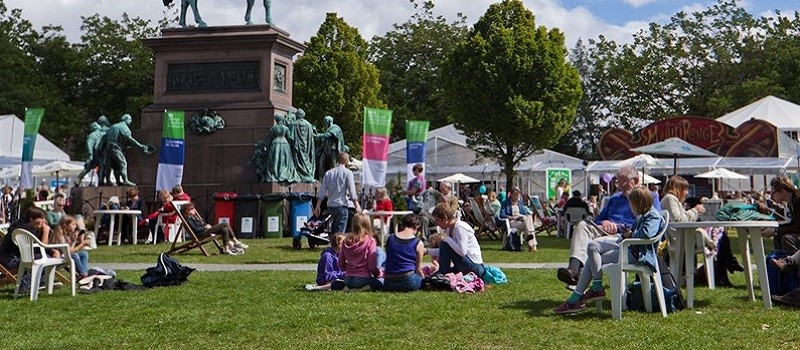 Reclaiming its home in Charlotte Square Gardens, the Edinburgh International Book Festival runs through August with over 750 events for book and story-lovers in a beautiful tented space. It's the perfect spot to bump into your favourite authors and browse the festival's independent book stores this summer.
'Great and helpful staff team here during Edinburgh International Book Festival – ramp provided and loop system working too!' Read the full review >>
'Not too sure about how it would work visiting a tented 'village' in a city garden square I was impressed by the thought given to accessibility. A clever array of boardwalks makes getting around a breeze.' Read the full review >>
Edinburgh Art Festival
28 July – 28 August 2016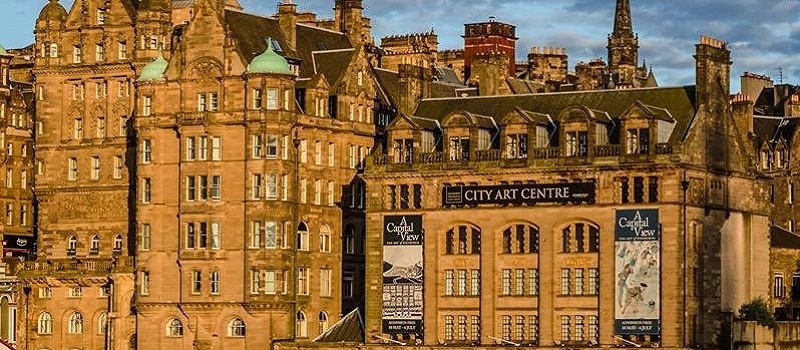 The largest festival of visual art in the UK runs from July to August in Edinburgh each year, attracting over 250,000 visitors! You can expect events at the city's top galleries, museums and hidden spaces and most of it won't cost you a penny. Read disabled access reviews on Euan's Guide of venues including the National Museum of Scotland, Out of the Blue Drill Hall, the Scottish National Portrait Gallery and more!
'Access to the City Art Centre is good and starts from the dedicated door for mobility impaired visitors. A lift takes visitors to all floors and there's plenty of space to move around and see everything.' Read full review of City Art Centre >>
'I highly recommend a visit to this studio, I was honestly so surprised at the creativity and the subtly good disabled access throughout. Fantastic.' Read full review of Dovecot >>
Eating and drinking in Edinburgh
As well as Edinburgh's many restaurants, cafes, pubs and bars; the festivals bring a tasty selection of street vendors and pop up venues to the city during August! Head to St Andrew Square and George Square for sizzling outdoor food, or delve further into the city's curious streets to discover Edinburgh's hidden gems and local favourites!
OX184, Cowgate
A spacious warehouse style venue serving food into the early hours. 'A wonderful find…One of those places that's so impressive you don't really want to tell people about it!' Read review >>
One Square, Festival Square
Stylish food and refreshing cocktails close to a number of Edinburgh International Festival venues! 'There is a ramp from Festival Square up to the front door. Once inside, plenty of room to manoeuvre. The gin tasting that the bar offers is great fun.' Read review >>
Roseleaf, Leith
A quirky pub with menus inside vintage National Geographic magazines and hats all over the walls! Roseleaf is a hidden gem away from the city crowds. 'Great little spot for brunch, lunch or cocktails. Very accessible and welcoming. Staff exceptional.' Read review >>
Café Andaluz, George Street
George Street is transformed during the festivals into a diner-friendly thoroughfare! Café Andaluz offers a taste of Andalucia on this stylish shopping street with tasty tapas. 'Always wanted to go here but wrongly assumed it was inaccessible due to the steps at the front entrance on George Street. Turns out there is an accessible side entrance that staff open for you. Oh, and the food's delish too!' Read review >>
The Potting Shed, Potterrow
A fun restaurant and bar in close proximity to central festival venues! 'Accessible bar and restaurant that will be buzzing come festival time!' Read review >>
Search even more accessible restaurants on Euan's Guide >>
Got some extra time?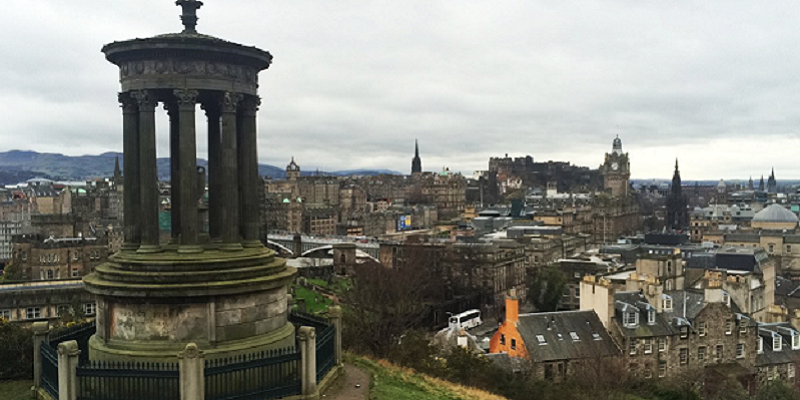 With so much going on in August, you might not have the energy to go exploring beyond the city's intriguing festival venues! But, if you're in an adventurous mood, there are some top attractions with great disabled access you might like to check out along the way.
The Royal Yacht Britannia
'The most impressive feature was the clever use of ramps and lifts to move visitors between the decks of the boat. Even going outside of the boat on to a floating pontoon to view the tenders and sailing boat.' Read review >>
Royal Botanic Garden
'The glasshouse tour was wheelchair friendly with level access and powered doors all the way. A lovely walk through the rockery style garden with clearly signposted paths for wheelchair access. Time for refreshments at the John Hope Gateway where a lift or ramped walkway leads to the scrumptious afternoon tea!' Read review >>
The Scotch Whisky Experience
'The palate discovery experience was my favourite part of the tour! We had to use our sense of smell to decide which whisky we would like to try. There is of course Irn-Bru available for younger people and non-drinkers!' Read review >>
The Scottish Parliament
'Access was great as a powerchair user with level surfaces, people willing to assist with any doors that were not automated, a guide for disabled visitors, and plenty of accessible toilets.' Read review >>
Palace of Holyroodhouse
'Access to the Palace was surprisingly good for a building of its age. A lift can take mobility impaired visitors up to the State Apartments. The Abbey ruins are accessible as is the gift shop, café and toilets.' Read review >>
Search even more accessible attractions on Euan's Guide >>
The Accessible Edinburgh Festival Award – vote for your favourites!
If you're attending Edinburgh festival events during August this year, don't forget to vote for venues that you think have gone above and beyond with disabled access! Voting for the Accessible Edinburgh Festival Award closes on August 21st 2016.
Last Updated - August 2016