Castles & Battlefields - Accessible Highlights!
We released our new castles and battlefields accessible highlights on St Andrew's Day 2017! #AuldAndAccessible #HHA2017
All throughout Scotland there are remnants of the country's battle-scarred past, but what few people know is that many of these castles and battlefields can be unexpectedly accessible. Take a look at our new guide for accessible highlights of Scottish castles and battlefields!
Download the guide
View the guide as a PDF on screen
Download the guide as a PDF for printing
Download the guide as a Word document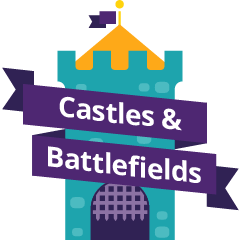 Get your castle badge!
If you've been exploring any of the castles or battlefields in this guide, don't forget to share your experiences by writing a review on Euan's Guide! By doing so, others can benefit from your tips and knowledge about disabled access before deciding to visit. 
To get started, go to www.euansguide.com/write-a-review and follow the steps on the screen. You can review anywhere you like on Euan's Guide, but if you decide to review one of the castles or battlefields in this guide you'll unlock a new badge on your profile! 
Would you like to see what others have written first? There are thousands of disabled access reviews ready to browse on Euan's Guide! 
Read disabled access reviews >>
Quiz: Which castle or battlefield should you visit?
Are you more of an elegant castle or a rugged ruin kind of person?
On the blog
Read the latest stories featuring Scottish castles and battlefields.
More information on disabled access at featured sites
The Battle of Bannockburn Visitor Centre
Beyond castles and battlefields
Read more about accessible things to see and do in...
Getting around
Many of the locations in this guide can be reached by train and other public transport. You can get 1/3 off rail fares with a UK Disabled Persons Railcard. Find out more >>
About this guide
The guide was part-funded by the VisitScotland Growth Fund with additional support from Historic Environment Scotland. This is the first in a series of guides to be created by Euan's Guide, with guides to Dundee and Fife to follow in 2018.
Press release
Download the press release as a Word document