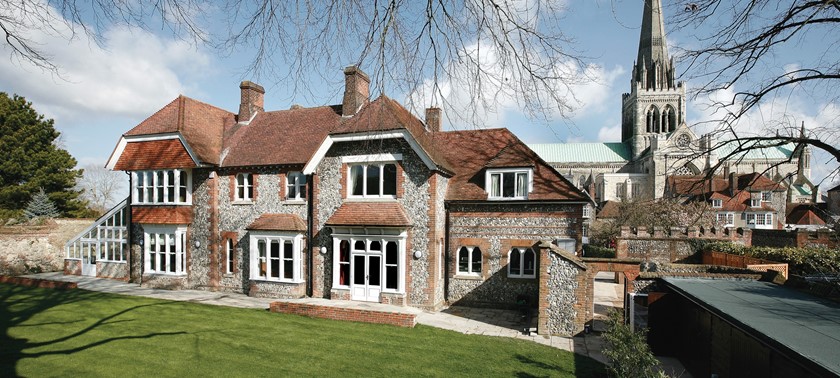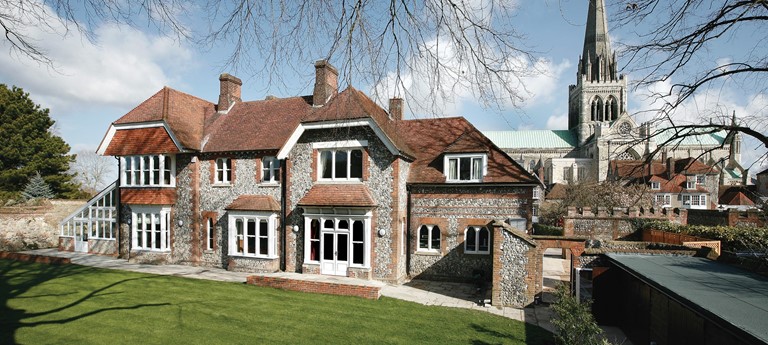 4 Canon Lane at Chichester Cathedral
4 Canon Lane, Chichester, PO19 1PX, United Kingdom
|
01243 813586
|
Website
Venue Description
4 Canon Lane is a beautifully restored eight bedroom house situated in the historic precincts of Chichester Cathedral. All bedrooms are en-suite and offer stunning views of the Cathedral or gardens. The house has 4 large double / twin rooms, 3 standard double rooms and a single room (adapted for disabled access). A stay at the house offers the convenience of a city centre location within the tranquil setting of the Cathedral precincts. Free Wi-Fi and parking are available.
Accessibility
Entry to the House is through the front door and is accessed via a dropped curb from the road onto the pavement which has a surface of large paving stones. There are no steps to get into the house. Guests are welcomed in the hallway, which is level throughout, where they are asked to check in. There is 1 bedroom on the ground floor with a single divan bed, with step free level access from the front door. This bedroom is fully fitted to be suitable for disabled use. The height from the floor to the mattress top is 24inch/610mm. The door opening width is 34inch, 865mm.
Accessibility Guide
Accessibility Guide Link: http://www.chichestercathedral.org.uk/catering-hospitality/accommodation.shtml
Access Statement
Access Statement Link: http://www.chichestercathedral.org.uk/dyn/_assets/_pdfs/AccessStatementfor4CanonLane2015.pdf
Toilets
The ground floor bedroom en-suite bathroom is a wet room; it is all on one level including entering it from the bedroom. Available on the ground floor are 2 uni-sex communal toilets with non-slip flooring. The larger of the two toilets has an emergency pull cord and a grab rail to the right and left of the toilet. There is level entry to the toilets. The toilets are well lit with wall lights, with the addition of an overhead light in the larger toilet.
Staff
Information about the staff has not been added for this venue.
COVID Precautions
Information about COVID precautions has not been added for this venue.
The venue says it has...
Accessible Format
Disabled Access
Large Print
Disabled Parking
Overnight Accommodation
Access Statement
Accessible
Toilet
Wet
Room