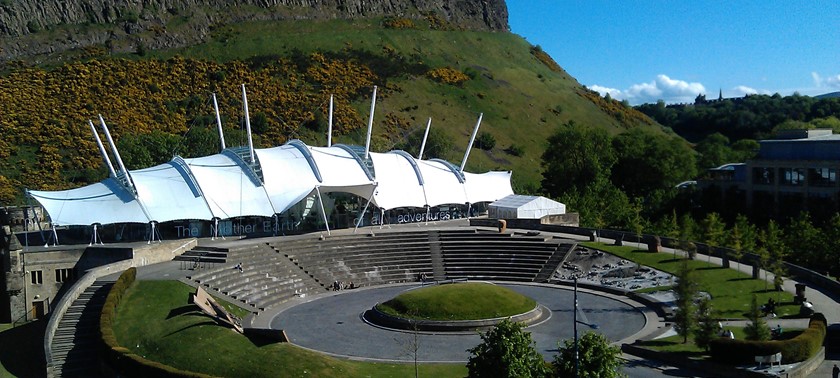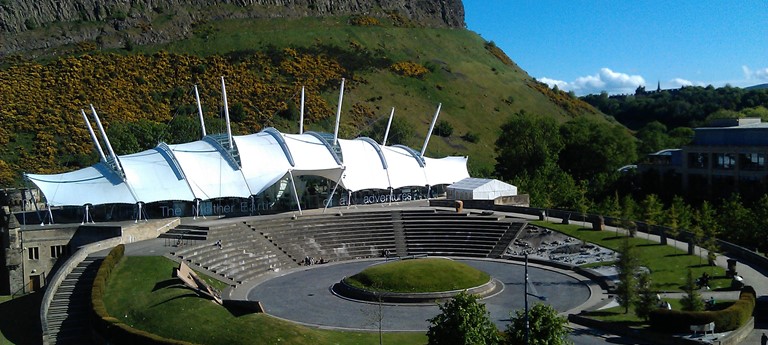 Venue Description
Situated at the foot of the spectacular Salisbury Crags, Edinburgh's 5 star Our Dynamic Earth invites you on a journey back through space and time 15,000 million years. Fly over glaciers as they carve out the planet's surface before outsmarting dinosaurs facing extinction. Feel the Earth move as a volcano explodes beneath your feet and experience the chill of Polar Ice. Embark on 4DVENTURE, Scotland's only 4D experience, on an epic journey of contrasts. Touch, smell, feel the adventure as you fly from Polar regions to deep within the tropical rainforest where a storm is brewing...Plus, 360º Dome Films exclusively in the ShowDome.
Accessibility
We have endeavored to ensure that our facilities throughout the attraction are as inclusive to everyone as possible. Dynamic Earth is fully wheelchair accessible, with ramp access up to the entrance of the building and lifts throughout to navigate through the exhibition, and to gain access to and from the car park. Wheelchair access to the car park is via the internal lifts only. Please be aware these lifts are operational only during opening hours. There is drop-off access in the amphitheater outside the front of the building Additionally, we have disabled toilet facilities on both sides of the building, which include handle rails and wide door access. For people with visual impairments additional information about the exhibits is available through audio guides. For people with hearing impairments, transcripts are available in English. We advise contacting us ahead of your visit via enquiries@dynamicearth.co.uk to discuss any other adaptations we may be able to make. We permit assistance dogs in all areas of the attraction, however we would advise that some of the galleries have loud noises and flashing lights within them. Please note that we do operate strobe lighting within some of the galleries, which could affect people with epilepsy. Our guides are aware of all of these areas and can assist and advise visitors of their presence.
Accessibility Guide
Accessibility Guide Link: http://www.dynamicearth.co.uk/visitors/visitoraccessibility
Toilets
Disabled toilets are available.
Staff
Information about the staff has not been added for this venue.
COVID Precautions
Last updated:
We want to ensure that we re-open the centre in a safe way and that we look after the health and wellbeing of you, our guests, and Dynamic Earth team members. To achieve this we have made a number of changes to the way we operate. For everyone's safety most Dynamic Earth team members will be wearing face coverings or masks and possible face visors (unless they are exempt from doing so). While this is no longer a requirement, we are running at a reduced capacity to allow for distancing if necessary. Under normal circumstances we aim for cleaning to be discreet. Please expect to see cleaning happening throughout the building (this may result in some additional waiting times).
https://www.dynamicearth.co.uk/visit/visit-with-confidence
Assistance dog facilities
Other assistance dog facilities
We have water bowls available outside the attraction for dogs.
The venue says it has...
Audio Described
Accessible Format
Carer Discount
Dedicated Seating
Disabled Access
Easy Read
Induction Loop
Disabled Parking
Access Statement
Accessible
Toilet
Covid Precautions