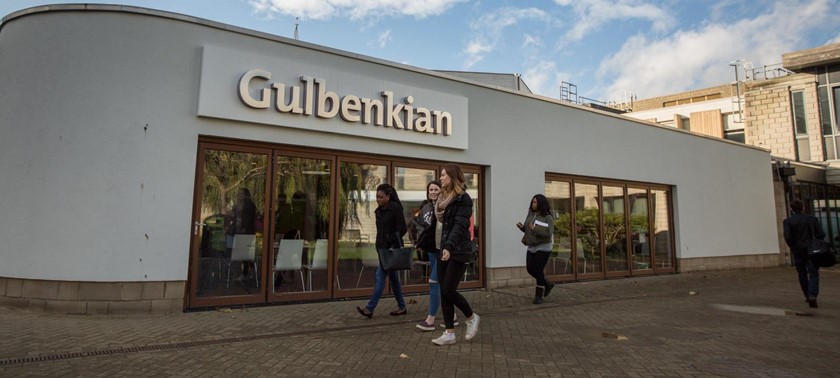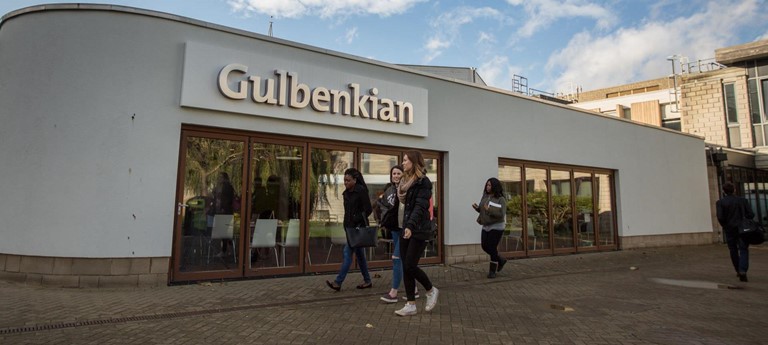 Gulbenkian
Gulbenkian, University of Kent, Canterbury, CT2 7NB, United Kingdom
|
01227769075
|
Website
Venue Description
Gulbenkian is the University of Kent's Arts Centre offering innovative, engaging and high quality arts activity for the public, staff and students. It provides a key role in delivering the University commitment to public engagement and has a particular focus on the creative empowerment of children and young people. Gulbenkian houses a 340 seat theatre, 300 seat cinema and a café which incorporates an informal cabaret style space for live music, comedy and slam poetry. We programme over 1,000 events including music, comedy, theatre, dance and film per year, enjoyed by more than 100,000 people. The arts centre attracts a range of conferences and events to Kent such as BBC Question Time. Our work with young people includes the Gulbenkian Youth Theatre with over 100 members aged 5-18 years and Gulbenkian Youth Dance Company, run in partnership with Jasmin Vardimon Company. We are also home to ART31, a cultural leadership project, led by young people, TECH31 , SCREEN31 and TECH(Y)31 plus Kent's international family festival – bOing!
Accessibility
Gulbenkian hosts a variety of indoor and outdoor events in the University of Kent grounds and venues. The majority of the area is flat and are there is a network of paths. However there can be mobility problems on grass areas, particularly in bad weather conditions. If it rains it may get muddy and access around the site (other than on paths) may be very difficult. Electric wheelchairs can get to most areas without too much trouble but the ground can be uneven in places. There are around 15 different venues and performance areas, which are located around the site. Mainly events take place in Gulbenkian, which has a theatre, cinema, music hall and cafe. Mobility Requirements For ticketed events, if you require a wheelchair space please let us know when booking. If you are concerned about seating arrangements for pop up and outdoor locations, we suggest arriving 20 to 30 minutes earlier to secure a good viewing point. Disabled parking spaces are available in the Central car park adjacent to Gulbenkian and Rutherford car park. Level access across the site, including to all venues. Visual / Hearing Impairments Infra-Red Audio system for the hearing impaired available in Gulbenkian. Assistance dogs welcome. Watch the Gulbenkian Accessible Welcome Video: https://www.youtube.com/watch?v=GJk4NXMpe-k
Accessibility Guide
Accessibility Guide Link: https://thegulbenkian.co.uk/accessibility/
Accessible Performances
Pre-show visits/Touch tours: We offer pre-show visits and touch tours on some events. Please contact our Front of House manager Helen on gulbaccess@kent.ac.uk or phone ticket office on 01227 769075. Relaxed events: We offer relaxed performances/screenings. Monthly Accessible Film Club, run in partnership with Square Peg Arts Please see our season programme or website for more information about relaxed events. Relaxed Performances/screenings are specifically designed to welcome people who will benefit from a more relaxed performance environment, including guests on the Autistic Spectrum, sensory and communication disorders, or a learning disability or parents who want to attend our performances with young children. There is a relaxed attitude to noise and movement in the auditorium and we make some small changes to the light and sound effects.
Toilets
Disabled accessible toilet facilities are located in Gulbenkian, additionally in Colyer-Fergusson, Jarman and Grimond buildings on campus. Accessible hoist toilet facilities are available in Rutherford and Templeman Library. A changing places hygiene room is located in Templeman Library (approx. 5 mins walk from Gulbenkian on the University campus). Please note that to gain access there is a phone located on the wall in the foyer of the library.
Staff
Some members of staff at Gulbenkian are Dementia Friends and have basic Makaton/BSL training.
Assistance dog facilities
Assistance dog exercise facilities
There is a lawn area outside Gulbenkian.
Other assistance dog facilities
Water bowls available on request.
The venue says it has...
Audio Described
Accessible Format
Audio Format
Carer Discount
Dedicated Seating
Disabled Access
IR Induction Loop
Induction Loop
Large Print
Disabled Parking
Online Booking
Accessible
Toilet