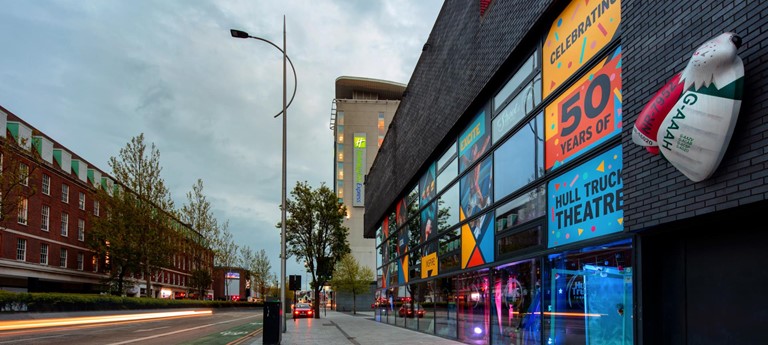 Venue Description
Hull Truck Theatre is a pioneering theatre with a unique Northern Voice, locally rooted, global in outlook, inspiring artists, audiences and communities to reach their greatest potential. We produce and present inspiring theatre that reflects the diversity of a modern Britain. We provide the resources, space and support to grow people and ideas, are an ambassador for our city, a flagship for our region and a welcoming home for our communities. Through our work with schools and local communities we engage with thousands of young people, disabled groups and adults, offering opportunities to participate in the arts, whether as the first step into a career, a way to build confidence and meet new people, or as part of a rounded education.
Accessibility
There is a drop off and collection point 20 meters from the main theatre entrance on Ferensway. There is level access, through two sets of automatic sliding doors, from the street on to the Ground Floor and lift access from the Ground to First floor of the theatre. If you would like to borrow a wheelchair to help you get around the theatre please let the Box Office know and we would be happy to reserve it for you. There are four wheelchair spaces in Stage 1 and two wheelchair spaces in the Godber Studio. If you regularly require a wheelchair space, best view of caption screens/BSL interpreter or require an essential companion to attend the theatre, we would love to show you how to book access tickets/discounts online, yourself.
Accessibility Guide
Accessibility Guide Link: https://www.hulltruck.co.uk/access/accessible-guides-info/experience-guide/
Accessible Performances
Hull Truck Theatre provides the following access performances for Hull Truck Theatre Productions and Co-Productions: - Captioned -Theatre captions are similar to television subtitles and convert spoken word in to visible text that provides those who are Deaf, deafened or hard of hearing with access to live performances. Open captions are displayed on screens at either side of the stage for all audience members to view. Closed captions can be viewed on your mobile device via a FREE app. These captions are usually available for events in the Godber Studio or events that are not at the theatre/are site specific. - Audio Described. Audio description provides information about the visual elements of a show. The Box Office provides infra-red headsets, upon request, and audio description is delivered live, in between dialogue. - Touch Tours are available 90 mins prior to the audio described show and last approx. 30 mins. Touch Tours allow blind and visually impaired patrons the opportunity to familiarise themselves with the set, costumes and props, ahead of the show. Places must be booked with the Box Office or when prompted during the online booking process. - BSL Interpreted - British Sign Language (BSL) interpreted performances enable Deaf BSL users to understand the performance through the signs of an interpreter. The position of the BSL interpreter will usually be indicated on the seating plan. Integrated BSL - performances with integrated BSL interpretation involve the interpreter being part of the action onstage. - Relaxed - Relaxed performances are specifically designed to welcome people who will benefit from a more relaxed environment and include additional lighting and a friendly attitude to noise and movement in the auditorium. We can also offer some extra space if you need it, just let us know. If you have any concerns about special effects or show content please contact the Box Office.
Awards List
2016 UK Theatre - UK's Most Welcoming Theatre Welcome to Yorkshire Awards - Accessible and Inclusive Tourism Award [Silver Award] 2017 Hull Lifestyle Awards - Cultural Attraction of the Year White Rose Awards - Arts & Culture Award 2018 Whats On Stage, What's Off Stage Awards - Best Box Office 2019 White Rose Awards - Arts & Culture Award 2020 Hull Business Awards - Customer Service Excellence Award 2022 Hull Business Awards - Outstanding Contribution Award FINALISTS... REYTAs - Remarkable Visitor Attraction/Experience 2018 Hull Business Awards - Service with a Smile 2016 REYTAs - Visitor Experience/Attraction 2019 [Highly Commended]
Toilets
There are two accessible toilets on the Ground Floor. The accessible toilet situated by the Godber Studio corridor is reached by passing through an automatic door. To re-enter the foyer there is a push button for ease of access. Both accessible toilets are fitted with emergency pull cords which are linked to the Box Office. The nearest changing places toilet is inside St Stephen's Shopping Centre just 100m away from the theatre. There are two changing places toilets which have specialist facilities and extra room for up to two carers. One is positioned on the toilet corridor, accessible from the ground floor of the shopping centre, and the other is on the lower ground floor near Tesco's car park. Both facilities can be accessed with a RADAR key. Alternatively, you can ask one of the Customer Service Officers in the Shopping Centre to assist you in gaining access to the facilities or find one of the Customer Help Points located around the centre and press the Help button. These facilities are available 24hrs and the Customer Service/Security team are on site 24/7 to assist if necessary.
Staff
Our award winning Front of House and Box Office team are always available to advise on or assist with any access needs you may have. The team have taken part in the following courses and we continue to refresh these frequently. - Deaf awareness - Autism & other associated disorders - First Aid - Guided sight training - Dementia awareness / Dementia Friends - LGBTQ+ and Trans awareness
COVID Precautions
Last updated:
We're continuing to take safety very seriously and various Covid 19 safety measures, which have been designed to help customers feel safe, secure and comfortable when visiting the theatre, will remain in place during the season. We encourage audiences and visitors to continue to wear a face covering throughout their visit. You can find more information below about what to expect from your visit.
https://www.hulltruck.co.uk/your-visit/covid-19-keeping-our-audience-safe/
Assistance dog facilities
Other assistance dog facilities
Assistance dogs are welcome in the theatre and performance spaces. If you are going to be accompanied by an assistance dog please contact the Box Office, in advance of booking, so that we can make arrangements to either seat you together during the show or dog sit for you. We will happily provide a water bowl.
The venue says it has...
Audio Described
Accessible Format
Carer Discount
Dedicated Seating
Disabled Access
IR Induction Loop
Induction Loop
Large Print
Online Booking
Accessible
Toilet
Covid Precautions