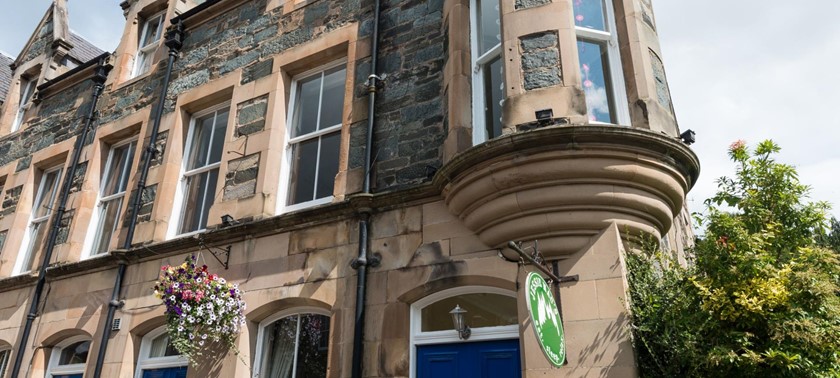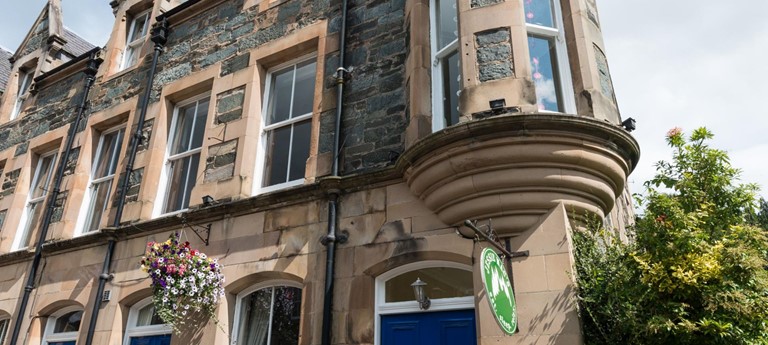 Venue Description
Situated in the Victorian village of Birnam in rural Perthshire, this small hostel/ B&B hybrid is the perfect place to stay whether you are visiting for business or leisure. Based in the village of Birnam, we are just 5 minutes walk from the local train station, 2 minutes walk to the nearest bus stop or a 15 minute walk to the neighbouring and larger village of Dunkeld. We are located on a flat, main street with free on-street parking outside the building. We offer 7 bedrooms, one of which is on the ground floor with private wheel chair access and en-suite shower. For breakfast, where possible, we use locally sourced ingredients and cater for varying dietary requirements. Our dining room and lounge are on the first floor, however, users of the ground floor room that have access issues can have a breakfast area set up in their room and breakfast will be delivered. We look forward to welcoming you. If you have any queries or require any assistance please phone 01350 727324 or email info@jessiemacs.co.uk.
Accessibility
The pavement on the street leading to the building is paved. There is one step to the foyer of the hostel. There is no handrail. The front door is 860mm wide. Guests are welcomed in the hallway, which is level throughout. The flooring is carpet with 1 large rug. The area is evenly and well lit with overhead lighting. Assistance can be given with luggage. Guests accessing the ground floor bedroom from here have one step of 160mm down into the bedroom. There is also an entrance door available direct into the ground floor bedroom from the street. This has only a tiny step of a few millimetres and the Yale lock is approximately 1 meter off the ground to suit wheel chair users. Apart from the ground floor bedroom, all other facilities are up at least one flight of stairs. There is a bannister on one side (left when going up) for support. The whole house aside from bathroom and kitchen areas is carpeted with low pile carpet.
Access Statement
Access Statement Link: https://www.accessibilityguides.org/content/jessie-macs-luxury-hostel
Awards List
We are a a 5 star Visit Scotland accredited hostel and a Gold level member of Green Tourism.
Toilets
The ground floor bedroom en-suite bathroom offers the following: • Door opening to the bathroom is 800mm. • A shower with seat and grab bars. There is a small step of 100mm into the shower. • The toilet height is 460mm. • Seat raiser. • The wash basin height is 800mm. • Lever taps on the washbasin. • Grab rails, horizontal and vertical, around the shower. • Horizontal grab rail on one side of the toilet. • Well lit with overhead lights and a fluorescent light over mirror. • Good colour contrast between the doors, floor, walls and towels. • Non-slip laminate flooring.
Staff
Accessible Tourism CustomerService Training ompleted - Brenda (one of the owners)
COVID Precautions
Information about COVID precautions has not been added for this venue.
Assistance dog facilities
Assistance dog exercise facilities
The main area for off lead dog walking is a popular walk along the River Tay, which starts about 500m from the building. The walk to the starting point involves around 150 along the street which is tarmac covered. The next section is around 300 meters along a cul de sac road with tarmat covering but an uneven surface. The final 50 meter section cuts through a public park, with a set of approximately 10 shallow, wooden edged steps down to join the main path.
Other assistance dog facilities
As dog owners ourselves, we have a ready supply of dog related equipment and knowledge. Dog bowls, towels and poo bags can be supplied on request. The nearest place for dogs to toilet is a small park around 200m from the building. Other dog owners are requested to keep their dogs away from public areas however assistance dogs obviously have full access.
The venue says it has...
Carer Discount
Disabled Access
Overnight Accommodation
Access Statement