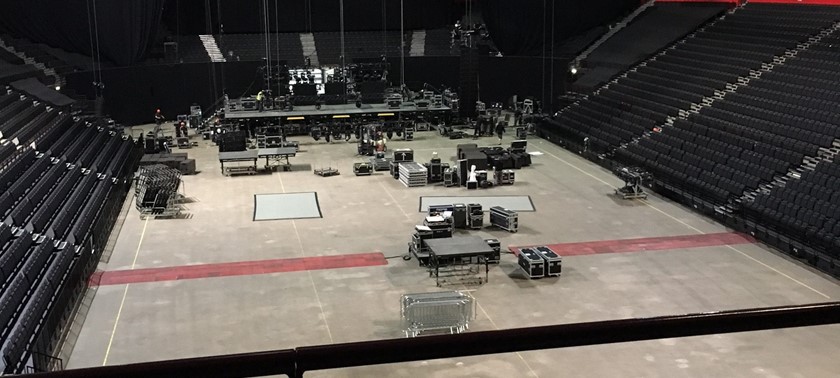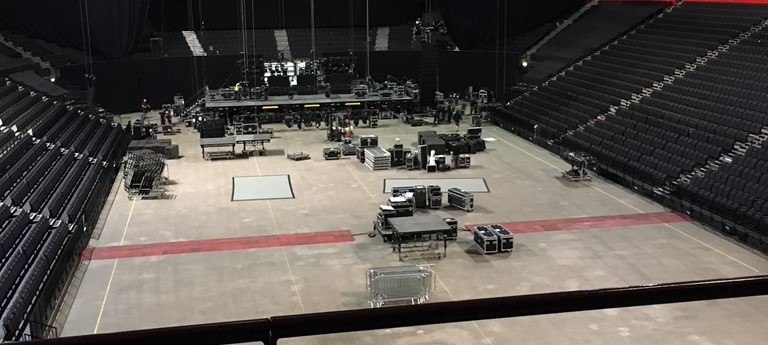 Venue Description
Manchester Arena is committed to disability awareness and takes an inclusive approach when providing a service to our customers. Through our dedicated accessibility support service we aim to provide a fair and equal service throughout your experience. We are happy to answer any queries so please do not hesitate to contact us. If you would like to speak to us about booking accessible tickets, getting to the venue, our access facilities, or if you require any further information, please contact our Accessibility Team. By email Please send an email to enquiries@manchester-arena.com. Make sure to include information in the subject line of your message. By phone You can call the Accessibility Team on 0161 950 5229. A text relay service is available via www.textrelay.org. Write to us Our postal address is Manchester Arena, Victoria Station, Hunts Bank, Manchester, M3 1AR. Office hours are 10.00am – 5.00pm Mon - Fri, 10.00am - 4.00pm on Saturdays (excluding Bank Holidays) If you would like a copy of our up-coming events or our access guide in a hard copy or alternative format, we can email or post this out to you. Please contact our Accessibility Team for more information via email on enquiries@manchester-arena.com.
Accessibility
Manchester Arena provides the following facilities to assist customers with access requirements: • Disabled parking is available at an onsite NCP Car Park (please note that this is not operated by the venue) • Lift access within both the NCP car park and Victoria Station allows access to our Box Office and City Room entrance. Lift access to the right of the Hunts Bank steps allows access to our Hunts Bank entrance • A box office window with a lowered counter and loop system • Concession stands with lowered counters • Designated seating areas within the venue for wheelchair users, or those with walking difficulties, and their personal assistants • At least one wheelchair accessible toilet in each set of facilities (three female sets, three male) • 3 unisex accessible toilets fitted with radar keys • A hearing loop system within the arena bowl. Please speak to the Accessibility Team for more details on booking tickets in this area. • 'House' wheelchairs are available if required. Our stewards will also provide assistance help customers reach their seats. We recommend that customers use the Hunts Bank entrance and go to the Customer Service (Tickets and Info) desk to make use of this service. Free tickets for Personal Assistants Manchester Arena operates a Personal Assistant Ticket Scheme and we are happy to provide 1 free personal assistant ticket for any eligible customer. To register for your personal assistant ticket for an event please fill out our Access Scheme Form and send it back to us with your supporting evidence either by email to accessibility@manchester-arena.com or by post to Manchester Arena, Victoria Station, Hunts Bank, Manchester, M3 1AR. There is also the option to sign up to our access database which allows Manchester Arena to store your accessibility requirements and eligibility for a personal assistant on our system for bookings within a 3 year period. Your name, Eventim booking number and eligibility for a free personal assistant ticket will be safely stored on our database. Registered customers will be able to book accessible tickets and receive a personal assistant ticket quickly and easily every time they book without the need to re-submit evidence for each booking within the 3 year period. Arriving at the venue: We would recommend using either the City Room or Hunts Bank entrance for the easiest access into the arena. • Getting from the NCP car park to the City Room entrance and Box Office. Follow directions from the car park to the Box Office entrance and you will reach a set of doors with a small flight of stairs on the other side, leading to the Arena entrance. There is also a lift to the right hand side of the doors that takes you up one level. • Getting from Victoria Station to City Room entrance & Box Office Take the lift located to the right hand side of the stairs within Victoria station. The lift to the bridge level connects Victoria Station to the City Rooms entrance at the Arena. Maximum distance from Victoria Station to entrance is 180 metres. • Getting from Hunts Bank Drop Off Point into the Arena The Hunts Bank entrance is a convenient drop off point with access to the Manchester Arena via the stairs or a lift to the right hand side of the stairs. Maximum distance to the lift from the drop off point is 50 meters.
Accessibility Guide
Accessibility Guide Link: http://www.manchester-arena.com/accessibility/
Accessible Performances
If you have any specific requests for performances such as use of our Hearing Loop, British Sign Language Interpretation and Captioning please contact our Accessibility team via email at enquiries@manchester-arena.com.
Awards List
Attitude is Everything Bronze Award.
Toilets
There are a number of accessible toilets situated within the venue with three unisex toilets fitted with radar locks. Two are located on the concourse at Block 112 and Block 122. The third is located by the bar area on the floor. If you require a radar key please speak to our Customer Services desk at our Hunts Bank entrance or a member of our stewarding team stood by the toilets. Additionally there is at least one wheelchair accessible toilet in each set of toilet facilities (three female sets, three male). These are located on the concourse opposite Blocks 122, 116 and 110.
Staff
The Customer Service (Tickets and Info) desk is located on our concourse next to the Hunts Bank entrance should any customers require any further assistance once in the venue.
COVID Precautions
Information about COVID precautions has not been added for this venue.
Assistance dog facilities
Assistance dog exercise facilities
Assistance dogs are welcome at Manchester Arena. We would highly recommend that you contact us in advance of your visit to discuss any requirements you or your dog may have.
The venue says it has...
Accessible Format
Carer Discount
Dedicated Seating
Disabled Access
Induction Loop
Large Print
Disabled Parking
Accessible
Toilet