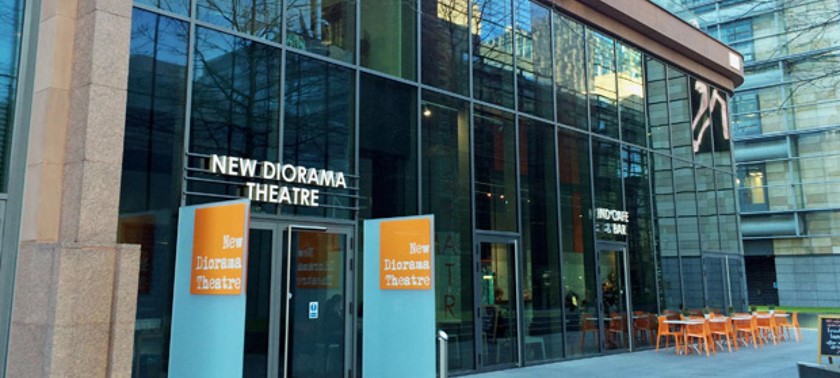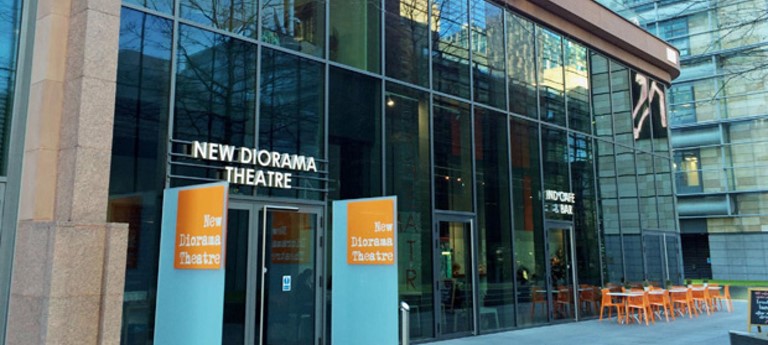 Venue Description
New Diorama Theatre is an 80-seat theatre based just off Regent's Park in the heart of central London. Unique for our development and support of early and mid-career theatre companies and ensembles. Since we opened in 2010 we have welcomed over 200,000 audience members to productions by the best theatre companies making work in the UK today. Soon after opening, we were recognised as a "must visit destination for London theatre-goers" (Time Out) and awarded two consecutive prestigious Peter Brook Awards for the first two years of our programming. In 2018 we were delighted to be awarded the main Peter Brook Empty Space Award, and were named Fringe Theatre of The Year 2017/18 at The Stage Awards. Our innovative new programming model was awarded the 2019 Innovation Award at The Stage Awards. Productions created for and with New Diorama Theatre have gone on to tour nationally and internationally including numerous Off-Broadway transfers. You can see our current programme here. We work year-round to ensure our space is somewhere our neighbours feel at home. Two of our most important programmes are the free Camden Youth Theatre (run with Camden People's Theatre) and our on-going partnership with the Third Age Project ensuring isolated older people in the borough of Camden can see a theatre production for free and socialise over tea, coffee and cake.
Accessibility
We're proud that New Diorama is one of the very few small theatres in London to be access friendly to visitors using wheelchairs, guide dogs and other mobility aids. If your question isn't answered here please call the theatre office (020 7916 5467) or email us on hello@newdiorama.com and we'll be more than happy to help. Facilities New Diorama has entrance level access with a push button controlled wide entrance door. The auditiorium, café/bar and unlocked accessible toilet are all at this entrance level. A baby changing facility is available in the accessible toilet which has a wide, outward opening, door. Disabled customers may use the Box Office phone to arrange a pick up or call a taxi, or alternatively may ask a member of staff to do this. Hearing dogs and guide dogs are welcome. Captioned Performances Working with Stagetext we offer a captioned performance for every New Diorama show that runs for two weeks or more. Details of which are displayed on each show page on the website. For full listing of upcoming captioned performances please call the theatre office on 020 7916 5467 or email hello@newdiorama.com. Relaxed Performances These performances are a chance for audiences to really relax and enjoy themselves at the theatre. Perfect for audience members on the Autism Spectrum, those who have a sensory or communication disorder or anyone who finds sitting silent and still for a long period of time a real challenge. During these performances we allow latecomers, audience members to leave and re-enter the theatre any time they wish and encourage everyone to react to the performance in any way they please. We also make a few adjustments to the production to ensure there are no complete black-outs in the show, no stressful loud noises or harsh lighting effects and we keep the house-lights half up at all times. For full listing of upcoming relaxed performances please call the theatre office on 020 7916 5467 or email hello@newdiorama.com. Wheelchair Users / Mobility Impaired Customers When booking please mention that you require a wheelchair space so we can find the best seat for you. To book tickets or to contact us about any specific requirements please call us on 020 7916 5467 or email hello@newdiorama.com. Step-free seating If you require step-free seating please let us know and we'd be happy to reserve you seats on the front row. You can call us on 020 7916 5467, email hello@newdiorama.com or let us know when you arrive. Unfortunately, we currently don't have a hearing loop system in the auditiorium, but will let you know as soon as we are able to offer this facility. Any audio described performances will be advertised on show pages.
Access Statement
Access Statement Link: https://www.newdiorama.com/about-us/access-information
Accessible Performances
All productions in our Main Season have Captioned and Relaxed performances.
Toilets
Step free accessible toilet with grab rail and emergency cord, which reaches the ground. The toilets do not require a key to access.
Staff
We have a small team of staff. Our cafe is staffed from 7.30am to close on weekdays. At the weekend the cafe is staffed from 2.30pm to close. The Box Office is staffed from an hour before shows open until close. This normally means 6.30pm to close. On Saturdays 2.30pm to close. We are closed on Sundays.
COVID Precautions
Information about COVID precautions has not been added for this venue.
Assistance dog facilities
Assistance dog exercise facilities
Regent's Park is a short walk from the theatre.
The venue says it has...
Carer Discount
Disabled Access
Access Statement
Accessible
Toilet