Premier Inn Birmingham
3-6 Waterloo Street, Birmingham, B2 5PG, United Kingdom
|
0333 777 3903
|
Website
Accessible Room No. 216
Visit date:
This review is especially helpful for those who have or use the following: Powerchair
Overview
Room 216 has a wet room and, like almost all accessible rooms at Premier Inn it is a good size with plenty of room for a wheelchair user to move about freely. Width of main door: 86.5cm. Currently, check-in is after 16:00 but we popped in at 14:30 and our room was ready. The king size bed was made up of two single zip and lock beds and, at a height of 47cm it was easy enough for my wife to transfer from her wheelchair. The mattress was comfortable enough, and two firm pillows and two softer pillows were available to us. This is an old style room and was showing signs of a little wear and tear. It also has the smaller TV and there is no HDMI as the newer rooms have; of no great consequence to us as we only used it for a short time. It was pleasing that the room still had the old style wardrobe unit, which we prefer to the ones in the updated rooms; it offers more storage capacity. The room also lacked the vanity mirror of the newer rooms, which is always set too high for a wheelchair user. There were enough electrical sockets around the room, including one on the left side of the bed. The basic Wi-Fi offered a good signal, with no dropouts. Mobile data (O²) was strong too. As is common with most of the hotels in this chain, the accessible bathroom was a good size, with a sliding door that opened to a width of 81cm. The thermostatic shower was easy to control and the water pressure was very good; it remained at a constant temperature whilst showering. The shower area, like so many in hotel wet rooms, was missing a small shelf on which to place shampoo, body wash and so on. It can be very difficult for a disabled person, when seated, to reach necessary items when the floor is the only place to put them. The room had three good sized windows, which looked out onto Waterloo Street and the nearby cathedral grounds, and let a lot of light into the room. The outer double glazed windows could be opened to a degree, which afforded us with fresh air. With those windows closed along with the secondary sliding windows, most but not all outside noise was eliminated. The blackout curtains were not very effective in that they were not hung properly; this meant that there was some light coming into the room at night from the streetlamps outside. The A/C was very efficient at cooling the room to 19ºC, but it was showing its age and was quite noisy. I would have ordinarily opened the windows but the noise from outside prevented me from doing so. Solution: ear buds. Our room was two floors above the bar and restaurant next door and as such, we could hear the constant base of the music from there into the night. It didn't bother my wife, who can sleep through a hurricane, but I needed ear buds. We have stayed previously at this hotel, also looking onto Waterloo Street, but that time we were on the top floor and away from the aforementioned bar and restaurant; that time we didn't suffer any noise disturbance. That is something to think about if we stay here in the future. The hotel only has a Bar & Block restaurant, which we did not use.
Transport & Parking
This hotel does not have parking but, if you have a blue badge there is plenty of on-street parking available very near to the hotel entrance. On the cathedral side of Temple Row West, right outside the entrance, there is specific disabled parking with room for about eight cars. On Waterloo Street there is regular on-street metered parking with a limit of four hours but, of course, as a blue badge holder you can park there without limit. We got a spot right outside the hotel entrance, which was nice!
Access
There was barrier free access from the street to reception, the restaurant and to our room. There are two lifts near to reception so, if you are a wheelchair user, take the one on the left; as you exit it the room is located just four metres away and you do not have to negotiate any pesky doors in the corridor.
Toilets
We noticed one accessible toilet near reception but did not use it.
Staff
All staff we encountered were pleasant and helpful.
Anything else you wish to tell us?
Only some staff wore face coverings. During the current Covid-19 restrictions housekeeping staff do not enter your room unless you specifically request them to do so; anything you need you can just ask at reception. Notices about social distancing, cleanliness and face coverings were posted about the hotel. Face coverings for guests was recommended but not enforced. Hand sanitizer was available at key locations. There were no notices on the lifts advising of single party/family use.
Photos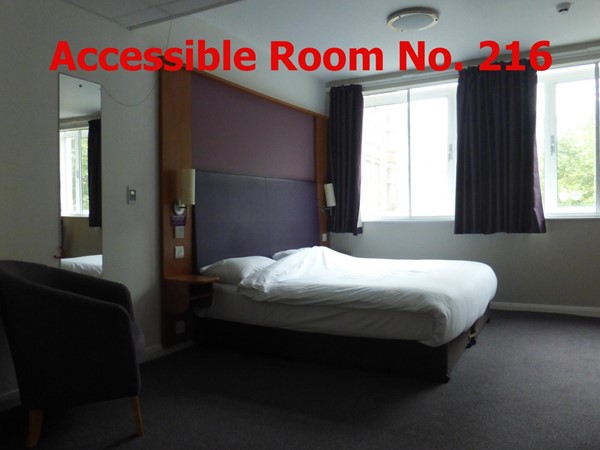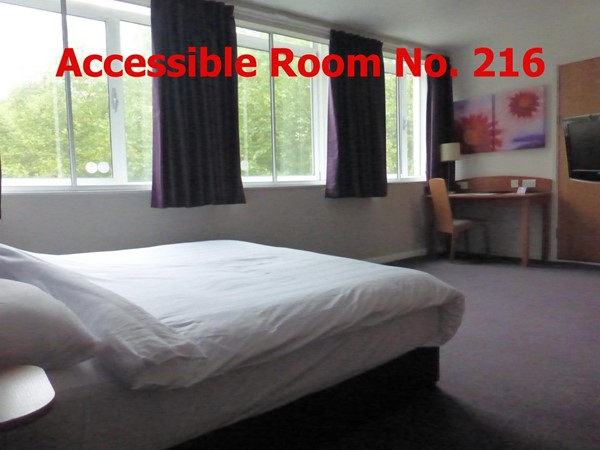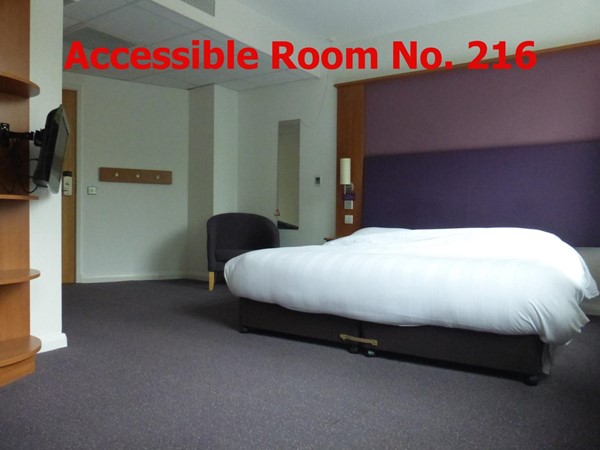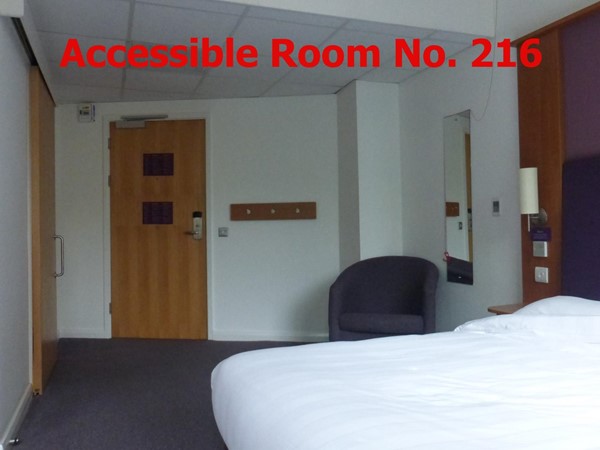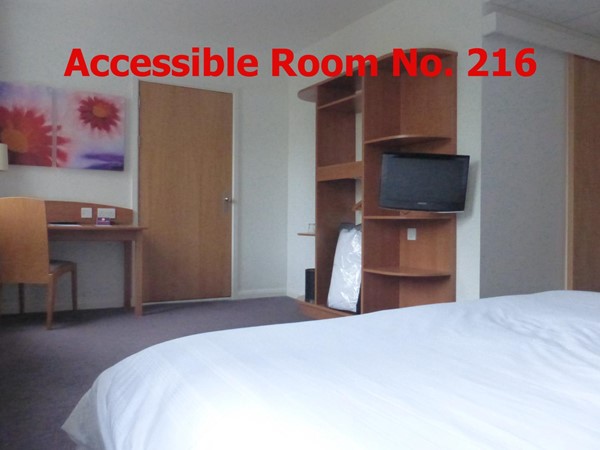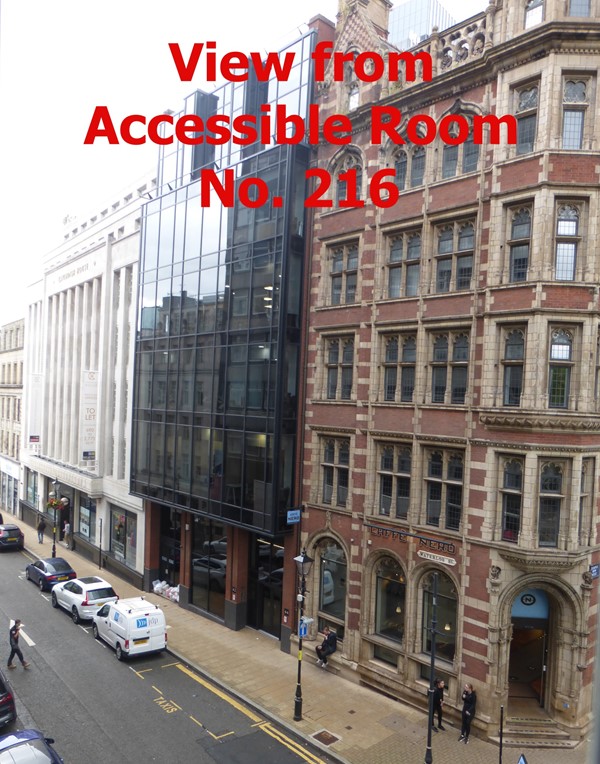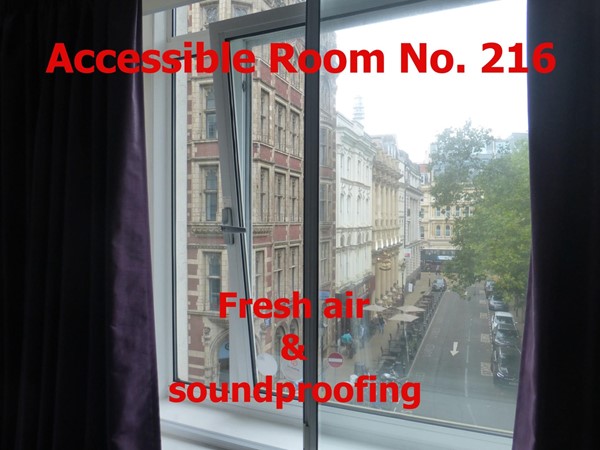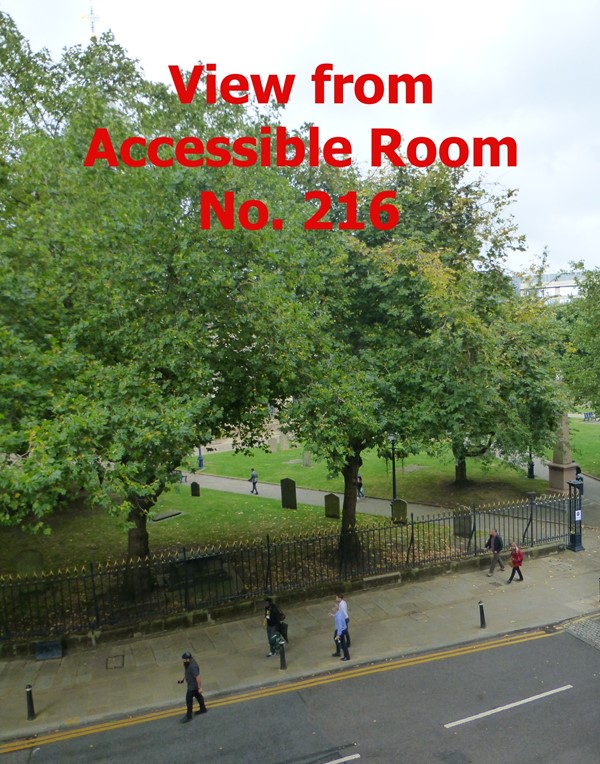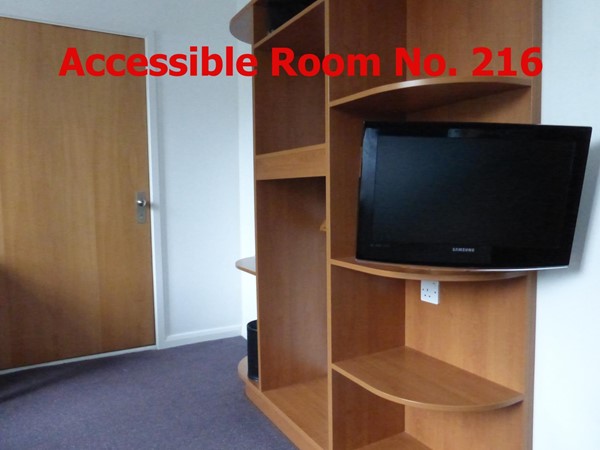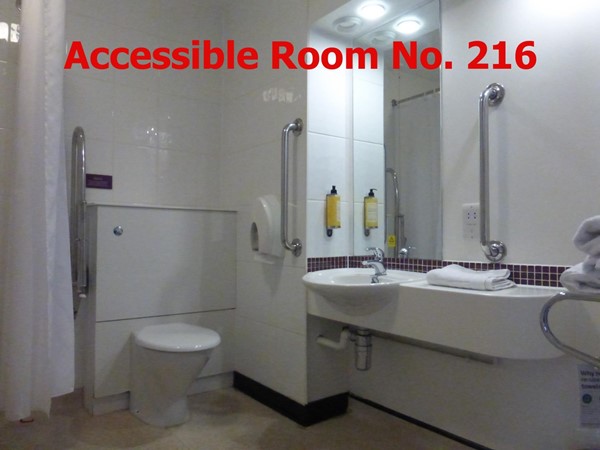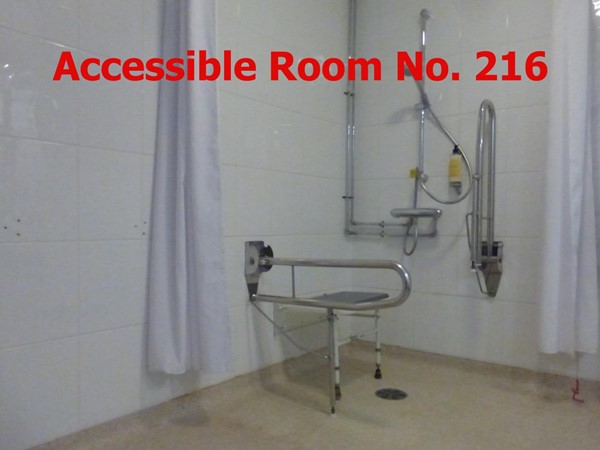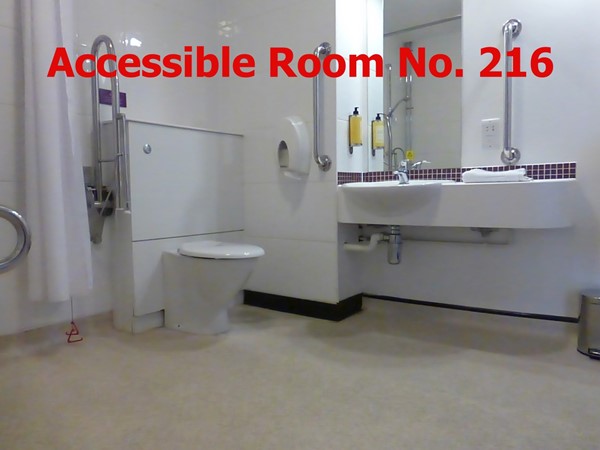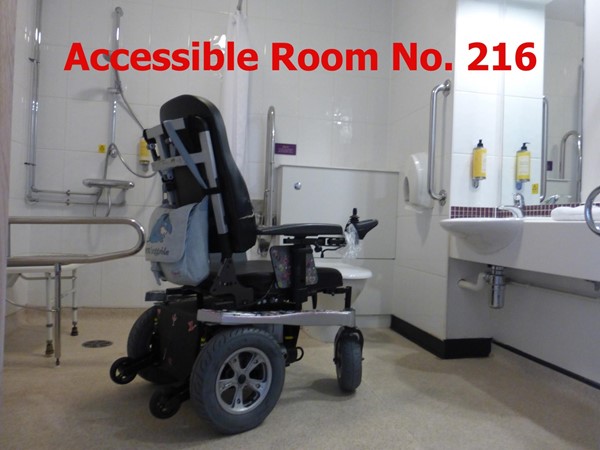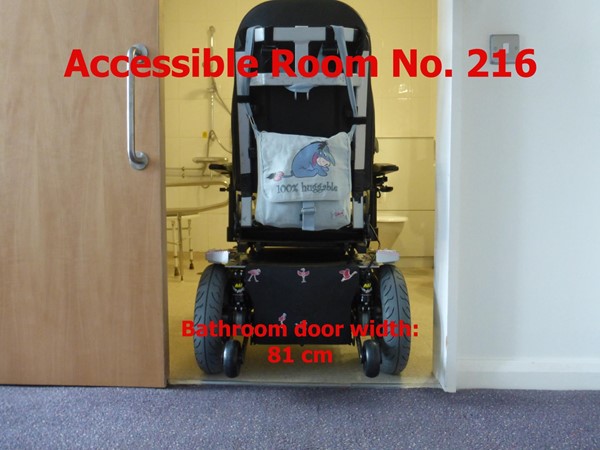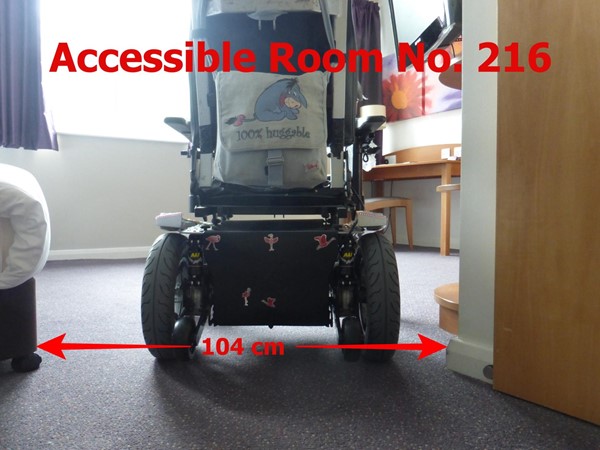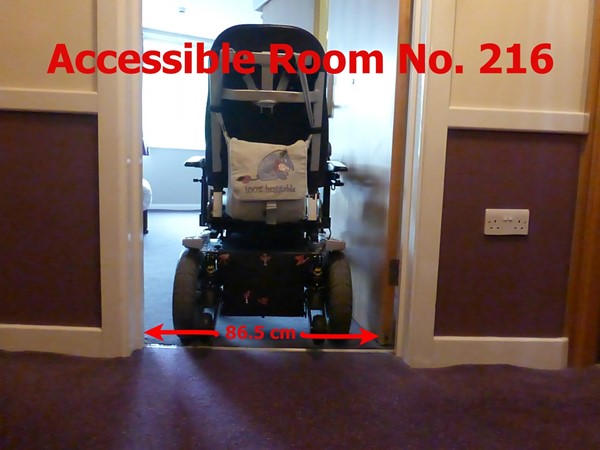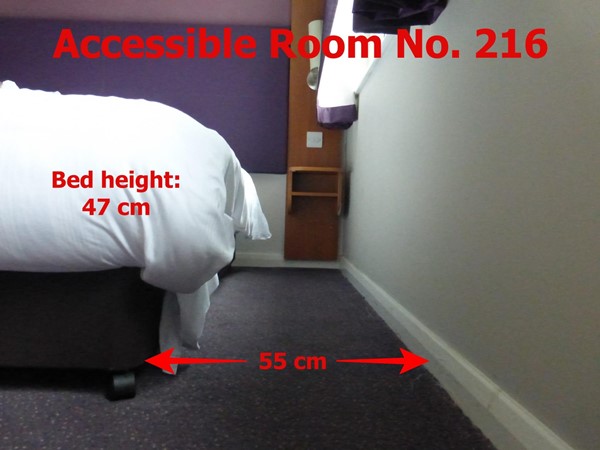 We've had 1 review for Premier Inn Birmingham