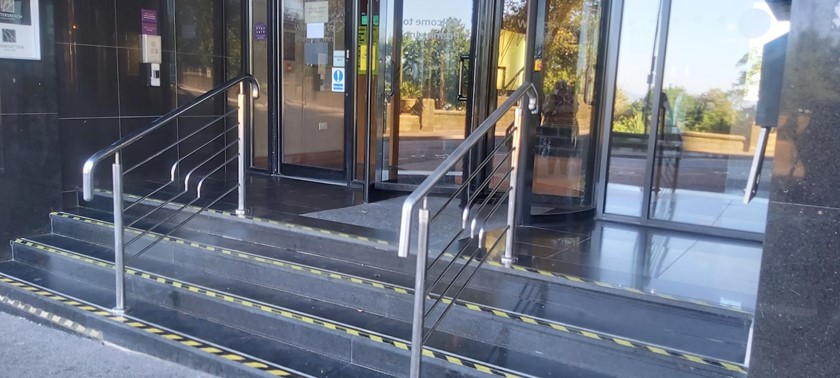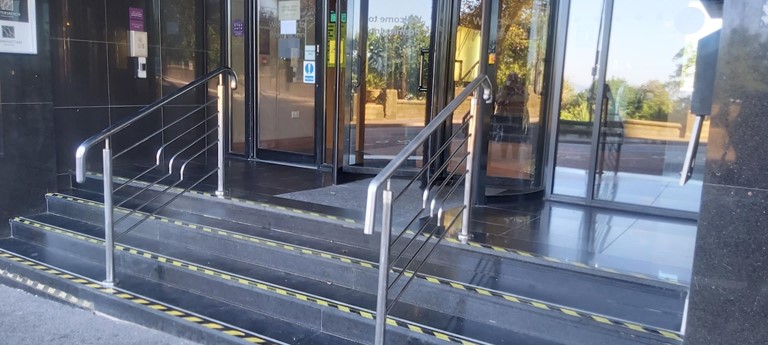 Premier Inn Bournemouth Central Hotel
Westover Road, Bournemouth, BH1 2BZ, United Kingdom
|
0333 777 3929
|
Website
Check your bedding before you get into bed to make sure there isn't poo on the sheets
Visit date:
This review is especially helpful for those who have or use the following: Walking Aid
Overview
There are a few Premier Inns in Bournemouth, this review is for Bournemouth Central which is directly opposite The Pavilion Theatre and the Lower Gardens. It lives up to its central location and is a 5 minute walk to the pier and seafront. The hotel has step free access and accessible wet rooms. There is also a restaurant/ bar. Overall it is a good choice but there was a problem while I was there, my bedding was stained, trigger warning avoid the last photo if you don't want to see it, which over shadowed my entire stay. However, overall it is a good choice if you want a central location.
Transport & Parking
The hotel is a short 5-8 minute taxi ride from the train station. There are a number of buses that stop close by. Please be aware Bournemouth is extremely hilly, so if you are using the buses I would suggest using google street view to see where the stop is as it may involve a short walk up or down a hill to get there. Directly outside the hotel there is a loading bay, which was sometimes blocked with parked cars, which meant that my taxis had to stop in the middle of the street and therefore without the kerb it was more difficult for me to get into the taxi.
Access
The hotel has a short flight of stairs (4 steps) with handrails and black and yellow tape marking the edge of each step. I didn't use this way but once you reach the door there were a couple more steps to the reception area. Alternatively, on the right hand side (facing the hotel) is a step free entrance. There are automatic doors leading to a platform lift. It is a very short distance between the street and reception level. The lift doors are manual and inside they are not marked so it's difficult to know which side to push the door open. From the platform lift you come out into the reception area. There is a standing height desk and the plastic screens are still in place. Then there are lifts up to the room. These are quite spacious. My room 222 was on the second floor. I had to use my key fob to open the door and it was one of the first rooms in the corridor. Room 222 was an accessible room with wet room, which I was able to book online. The room faced the rear of the hotel. I forgot to take photos of the entire front of the hotel, but the front rooms, and I'm not aware if any of them are accessible, have small balconies and overlook the Lower Gardens towards the pier and the beach. My room overlooked a wall, which was just a few feet away. The room was extremely spacious. There was a double bed with emergency alarm next to the bed and small bedside tables. There was a single arm chair, desk and table and very little storage space. the clothes clothes rail in the wardrobe area was too low for my dresses, see photo, an additional clothes rail at a higher height would be very helpful. There was a flat screen TV and a hairdryer. The bathroom was a wet room. Although it was well equipped there were 2 things which were an issue. First the emergency cord for the shower was tided around the shower frame and if I had fallen I would not have been able to reach it. There was a second emergency cord by the toilet which did hang freely. In the shower area there was a shower seat and horizontal grab rails but no vertical grab rails which is handy for people who have a mobility impairment and just need a bit of support to stand. There is an issue about cleanliness, which I will discuss in the staff section. As I am clinically vulnerable, I am avoiding taking my mask off indoors. Therefore I was delighted that Premier Inn have introduced a take away service from their restaurant, where many but not all items on the menu can be boxed up and taken to your room. I only noticed this on my final night and if I had known before I would have done this each evening. On my final night I went to the restaurant and ordered my food. I explained I could not carry my food to my room and they arranged to bring it to me
Toilets
I didn't use their communal accessible toilet so can't comment.
Staff
Check in was fine and the person serving in the restaurant on Wednesday night was brilliant, very helpful in ordering and delivering the food and he gets my star. There was a situation which was very distressing. On the Monday night I arrived very tired after a stressful journey when special assistance had not been provided at my destination station. When I arrived at the hotel I checked in and rested in the armchair and later went out for a meal. On my return about 10pm I was ready for bed and just quickly got in. Tuesday I had a lie in and when I got up I moved the duvet and found poo at the bottom of my bed, see photo. The poo had got onto my feet and I felt sick that I had been lying in someone else's poo. I got ready and went down to reception. The person on reception went get her manager. I waited and someone appeared and asked if they could help me. They did not introduce themselves so I had assumed it was another receptionist and said I was waiting for the duty manager. She then said she was the duty manager. She looked at my photo and said it might be chocolate. As thought sleeping in soiled chocolate stained sheets was acceptable. I had to ask if the sheets would be changed as she didn't tell me. Also she didn't apologise. I went away feeling very unhappy with her response. On return I put a complaint into Premier Inn. Their reply was given that as soon as requested they had changed the sheets they would not refund me for my 1st night when I slept in poo stained sheets. I am deeply disappointed in the customer care provided by Premier Inn as they have negated their duty to check the cleanliness of the room before allocating a room. It appears the upset it caused didn't matter as they changed the bedding the next day. This is not good customer care.
Anything else you wish to tell us?
I have stayed at several Premier Inns and I have never had an experience like this before. However, given the state of my bedding I will not go back to the hotel again and I can't recommend it. Small Things to Improve which would make a Difference The inside of the platform lift to have a sign so you know which side to push to open it. An additional clothes rail in the wardrobe area at a higher level. Emergency cords need to reach towards the floor so that disabled people can easily reach them if required. A vertical grab rail for the shower to give greater flexibility for disabled people. Accepting responsibility for the distress caused when things go wrong as it is not right for guests to sleep in poo stained bedding. They should publicise their take away restaurant menu as many clinically vulnerable people want to go away but are worried about removing their face masks in indoor public places.
Photos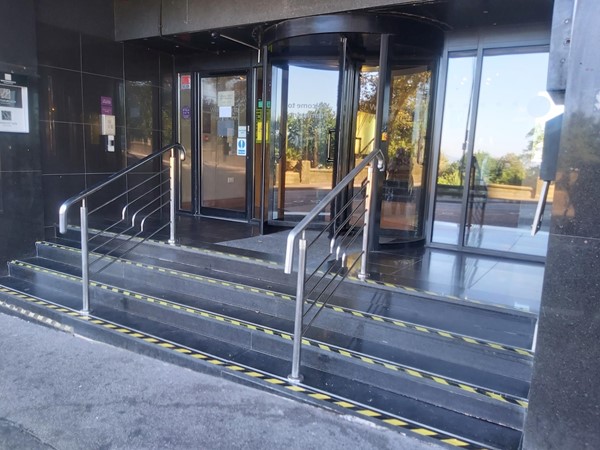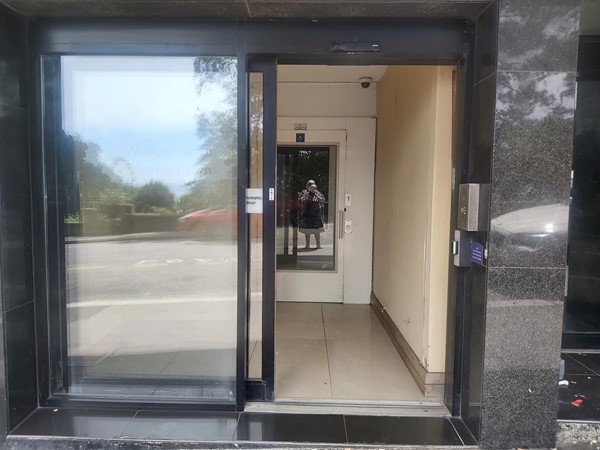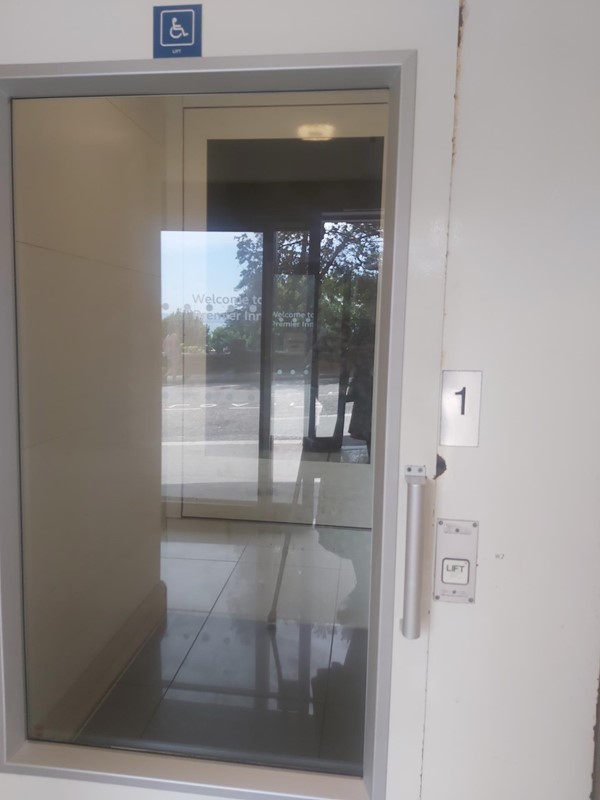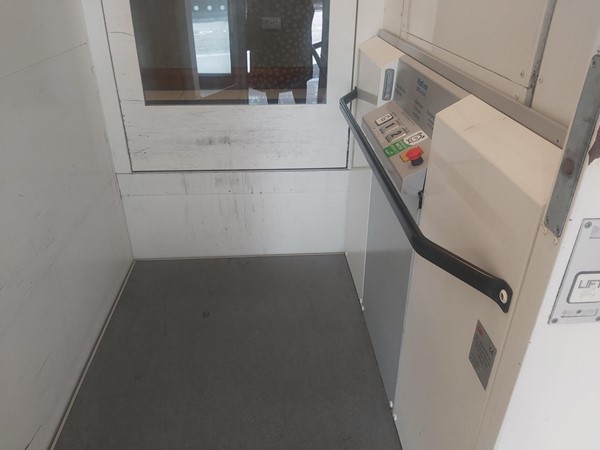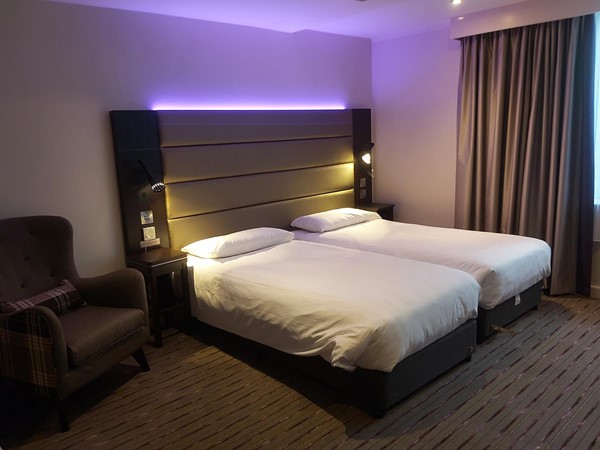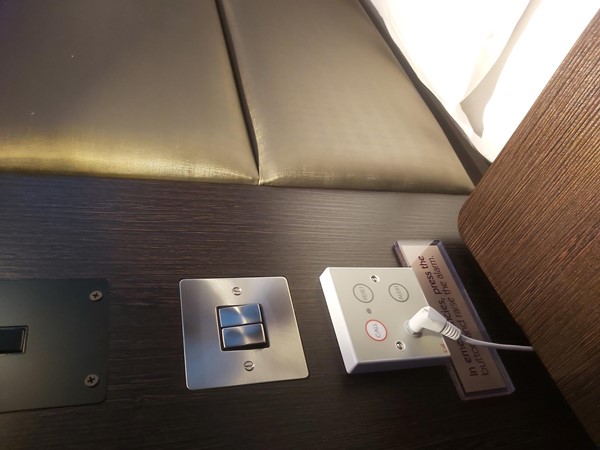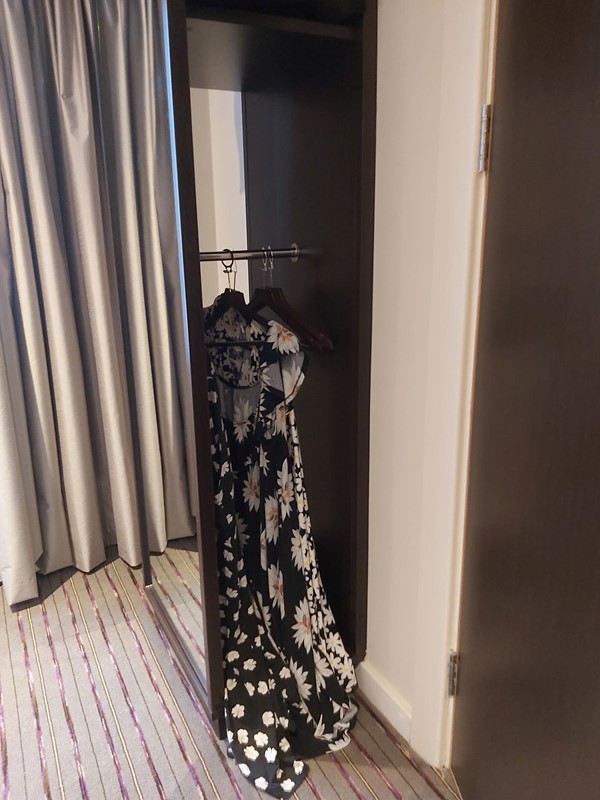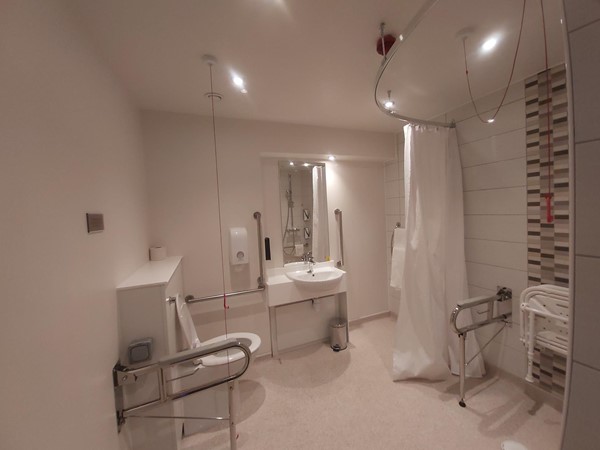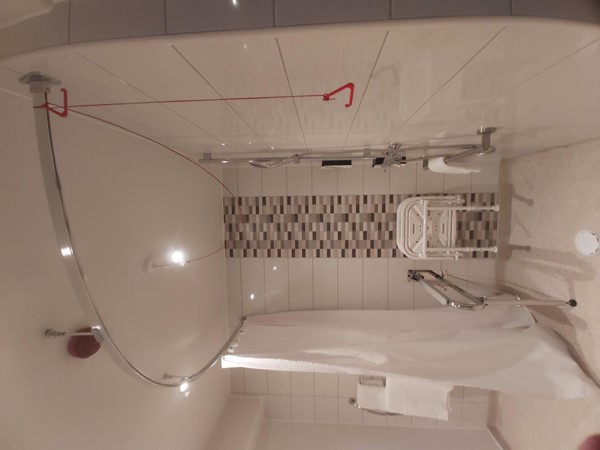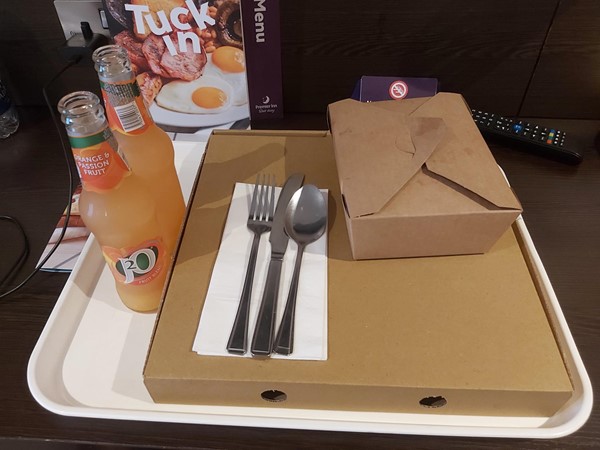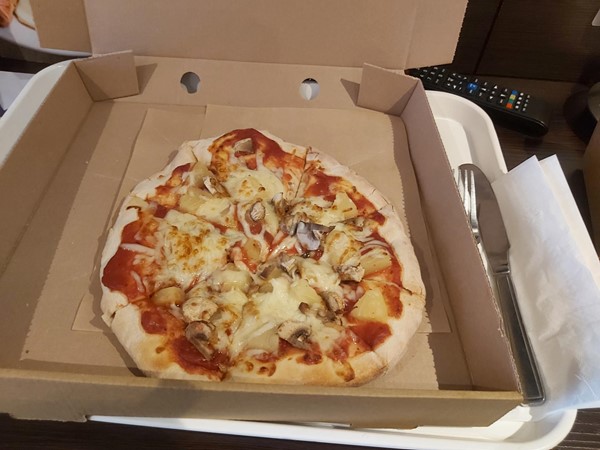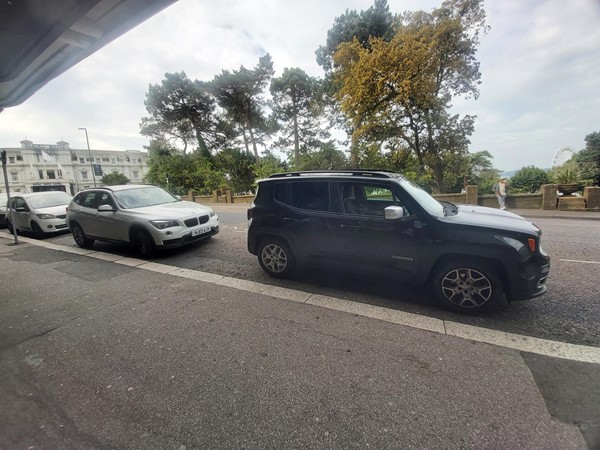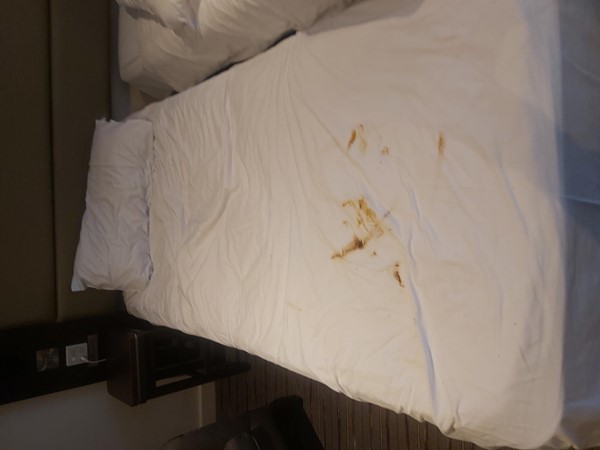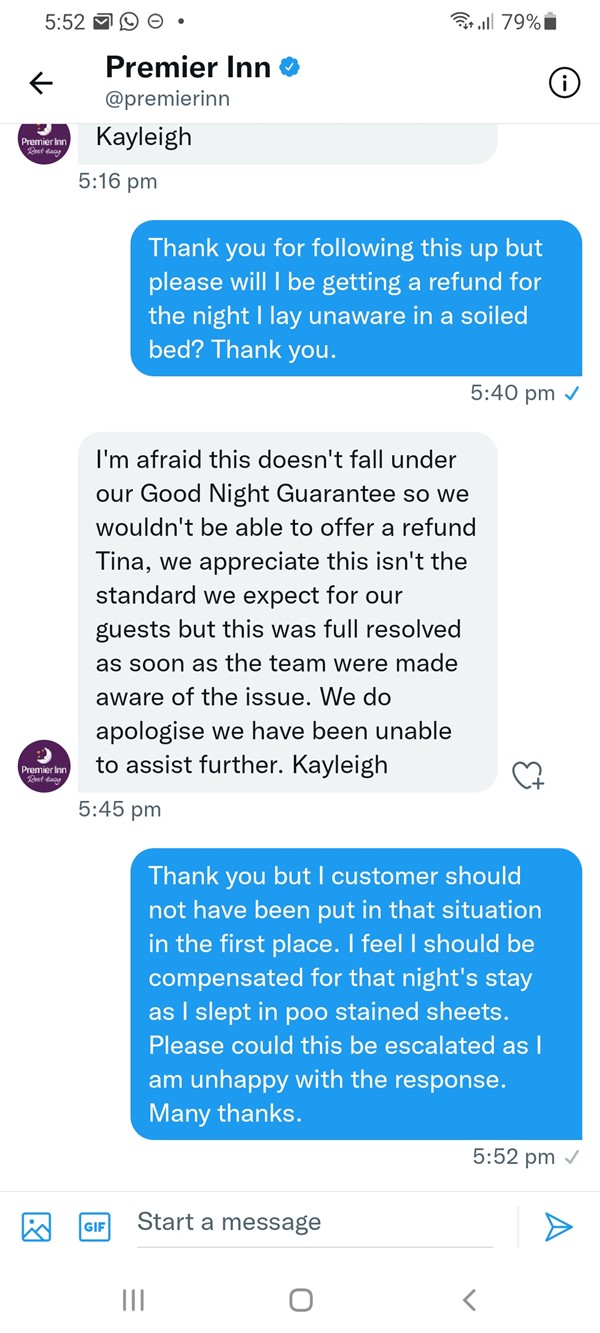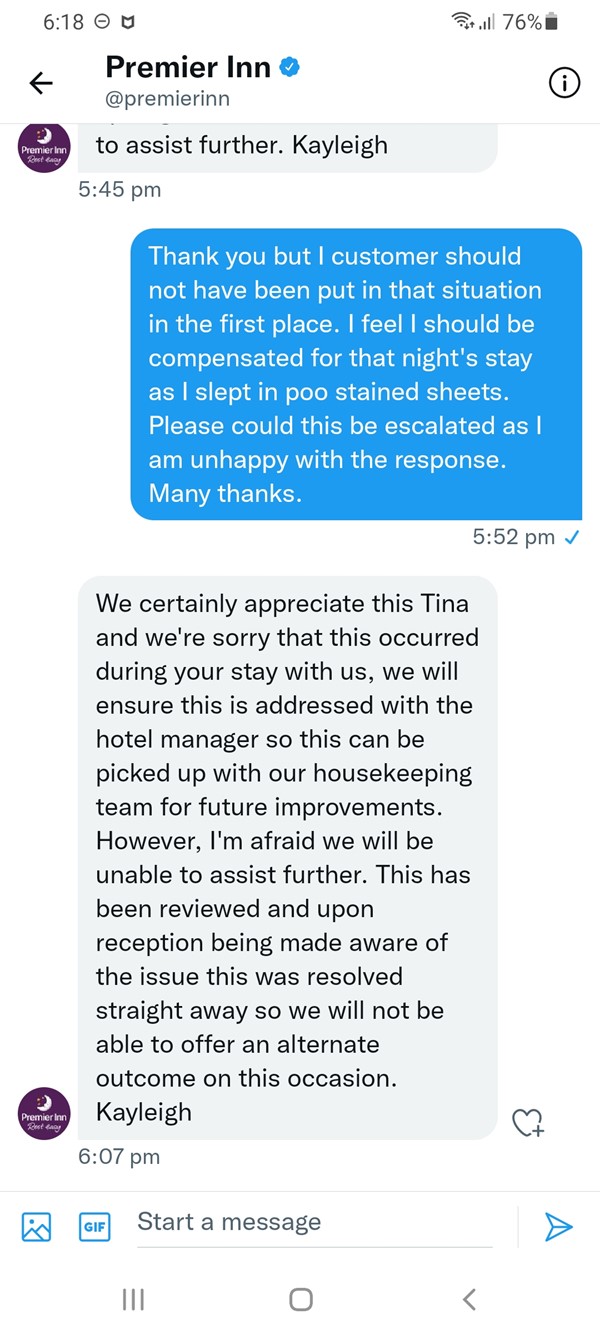 We've had 1 review for Premier Inn Bournemouth Central Hotel