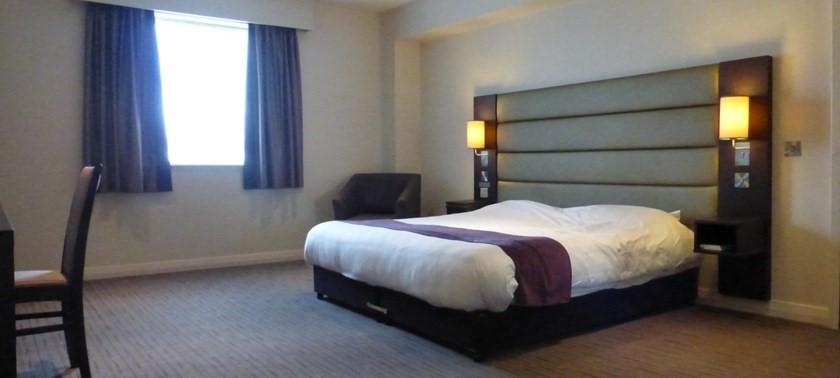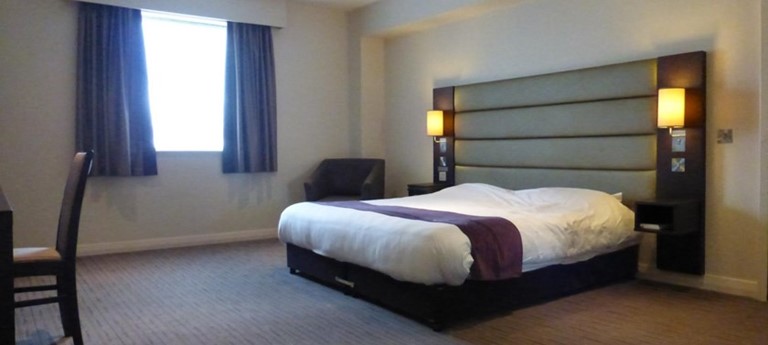 Premier Inn London Edmonton Hotel
Advent Way, London, N18 3AF, United Kingdom
|
0871 527 9404
|
Website
Accessible Room No. 203
Visit date:
This review is especially helpful for those who have or use the following: Walking Aid, Wheelchair, Powerchair
Overview
Excellent accessible room. Quiet hotel. Secure free parking.
Transport & Parking
The car park has plenty of spaces, including ten disabled bays; there is a decent sized overflow car park too. The car park is secured overnight by a barrier, with access granted by security within the hotel. I was disappointed to find that all ten disabled parking bays were occupied but only four vehicles, including ours were displaying blue badges. Some of the contractors parked in them had obviously had hard days and couldn't be bothered to walk the additional fifty yards to and from the overflow car park! What really annoyed me though was the able bodied female member of restaurant staff who parked her little green Vauxhall car in a disabled bay, did not display a blue badge and then skipped into work; yet there were several regular bays just twenty feet away. Observing her dashing around the restaurant that evening she certainly didn't look like someone with a hidden disability, more like someone that didn't want to park her precious car close to others, preferring instead to prevent genuine disabled users from parking – see photo.
Access
Lots of level access. two lifts No automatic doors in corridors
Toilets
The bathroom was a good size, with a sliding door; there was plenty of space in it for my wife to manoeuvre her wheelchair. access to it was easy for my wife due to the large amount of floor space just outside it. Strong shower seat and plenty of grab bars. As is common with most other Premier Inn rooms we have stayed in, the thermostatic shower was easy to control and the water pressure was very good; it remained at a constant temperature whilst showering. We didn't use the toilet in the reception / restaurant area.
Staff
All staff members we encountered were very friendly and eager to please. We ate in the restaurant in the evening and then again for breakfast. The food was of a good standard and we were well looked after by Jack in the evening. The restaurant was fairly quiet at breakfast, probably because most of the workmen had already left. The chef was eager bring out fresh, hot items upon request.
Anything else you wish to tell us?
9 miles / 40 mins from our intended destination in central London and at a quarter of the price of hotels near our destination. It had free parking too. Access to the hotel is through an industrial estate just off the A406 North Circular Road and, although our sat-nav took us on a convoluted route around the industrial estate, it is fairly easy to get to once you've got your bearings. Our room on the second floor was a really good size and there was plenty of space in it and the large bathroom for my wife to manoeuvre her wheelchair. It looked out on to the car park; as such we didn't suffer with road noise, which we may have encountered had we been situated on the other side of the hotel. The king size bed was made up of two single zip and lock beds, which are always uncomfortable in the middle. As such, I always call ahead to ask that a duvet is placed under the bed sheet as a mattress topper; that wasn't in place when we checked in so I had to ask for one to be brought to our room, along with extra pillows; they arrived promptly with Crina who proceeded to make the bed up. The bed was at an appropriate height for a wheelchair user, 50cm, and my wife found it easy to get in and out of. It was really comfortable too and on we slept well. The A/C took a while to kick in when set but, when it did get going it was efficient in cooling the room, and was fairly quiet. There were plenty of electrical sockets in the room including at least one with a USB charger. There was also plenty of lighting and with all turned on the room was very bright. The vanity mirror was situated next to the clothes storage unit (hardly a wardrobe) in the corner of the room nearest to the bathroom, and there was plenty of room for my wife to sit in her wheelchair in front of it; so many times we find that the vanity mirror in the updated PI accessible rooms is placed in a location that makes it difficult to position a wheelchair directly in front. That said, it was set too high for a wheelchair user, the bevel being at eye level and obscuring my wife's view; that is a common problem in all updated PI accessible rooms we have stayed in.
Photos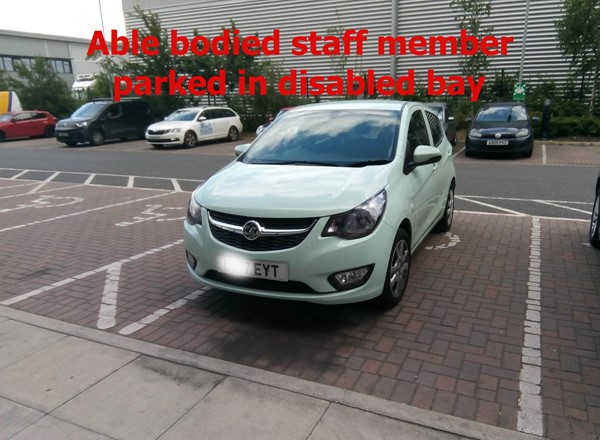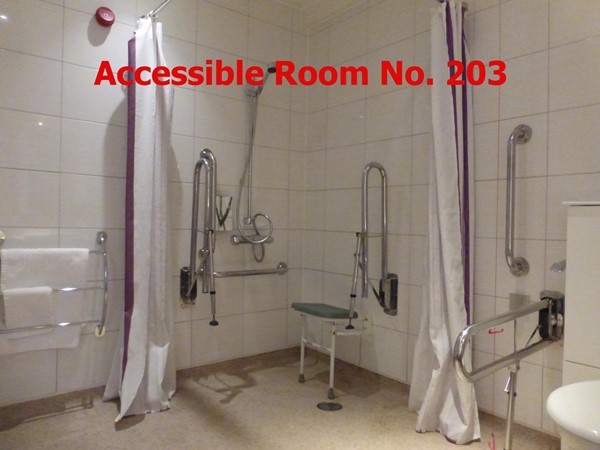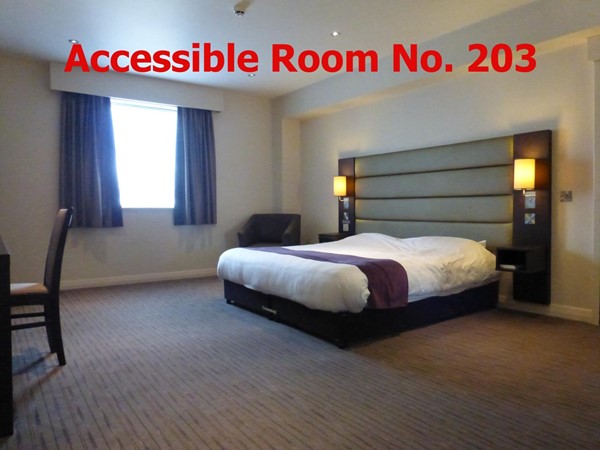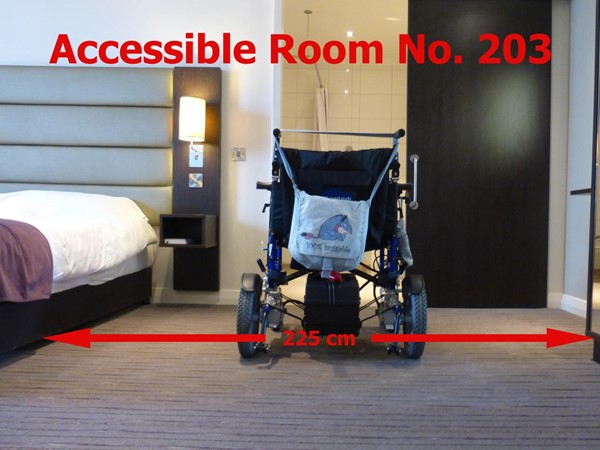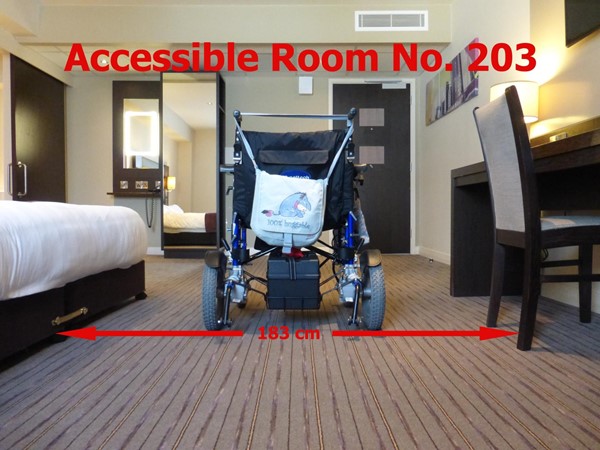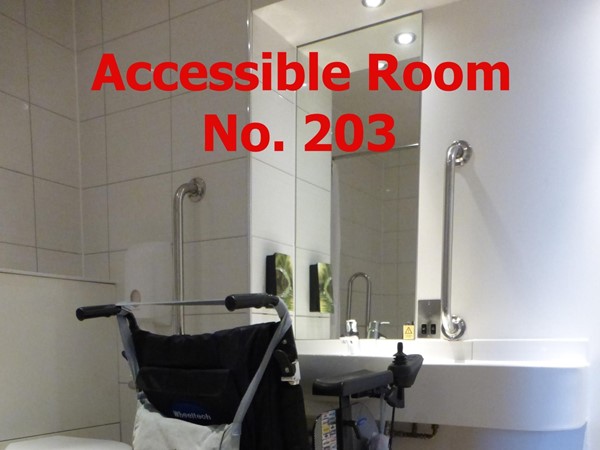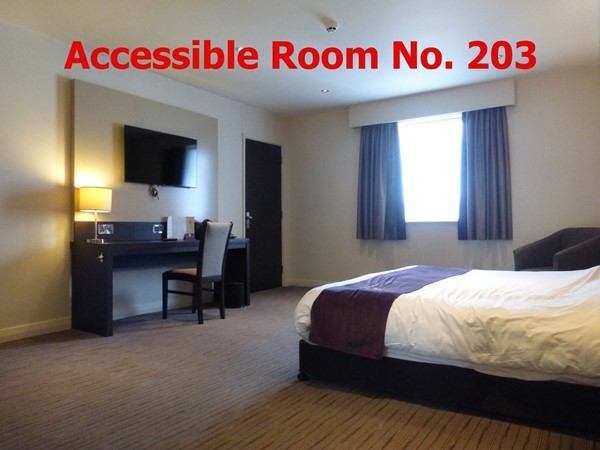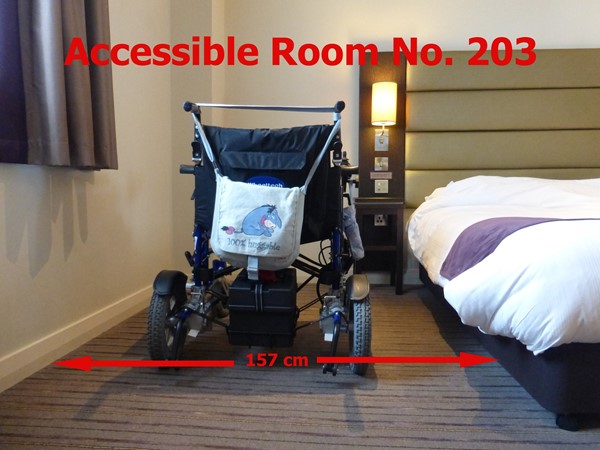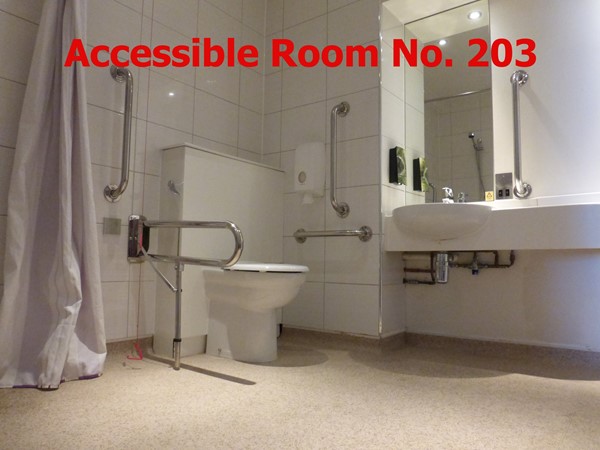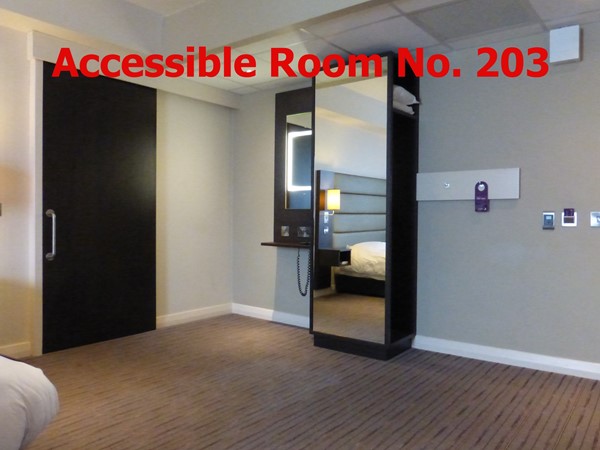 We've had 2 reviews for Premier Inn London Edmonton Hotel