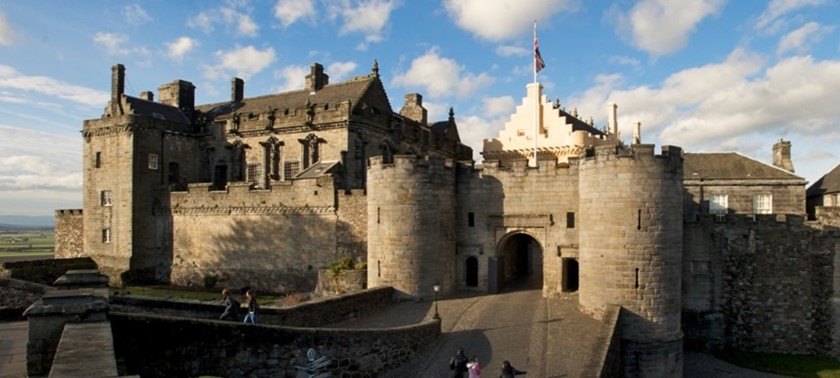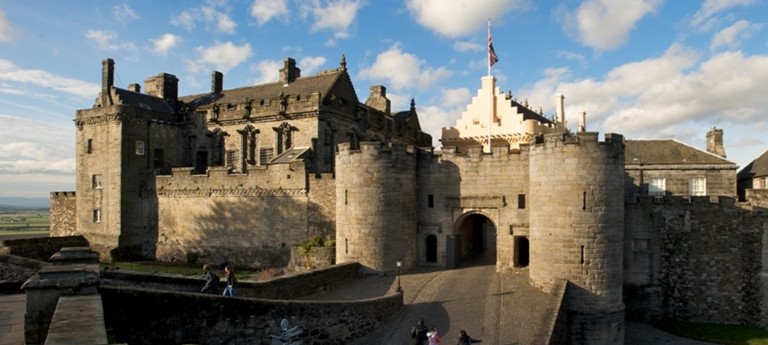 Venue Description
There's more than ever to see and do at Stirling Castle. Step inside the Royal Palace and meet costumed characters in the roles of royalty, bodyguards and servants who give insights into the Stewart royal court. Opening times: 1 Apr to 30 Sept: Daily, 9.30am to 6pm 1 Oct to 31 Mar: Daily, 9.30am to 5pm For guaranteed entry please book your tickets in advance. We can accommodate some walk ups, but these are subject to availability. Closed Christmas Day and Boxing Day
Accessibility
Visitor centre Admission tickets are puchased in the shop in the entrance courtyard. It has wide doors and is step-free. An induction loop is available. Monument The main route through the castle is 160m long from the gate to the Inner Close. It is surfaced with cobbles and has a maximum gradient of 1:9. The refurbished Royal Palace of James V can be entered from the Inner Close. Within the palace apartments there are no steps and the surface is smooth. A lift can take visitors to the Stirling Heads Exhibition on the first floor. The Vaults have step-free access from the Inner Close. The Argyll and Sutherland Highlanders' Museum has 26 stone steps up into it. The Great Kitchens are accessed down a set of 7 even steps with a handrail to the left hand side. The Tapestry exhibition is in the Nether Bailey, 200m from the Outer Close along a cobbled track with a maximum downward gradient of 1:7. Special features There are interactive and multi-sensory displays in the Vaults. An audio-descriptive audio guide is available on request. There is an exhibition on the castle within the Queen Anne Gardens. Access to this is on the level. The castle has three shops. All have wide doors and step-free access.
Accessibility Guide
Accessibility Guide Link: https://www.historicenvironment.scot/archives-and-research/publications/publication/?publicationId=792edbb6-5c20-40cd-9460-a5b600ecfd11
Access Statement
Access Statement Link: https://www.stirlingcastle.scot/access-for-all
Toilets
There is an adapted toilet off the Guardroom square, in the cafe and in the Great Hall.
Staff
All our Staff have received Customer Care Training to ensure all visitors to the Castle receive a high standard of service.
COVID Precautions
Last updated:
We have introduced safety measures and limits on visitor numbers to help keep everyone safe, and you will not be able to visit without booking online in advance. Although things may be a little different, we hope that you will have an enjoyable visit and will be greeted with a warm and friendly smile by staff. While some areas may be closed, we will have additional interpretation available on-site so you don't miss out.
https://www.historicenvironment.scot/archives-and-research/publications/publication/?publicationId=15ae5b0d-9b05-4223-ae67-abec00ba415a
The venue says it has...
Audio Described
Braille
Disabled Access
Induction Loop
Access Statement
Accessible
Toilet
Covid Precautions