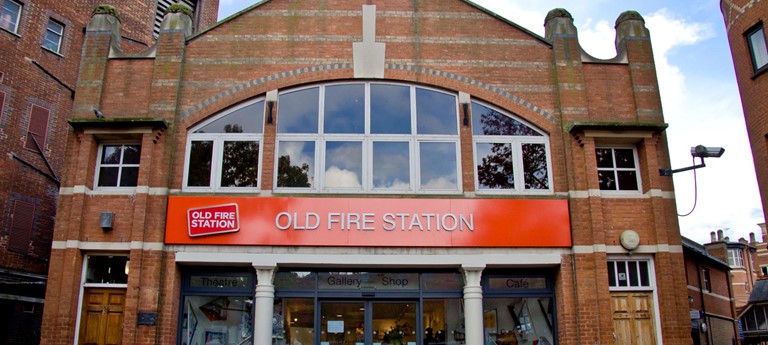 The Old Fire Station
40 George Street, Oxford, OX1 2AQ, United Kingdom
|
01865263980
|
Website
Venue Description
An arts centre in Oxford with a programme of comedy, theatre, music, spoken word, workshops and more. We also have a gallery full of work by early-career artists, and a shop full of beautiful gifts made by UK-based designer-makers. Full event listings can be found on our website. There is a café on site, open 8.30am - 3.30pm, and our bar opens in the evenings, half an hour before each show starts. We hope everyone feels welcome at the Old Fire Station. We are always working to make our venue more accessible – please do let us know if we can help. We have accessible toilets, and the theatre, shop, gallery and café are all wheelchair-accessible. Patrons with a disability are eligible for the concession ticket price for each show (if applicable), plus one free companion ticket. To book this, contact the ticket office: tickets@oldfirestation.org.uk or 01865 263990. Access: https://oldfirestation.org.uk/your-visit/ Accessible shows: https://oldfirestation.org.uk/show-category/accessible-shows/
Accessibility
There are two entrances to the Old Fire Station: 40 George Street via the foyer, and on Gloucester Green via the shop. Both are step-free. If you are coming to a show, we ask that you use the George Street entrance, as the Gloucester Green entrance is not always open. There is level entry to the foyer of the Old Fire Station, and step-free access to the main Theatre (where most shows take place) and Studio space via lift. All spaces in the building are wheelchair-accessible via lift apart from the Theatre balcony and the Loft. If an event is in the Loft, this will be clearly stated on the event's web page. If you are a wheelchair user attending a sit-down show, space will be reserved for you. If you are attending a standing gig, please contact us (call 01865 263990 or e-mail tickets@oldfirestation.org.uk) and we will talk with you about your needs. There are six steps leading up to the Loft space. If you would like to discuss hire of the space, or any of the events taking place in the Loft, please get in touch.
Accessibility Guide
Accessibility Guide Link: https://oldfirestation.org.uk/your-visit/
Accessible Performances
We programme touring shows, and do our best to programme shows which are accessible. See the website (https://oldfirestation.org.uk/show-category/accessible-shows/) or get in touch with us on 01865 263990 or tickets@oldfirestation.org.uk to see what's coming up.
Toilets
There is an accessible toilet on the ground floor, accessible via a smaller platform lift. Other toilets are in the basement (accessible via a larger lift).
Staff
Information about the staff has not been added for this venue.
COVID Precautions
Information about COVID precautions has not been added for this venue.
Assistance dog facilities
Assistance dog exercise facilities
You are welcome to bring your dog to the performance with you. We would appreciate notice if you intend to do so.
The venue says it has...
Accessible Format
Carer Discount
Disabled Access
Accessible
Toilet