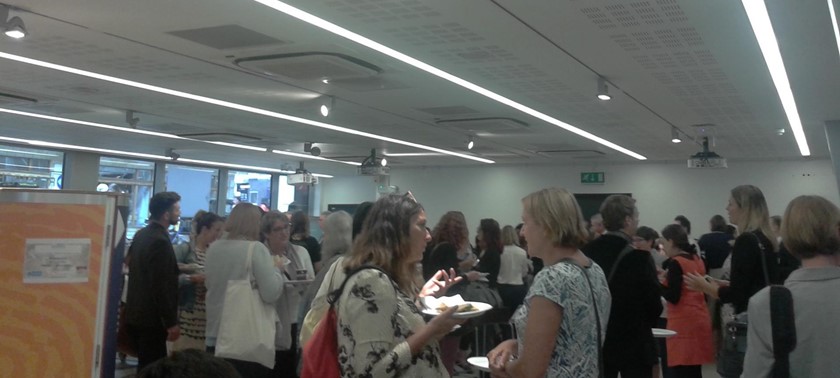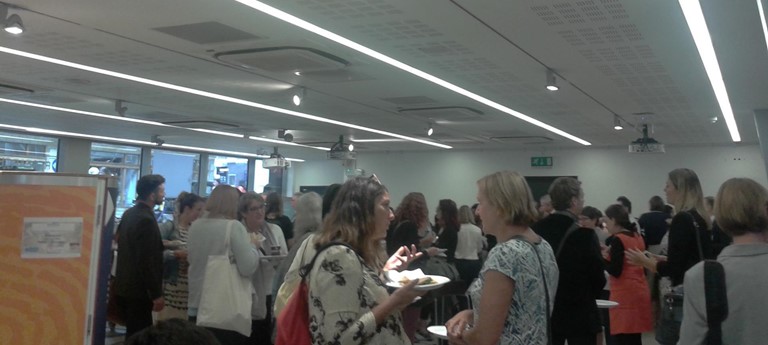 UCL Roberts Engineering Building
Torrington Place, London, WC1E 7JE, United Kingdom
|
020 7679 3922
|
Website
Disappointing - Review of Conference attended
Visit date:
This review is especially helpful for those who have or use the following: Walking Aid
Overview
Roberts Building is one of the buildings on the main Roberts Building campus. I visited when I attended a day conference. Some of my comments relate to the events organisers but most relate to the venue itself.
Transport & Parking
Roberts Building at UCL is close to Euston Square tube, which has step free access only westbound. Euston, Warren Street and Goodge Street tube stations are also close by but access is limited. There are several buses that stop nearby. There has been a recent change in some of the London bus routes and this means that buses that previously served Gower Street are now going down Tottenham Court Road. This means the bus stop is no longer as close as it used to be. This is disappointing as we seem to be going backwards with regard to bus access.
Access
When I got the invite from the organisers there was no access information included in the details. I then went on line and googled "Roberts Building UCL disabled access". I then found an access PDF which listed all the university buildings and there was a chart with good/ bad access issues (my term). It said for Roberts Building that accessible toilet was under the bad access issues. I then phoned UCL, who were very helpful, to see if the venue I was going to had an accessible toilet. In the meantime I went back to the document I'd found online and it was dated 2015. The university called back and said they had phoned the Roberts Building and were able to confirm there were accessible toilets on each floor. (What a waste of time which could have been avoided if (A) the event organisers had included access information (B) UCL had clear up to date access info on their website and removed outdated access information). When I arrived the venue was step free into reception. My conference was on the ground floor, but there were lifts to the upper floors. The lecture theatre were the conference was taking place was on the ground floor. Going into the room I was immediately on the level with the stage. There was then 2 steps down and then tiered seating with steps as per typical lecture theatre. There was one corner space with a desk on stage level for a wheelchair user, obviously they hadn't thought there would ever be more than 1 wheelchair user at a time. The rows had flip up seating and fixed desks. There were holds in the desk for electric cables as power points were below the desk, but this was ideal for me placing my crutch. The seating was extremely uncomfortable for a full day conference and although there was some back support it was extremely difficult to stand up afterwards as there was no side arms on the seats. The worst bit of the day for me was at lunch time. We had an hour's lunch and it was a time to network. Lunch was provided with self service sandwiches, crisps and drinks. Luckily I was one of the first in the queue. The food and drink was served at high bench tables, which would have been too high for wheelchair users. The food was all wrapped up and I was thankful someone in front of me in the queue unwrapped the sandwiches as I would have struggled to do this standing. All the seating for delegates were high stools and tables, which I am unable to sit on or stand by. I then went into the student café area to find lower level seating and table. Even if I had moved a chair into the reserved delegates section I would have been sitting a lot lower than the rest of the group. This made me feel extremely isolated as I spent lunch separated from other delegates. At the afternoon break by the time I got to the refreshments there was a long queue, which I knew I would struggle to stand in so I didn't bother to have anything.
Toilets
Assessible toilet on the ground floor. Sorry I didn't take any photos and I can't remember the details. The toilet was spacious with grab rails, but I can't remember about the emergency cord.
Staff
The person on the conference registration desk didn't know where the accessible toilet was. I spoke to the conference organiser about the access issues and she listened and took it on board. She explained that this was the only space UCL offered for a conference group of our size and she accepted that it was inadequate regarding access and she would feed that back. She also said she would take on board other things I raised as part of future event planning. I felt listened to and heard.
Anything else you wish to tell us?
The event I attending was excellent. The facilities available were reasonable but staff/ website needs to have up to date access information, and some of the access issues could have been avoided. However, under Reasonable Adjustments UCL have a duty of care towards disabled people and more thought needs to go into the design of lecture rooms and dining spaces to make them more accessible and inclusive to all.
Photos
We've had 1 review for UCL Roberts Engineering Building