Play That Goes Wrong has Access That Goes Right!
Visit date:
This review is especially helpful for those who have or use the following: Wheelchair
Overview
The theatre is quite old, so is not designed for wheelchairs, but there are systems in place which allow wheelchairs to access the theatre. The staff were helpful and competent when operating machinery. The method to get in is relatively simple but very hard to describe, so here is a video of the device in action (generic video, not actually taken at The Duchess Theatre): https://www.youtube.com/watch?v=1KPReF2qRGw&feature=youtu.be This machine is not powerful enough to accommodate most electric wheelchairs so a manual chair is recommended. Full description disclosed by theatre: The wheelchair climber can accommodate wheelchairs up to 66cm (26 inches) wide and 89cm (35 inches) deep. The maximum weight, wheelchair and user, the stairclimber can accommodate is 190kg (30 stone).
Transport & Parking
We used public transport to get there. There is a bus stop fairly nearby which goes to the place where we were staying. When we left, the staff told us which direction to go and which bus to catch. London buses, as usual, were fully accessible. I do not know of any tube stations nearby, and I would not advocate driving there.
Access
We had to book by phone, which is often the case with booking theatre tickets for a wheelchair. They told us they would have to close the stairs briefly to accommodate the wheelchair, so we had to arrive early. The theatre had a step to go in (roughly 3in), so an electric wheelchair might struggle, but for the manual chair I was using, it was fine. Once in, the staff closed the stairs to the public and brought out a machine which the wheelchair was put on, then pivoted to 45 degrees. The device then went down the stairs using caterpillar tracks, with the staff leveling the machine on each of the 2 landings. Once at the bottom of the stairs, they leveled the machine again and let me off.
Toilets
It was easy to find. It was fairly long, but also quite thin so impossible to turn around in.
Staff
All the staff were extremely helpful, they were competent when using the stairs machine, and they said that they had tested it themselves on each other. They directed us all the way to our seats, which were fully accessible. After the show, they had to wait for everyone else to leave so they could close the stairs, but once everyone else was gone, they let us out using the stairs machine and then patiently told us which bus we would need to get to get back to our hotel.
Anything else you wish to tell us?
Seeing some of the promotional material for the play might imply its inaccessibility, but that is far from the truth! An all-around enjoyable evening, which I would definitely recommend to other wheelchair users.
Photos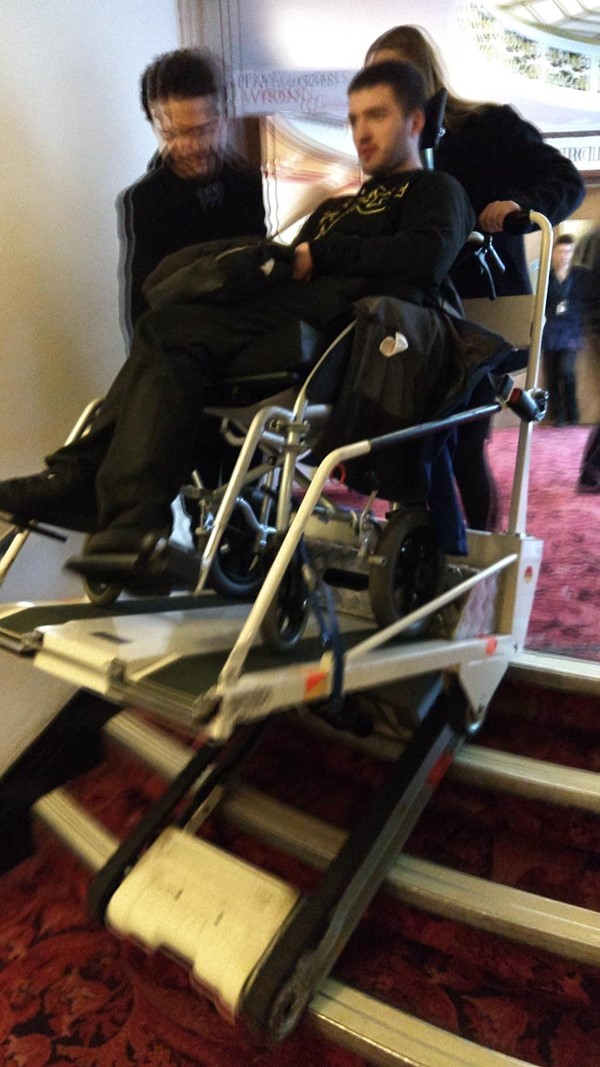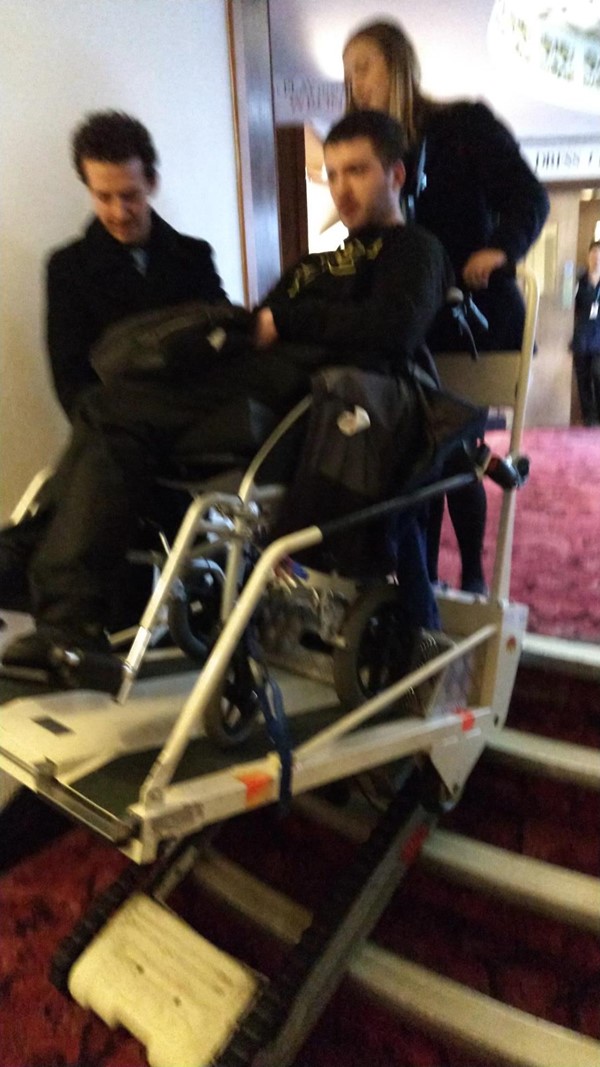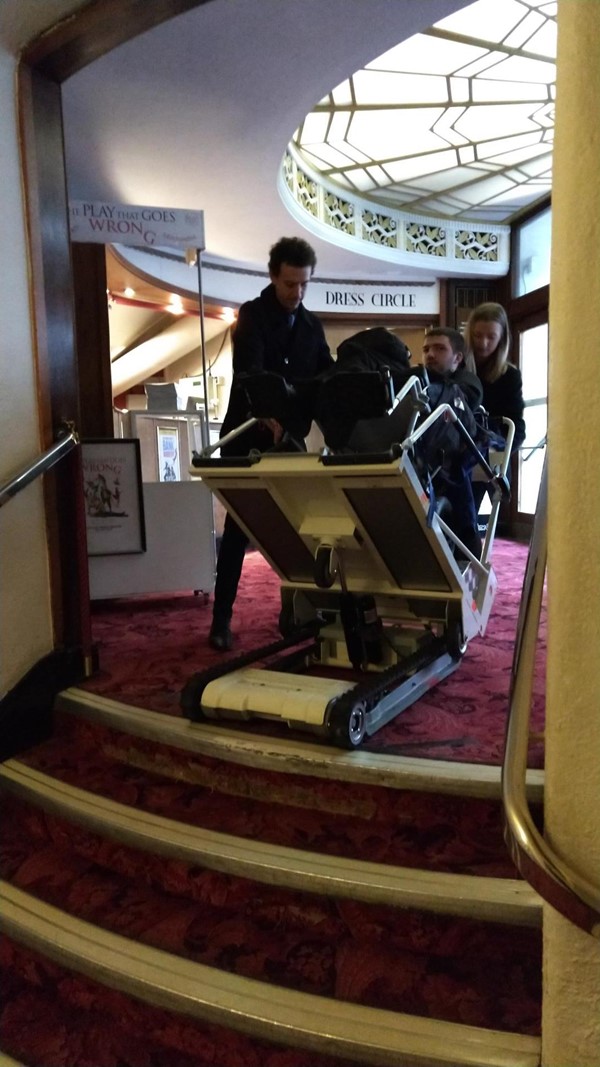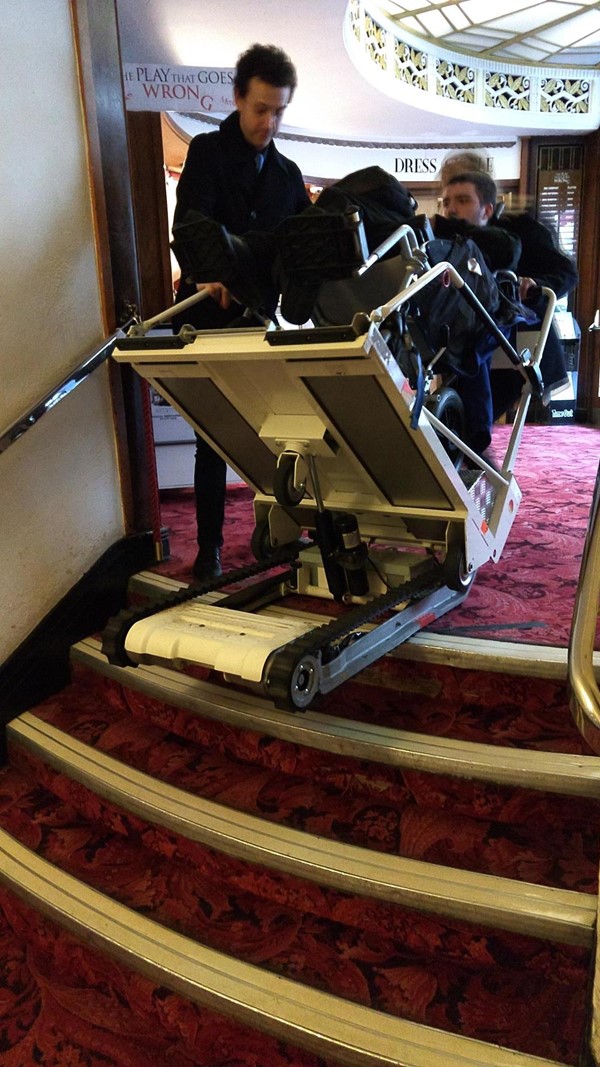 We've had 2 reviews for Duchess Theatre