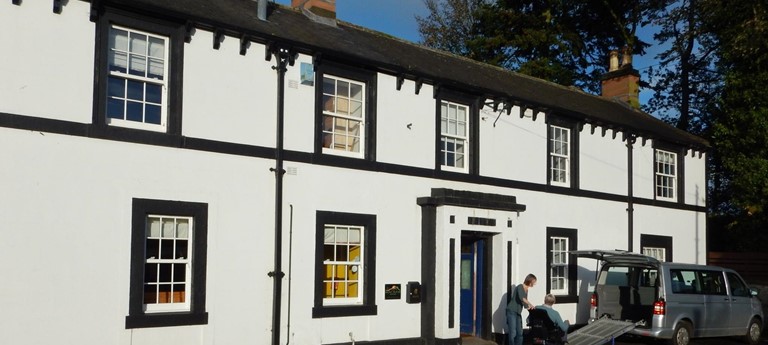 A wonderfully adapted country home!
Visit date:
This review is especially helpful for those who have or use the following: Wheelchair
Overview
We booked a family break at The Moat House in Annan for 3 nights over the weekend. The place was spacious, well presented accomodation and met our expectations in many ways! The disabled facilities were unrivalled from profiling beds and ceiling hoists found in rooms upstairs and downstairs to the height-adjustable kitchen units made this quite suitable, primarily for one family member who is wheelchair-bound. There were also fun things for the kids to do, such as partake in one of the many board games provided or play the piano (for the entertainment of the rest 😁) As the whole property is accessible, both internally (with the passenger lift) and externally with ramps, everyone was able to enjoy all the areas of the house. There were only a couple of slight and I mean slight issues that was firstly the profiling being a wider one, which did not suit the wheelchair user and she required the handrails to assist with her transfers and couldn't reach them. It was known beforehand and so was of no fault of the propery owners. The other thing was the cleanliness. We have exceptionally high standards of cleanliness within our own homely environments and whilst the property was clean, we felt it could have been a bit cleaner (being a tad harsh.) Overall, was an enjotable stay at The Moat House and for the layout and attention to detail to meet the needs of those requiring it, full credit is due to the owners! I would highly recommend this place for those who have physical disabilities and/or to those who like that bit ot convenience and functionality where they stay.
Transport & Parking
We drove with one of our own wheelchair accessibke vehicles and a hired van. There always was a spot free right opposite the propery - side street parking.
Access
Full accessibililty throughout the property. We found the strips between different areas of the property to be a little high and presented a small issue for our wheelchair user who suffers from osteoporosis, thus found it difficult to propel herself over the strips without a bit of support.
Toilets
Plenty of space to manoeuvre the wheelchair in the toilet and sufficient heights of the bathroom facililties.
Staff
Martin (the property owner) visited a couple of times and ensured that are needs were best met with whatever he could reasonably do.
Venue Manager responded to this review
Thanks for your lovely review and apologies to everyone for the late response to your comments. We can only apologise for for the standard of cleanliness of the property at the time of your stay. We also have very high standards as a rule and this was unacceptable. We have since changed our cleaning staff to address this kind of issue and have formalised our cleaning requirements to ensure that this does not happen again. Post Covid-19 Lockdown we have now upgraded our regime again with disinfecting with antibacterial/antiviral sprays/fogger in addition to the standard cleaning. The rise & fall, profiling bed with pull-up cot sides that you mention is an oversized single size and is provided to allow inclusion of all possible guests including those that require a larger platform bed. There is often a compromise that needs to be made when specific needs can't be met but we have now mitigated against your particular problem by replacing the other single bed in the downstairs bedroom with a standard single size bed of the same type. With regards to the door thresholds these have now been lowered further and are profiled to allow easy movement between rooms and areas of the house. We pride ourselves on the quality of service that we provide and are always willing to listen to comments and suggestions so that we can improve. We hope that these changes have gone some way to addressing your albeit small issues.
We've had 6 reviews for The Moat House