Disability Pride Brighton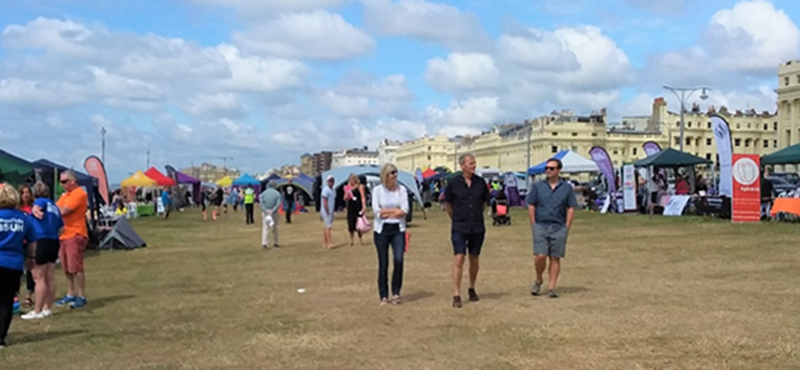 Written by Tina, a Euan's Guide Ambassador based in London.
On Sunday 14th July 2019, I was proud and delighted to attend Disability Pride Brighton as Euan's Guide's London Ambassador. I had a brilliant day, the entire event was accessible, inclusive and uplifting.
Disability Pride Brighton is an annual event which was established in 2017, in response to Jenny Skelton, the founder's, disabled daughter being discriminated against on a family day out, and it was the first Disability Pride Festival in England. This year's festival coincided with Disability Pride events in New York, Rome and Senegal.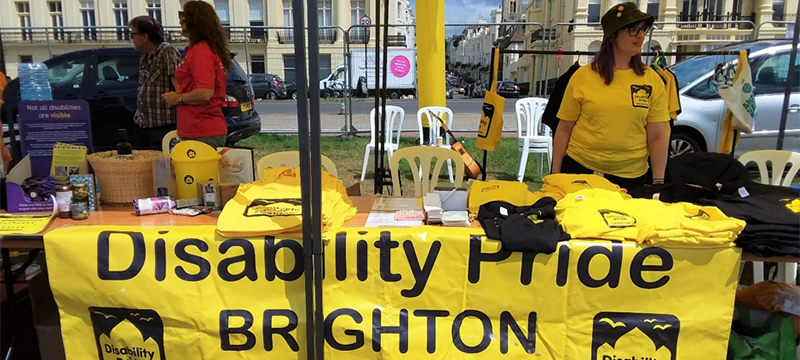 Photo: Disability Pride Brighton stall
Disability Pride celebrates the diversity of the disabled community, provides a safe and welcoming space for disabled people and non-disabled people, our friends, families and allies to come together to have a fun and entertaining day out, as well as raise awareness about disability discrimination.
Disability Pride opened with a short parade led by Unified Rhythm, a disabled integrated carnival group.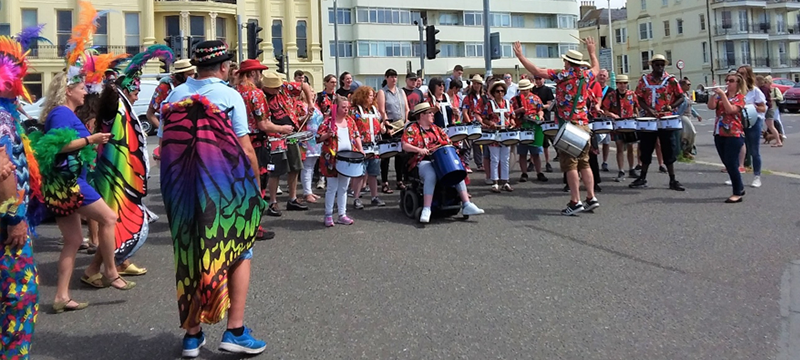 Photo: Unified Rhythm performing at Disability Pride
The venue was Hove Lawns, with level access and beautiful, sea front location. There was something for everyone, entertainment, stalls, face painting, children's soft play area, quiet areas and a lot of seats. There were also food stalls with delicious and reasonably priced food, as well as picnic areas.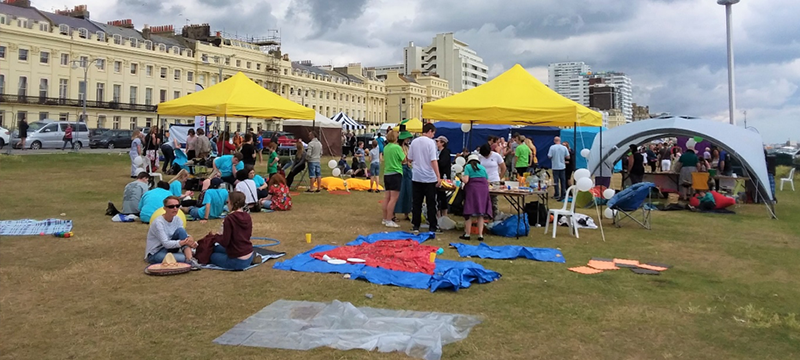 Photo: Quiet area and children's activity stalls
Throughout the day, visitors were entertained with live music, dance, theatre and sport displays, on two stages, with BSL interpreters. Both stages were extremely popular with audiences enjoying a relaxed, party atmosphere.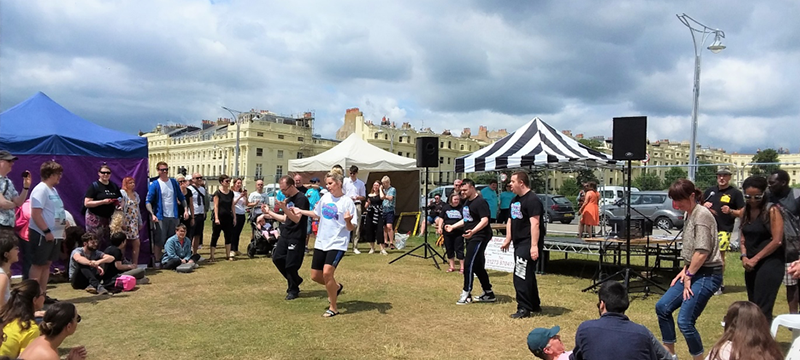 Photo: Performance by 238 Dance Crew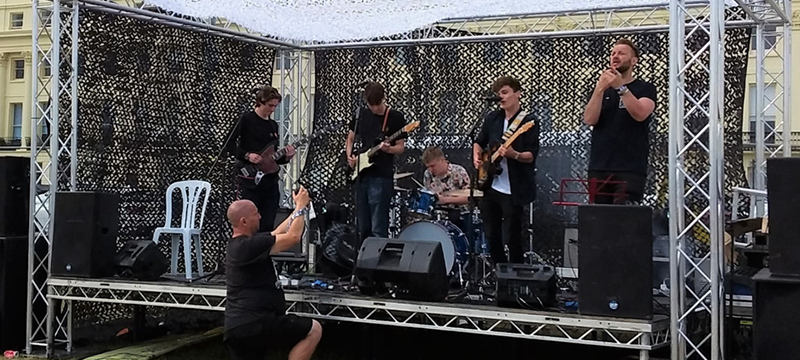 Photo: Paper Dragon performing with BSL interpreter
There were also lots of stalls featuring a wide variety of community groups and charities, mainly but not exclusively disabled organisations in the Brighton and Sussex area, and the LGBT+ community were well represented. The stalls were full of useful information and there were leaflets, key rings, wristbands, badges, stickers and pens to pick up.
During the day I tried to visit most of the stalls and find out about the diversity of the community resources available. You can find a list of all the stall holders who took part in this year's event at the end of this blog. (I hope I haven't missed anyone out).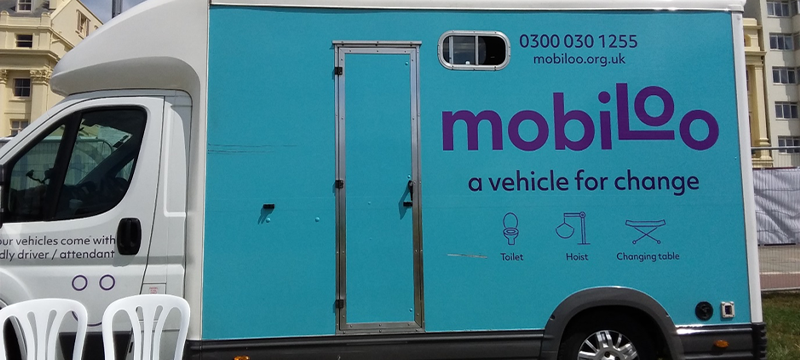 Photo: The exterior of the Mobiloo
The day was extremely well organised, the programme of events thoughtfully put together and fully accessible to all. There was plenty of helpful information on the festival's website , which made it really easy to plan the day out. From Brighton Railway Station there were regular, free, accessible shuttle buses that took you straight to the entrance at Hove Lawn and then returned you back to the station, which removed all the stress and worry about finding the venue. There were accessible toilets including the Mobiloo, an accessible toilet with adult-sized changing bench and hoist.
I'm already counting down to Disability Pride Brighton 2020, and I would also like to challenge other towns and cities to learn from Brighton's example and adopt their own Disability Pride festivals. 
List of Stall Holders (taken from the Disability Pride Brighton website)
Albion In the Community Website, Facebook, Twitter, YouTube
Amaze Website, Facebook, Twitter, YouTube
Barnardos Brighton & Hove Link Plus Website, Facebook, Twitter, YouTube
Beach Access Team Brighton & Hove Facebook
Brighton & Hove Bus and Coach Company Website, Facebook, Twitter, YouTube
Brighton and Hove LGBT Community Safety Forum Website, Facebook, Twitter
Brighton and Hove Speak Out Website, Facebook, Twitter, YouTube
Brighton and Sussex University Hospital Trust Website, Facebook, Twitter, YouTube
Brighton Disabled People Against Cuts Website, Facebook, Twitter, YouTube
Brighton Dome & Festival  Website, Facebook, Twitter, YouTube
Brighton Pavilion Labour Party Website, Facebook, Twitter, YouTube
Chailey Heritage Foundation Website, Facebook, Twitter, YouTube
Chestnut Tree House Website, Facebook, Twitter, Vimeo
East Sussex Credit Union Website, Facebook, Twitter
East Sussex Fire & Rescue Service Website, Facebook, Twitter, YouTube
Epilepsy Action Brighton & Hove Coffee and Chat group Website, Facebook, Twitter
ESAB VIABLE Website, Facebook, YouTube
Fabrica Art Gallery Website, Facebook, Twitter

Grace Eyre Website, Facebook, Twitter
New Life Long term illness/pain support group Meetup group
Independent Living East Sussex Facebook
KidzPlay Events Creche Website, Facebook, Twitter
MindOut LGBTQ Mental Health Support services Website, Facebook, Twitter, YouTube
The Open University Sexuality Alliance Website
PECS UK Website, Facebook, Twitter, YouTube
Possability People Website, Facebook, Twitter, Vimeo
Rise Website, Facebook, Twitter
Say Aphasia Charity Website, Facebook, Twitter, Instagram
Scope's Local People Programme Website, Facebook, Twitter, YouTube
SE Apprenticeship Ambassador Network Website, Facebook, Twitter
St. John's School and College Website, Twitter, YouTube
Stay Up Late Website, Facebook, Twitter, YouTube
Survivors' Network Website, Facebook, Twitter
Sussex Community NHS Foundation Trust Website, Facebook, Twitter, YouTube
Sussex Police Website, Facebook, Twitter, YouTube
Switchboard Website, Facebook, Twitter
The Carers Centre for Brighton and Hove Website
The Clare Project Website, Facebook, Twitter
The Parent and Carers Council (PaCC) Website, Facebook, Twitter, YouTube
The Royal British Legion Website, Facebook, Twitter, YouTube
St John's Ambulance Website, Facebook, Twitter, YouTube
University of Brighton Website, Facebook, Twitter, YouTube
Locations: Brighton