How to advertise with Euan's Guide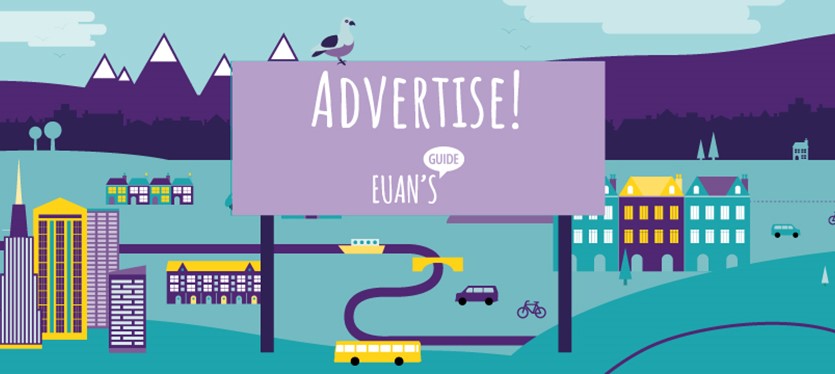 Would you like to advertise something that our readers will love? We want to hear from you! We offer advert spaces on the Euan's Guide website and in our newsletters which are distributed to an engaged audience of disabled people, their families and friends.
A bit about us
Euan's Guide is the award winning disabled access charity that helps disabled people, their families, friends and carers find accessible places to go. We're best known for our website - www.EuansGuide.com - but we also make tens of thousands of accessible toilets safer and amplify the voices of disabled people through our Access Survey.
Advertising is a great way to enhance your Euan's Guide listing or promote any upcoming accessible events. The best bit is your ads will be making a huge difference to our charity and you'll be helping to make it easier for disabled people to find great places to go. 
Website ads
Appear front and centre on the Euan's Guide homepage to attract the attention of everybody who lands on our website. The homepage is where our audience goes first to find the latest access reviews and places to visit, and you can fine tune your ad placements even further to appear alongside our most popular content on different pages. Previous ads have featured holiday accommodation and visitor attractions; what will you offer? 
Sponsored blog posts
You know that stories are the best way to reach an audience, and that's why we're offering you a prime spot in the news section of Euan's Guide! Whether you're promoting your accessible holiday cottage or want to show families with disabled children that you have a new accessible playground, our blog is the place to tell the stories our readers will love. 
Newsletter ads
If you want to take your message directly to Euan's Guide reviewers and fans, we think you'll love advertising in our popular Digest, Weekender or Venue Digest newsletters. These are perfect for promoting events, offers or anything else that can be conveyed with a short but memorable message. 
Sponsored social media
We love engaging with our followers on social media, and we think they'll love you too! If you've got a stand-out post that you'd like us to put in front of our audience, we'd like that a lot. 
Please click and submit the following form to tell us what you would like to advertise on Euan's Guide and we'll send you more information on our advertising options.
PS Are you a venue?
Please make sure that you've listed your venue before getting in touch about further advertising. Venues can list on the website for free. Listing your disabled access information is a good way of letting more people know about you and it helps make it easier for anyone with access requirement to plan their visit. Listing on Euan's Guide shows that you care about your disabled visitors. 
Work with Euan's Guide