Support Euan's Guide. We can't do it without you.
Make a one-off donation to Euan's Guide
Choose the amount
How would you like to donate?
Please select or enter a valid donation amount.
Please provide your details
Choose the payment method
Please select or enter a valid donation amount.
Other ways to donate
You can:
---
With your donation, we will be able to continue to:
Publish thousands of disabled access reviews written by disabled people, their families and friends
Support our community of volunteers
Distribute our lifesaving #RedCordCards and other resources 
Run the UK's largest and longest running Access Survey
Write news articles and access guides to destinations reviewed by people on Euan's Guide
Provide advice and top tips for businesses and attractions to improve their disabled access
Celebrate excellent accessibility with awards, events and social media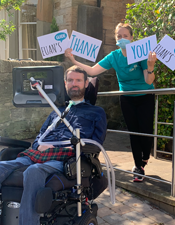 If you'd like to know more, please get in touch!
You can email us at hello@euansguide.com 

Or call on 0131 510 5106

Looking for the Gift Aid form? Download it and sent it to:
Euan's Guide
CodeBase
Argyle House
3 Lady Lawson Street
Edinburgh
EH3 9DR
---
You can get involved in many ways!
There are so many ways that you can get involved, we'd welcome your support! Why not check out our Get Involved pages with more detail!