2020 Back to School Kit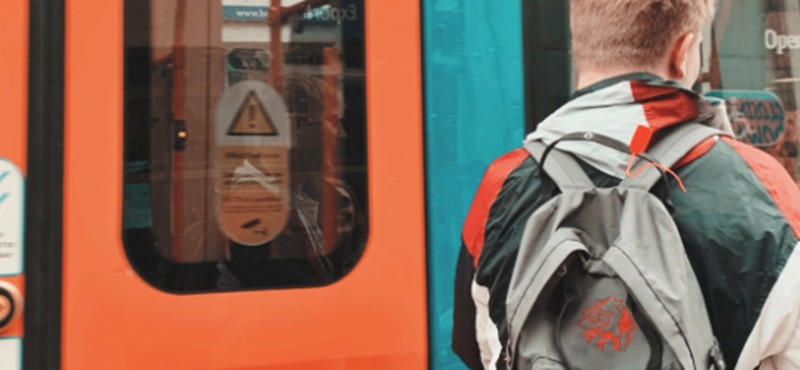 Whether you are returning to school or work or simply leaving your house to meet people or on essential trips, here are some items that may come in handy as you navigate the post-lockdown world.
With this year bringing a whole new host of challenges we thought we'd take this opportunity to share some of the things we've started bringing with us wherever we go.
1. Face Coverings
It's an obvious one to start us off! With face covering being required in more places it really is an essential piece of kit. You might want to bring a spare with you in case one gets dirty or lost while you are out.
There are lots of instructions online for making your own mask, but if you are going to purchase one please consider purchasing one with a clear window so that people can still lip read.
2. Face Mask Exempt Badge
We are well aware that not everyone can wear a face covering. There are a variety of reasons why someone might not be able to wear a face covering so please be considerate. And if they are exempt, they do not need to show proof or signal their exempt status.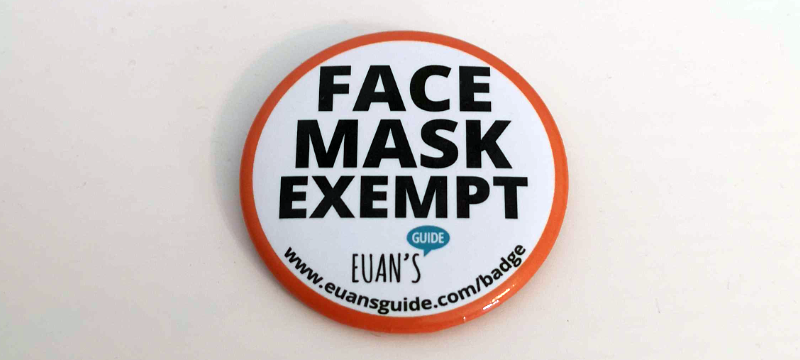 Some exempt people do wish to signal their exempt status, this is entirely optional. If you or someone you know would like to signal your exempt status you might find out Face Mask Exempt badge and downloadable resources useful. You can find out more about them and how to request a badge on our dedicated Face Mask Exempt badge webpage.
3. A Washable Bag or Container
There may be times when you need to temporarily store your face covering when out and about. In which case a washable bag or container comes in really handy and is advised in the guidelines. Doing this and avoiding placing it on surfaces helps to reduce the possibility of contamination.
The guidelines also say that you should wash or sanitise your hands before applying or removing a face covering.
4. Hand Sanitiser
Something I'm sure we are all very used to using by now! Although most venues have their own supply of hand sanitiser you can use, it can also help to bring your own supply with you.
5. A No Touch Key
A no touch key is a useful way to avoid touching door handles and buttons when you are outside your house. This tiny gadget attaches to your keyring and has multiple uses. It has helped ease some of our anxiety about going out and visiting places.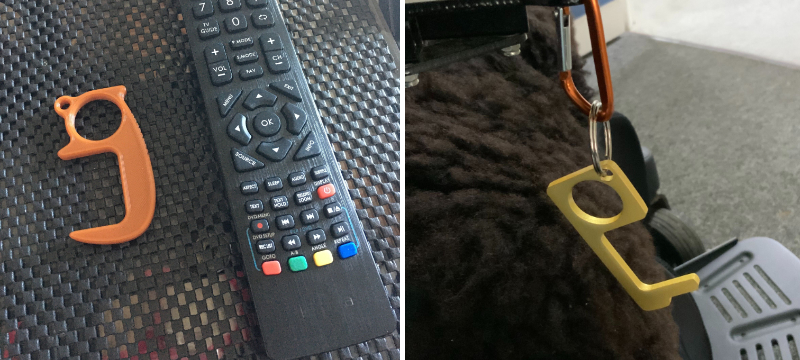 There are loads of places selling them, a quick online search should show lots of the options available.
6. An Easy Way to Pay
There are lots of contactless payment methods out there, which have come in really handy right now! Choose a method you feel happy with and pay with ease. You might want to also bring antibacterial wipes to wipe down your card, wallet, phone or watch after you use it. 
7. A Water Bottle
Bringing your own reusable water bottle with a lid can help avoid contamination and it is good for the environment too.
Is there anything we've missed? What is on your essential kit list right now? Add your suggestions in the comments section.
We'd love to hear your thoughts on how accessible places are right now. Please spare a few minutes to leave a disabled access review on our website to help other people find useful information before they visit. 
Don't forget to pack Red Cord Cards too!
How to request our Red Cord Cards