Vote for the Scottish Charity Awards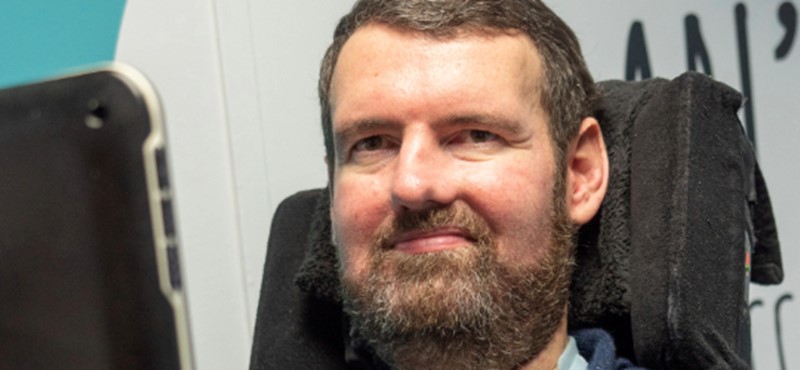 We're delighted to announce our co-founder, Euan MacDonald, has been shortlisted for a Scottish Charity Award, recognising his role at Euan's Guide and the Euan MacDonald Centre for MND Research.
Euan is a finalist in the Charity Champion category for his commitment to improving the lives of disabled people and people with Motor Neurone Disease (MND). And now people have the chance to vote for him for the People's Choice award!
As a powerchair user himself, Euan knows how important it is to have access to accurate disabled access information, and how a recommendation from another disabled person can make all the difference and help save valuable time. Euan's disabled access charity is designed to make it easier for people to find and share great accessible places to go. The disabled access review website EuansGuide.com now holds thousands of reviews written by disabled people, their family, friends and carers for all sorts of places across the UK and beyond. And, not only is Euan's Guide a useful website for finding new places to visit, but it is also a powerful tool for driving change. People's reviews provide venues with honest feedback and help to indicate where improvements can be made.
Here at Euan's Guide we also run campaigns all focussed on improving access for disabled people. Our Red Lifeline campaign uses Red Cord Cards to make accessible toilets safer. Our Face Mask Exempt badges have made exempt disabled people feel more comfortable visiting places where face coverings are required. Our biennial Disabled Access Day encourages venues and disabled people to try something new!
Euan also spearheaded SpeakUnique, a newly launched company which creates personalised synthetic voices for people who have lost theirs. Euan knew how important it was for him to be able to keep communicating with his children in his own voice and aware of how many people would be people in a similar position he was determined to find a solution. SpeakUnique is digitally rebuilding the voices of people with conditions that affect their speech, such as MND, stroke, cancer of the throat or tongue, and cerebral palsy. 
Euan has given hope to people with MND across the world by establishing the Euan MacDonald Centre, which has raised £3.2million to spearhead MND research in the UK. This year they launched MND-SMART, one of the most comprehensive clinical drugs trials in a generation aiming to find treatments that can slow, stop or reverse disease progression. 
The MND-SMART project is assisted financially by private donors, MND Scotland and My Name'5 Doddie Foundation. We are delighted to see that both Lawrence Cowan, chairman of MND Scotland and the My Name'5  Doddie  Foundation are also finalists in this year's Scottish Charity Awards for their involvement in MND research and this landmark drug trial.
Have your say – Vote for the People's Choice Award
The public now have the chance to vote for one of the 45 finalists across the various categories. Browse all the finalists or follow one the links below to: 
Voting for the People's Choice Award closes at 5pm on Friday 4th September. The award winners will be announced on Friday 25th  September. 
Best of luck to all the finalists!