8 Reasons for Venues to List on Euan's Guide
1) Attract new customers - Euan's Guide can help to attract new customers to your business. The annual disability market is estimated to be worth more than £80 billion in the UK. Advertising the accessible facilities your business has will help to increase your customer base among this lucrative market.

2) Gain insight into your accessibility - Euan's Guide allows visitors to provide honest feedback about your accessibility and provide suggestions on how to make your business more accessible. This might be as simple as the bathroom needing an extra handrail or having the menu available in large print. Knowing what customers' need will help to improve your accessibility.

3) Let customers know what to expect - If customers can easily find what facilities are available they can come prepared and confident that they will be able to access your venue. Each venue on Euan's Guide has it's own page with an easy to read chart highlighting what facilities are available.

4) Get recommended  - A key feature of Euan's Guide are the independent reviews. This allows customers to share their own experiences whether it is encountering 'fantastically helpful staff' or simply enjoying what your venue has to offer.

5) It's free - We don't charge to list your venue. We don't charge users to read your great reviews. It's 100% free.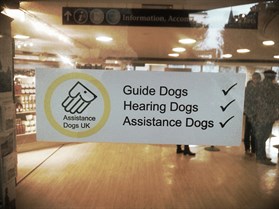 6) It's quick - Simply create an account and fill out a survey of what facilities you have. Make sure you have a photo of your venue to encourage people to visit your profile. We'll monitor your reviews for you and send an email notification when you receive a new review.

7) Demonstrate your commitment to accessibility - Listing on Euan's Guide demonstrates to your potential customers that you are committed to ensuring that your services are accessible to all.

8) Anywhere can list - No matter how accessible your venue is or what your venue does, we are happy to advertise what facilities you have. If you welcome assistance dogs or your staff are trained to provide extra assistance to customers who need it, we will let your customers know what they can expect.