Red Cord Cards - A Brief History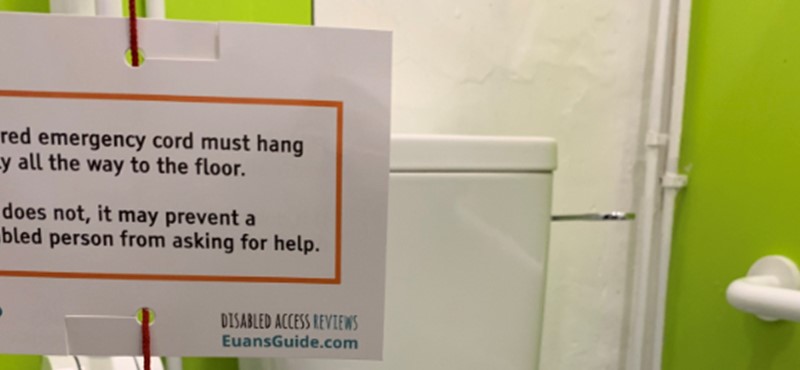 Red emergency cords seem like a great idea – a simple way for someone inside a toilet to let people outside the toilet know that they need assistance. But the problem is, in reality, far few people know what the cord is there for. And that's where the problems start to arise…
We've seen examples of places that have seemingly never untied their cords, leaving them hanging just inches from the ceiling, and others where they are installed incorrectly, like dangling directly above the toilet bowl. Regularly we see them cut to the wrong length, whether dragging along the floor covered in grim or cut way too high so that it could not possibly be reached if you fell to the ground. Many end up tied around nearby equipment, like grab rails, which can cause people to set off the cord accidentally or avoid using the very features which have been installed to make going to the toilet easier.
Then there are those cords that are pulled in an emergency only to discover that the alarm does not work or staff fail to respond. Leaving the person stuck in a potentially dangerous situation with no other way to ask for help.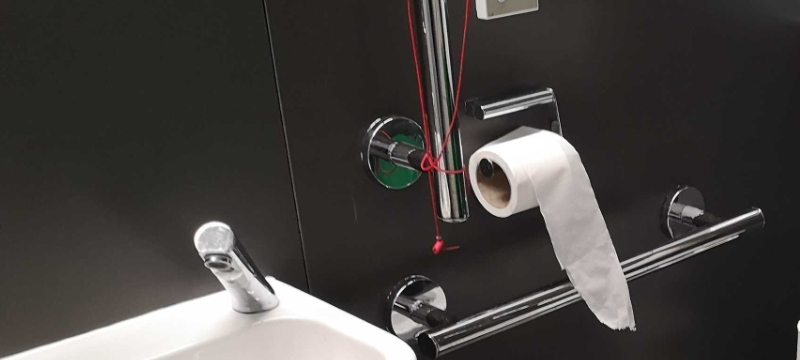 Image of: A red emergency cord that has been tied around a grab rail
Where it all began
Our Red Cord Cards were first created in 2015 in direct response to those awful stories we heard from people who had been left stuck in their time of need and by seeing how common it was to come across an unusable red emergency cord. We knew we wanted to do something to help.
It was clear to us that something should be done to draw people's attention to this important safety feature and so we set about thinking of a solution. 
It was Paul, our Access and Inclusion Director, who suggested we make a sign that simply gets the message across about what the cord does and how it should look. We wanted something small enough to carry and easy to attach to the cord, so we set about designing prototypes of how it might work. The design quickly evolved from those first few sketches in our office to the Red Cord Cards you'd recognise today, designed on splash proof card to help aid its longevity. 
Having officially launched the Red Cord Cards in May 2015, the next step was to get it out there… and that's where you came in! Here's a look back at some of the major moments in since then.
Red Cord Card Milestones
2015 – Our first translation!
By the end of 2015 we'd already created our first dual language version in English and Welsh! The first translated card made its way to the Welsh Parliament.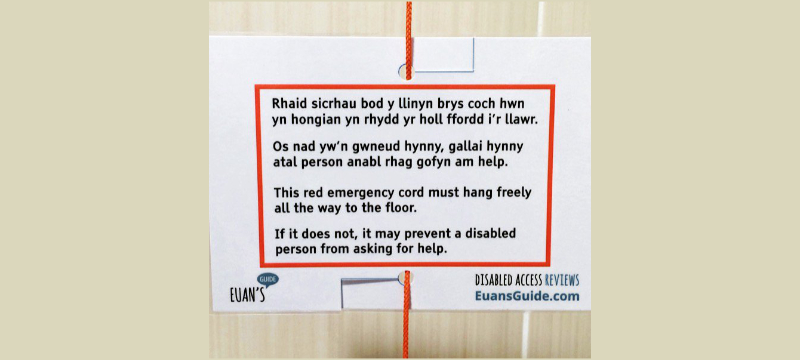 Image of: the dual language Welsh and English Red Cord Card
2016 – 10,000 Red Cord Cards
We were delighted with the support we received in the first year since we launched the Red Cord Cards. The project was picked up by reviewers and website users as well as other people and groups who share our passion for improving accessibility. They all got involved by requesting cards and leaving them attached to red emergency cords wherever they went. 
2017 – The survey said…
In 2017 we ran our first toilet survey looking specifically at what disabled people thought about accessible toilets. 51% of respondents said that tied up emergency red cords were a problem in accessible toilets, demonstrating a clear need for our cards.
2018 – 30,000 Red Cord Cards
Fast forward to 2018 and we reached another massive milestone – 30,000 Red Cord Cards had left our office and made their way to people and places all across the UK. Just like our review website, the Red Cord Card project showed the power of working together to make real world change. 
2019 – Bloggers got on board!
We saw a brilliant surge in requests in 2019 after we received support from Jennie Berry (@wheelie_good_life on Instagram). She appeared on Jeremy Vine's BBC Radio 2 show talking about the issue of tied up red emergency cords. And soon Gem Hubbard (wheelsnoheels_ on Instagram) was also helping raise awareness using #LetItDangle.
This increased awareness of the issue is exactly what we needed, and it helped take us to the 50,000 mark!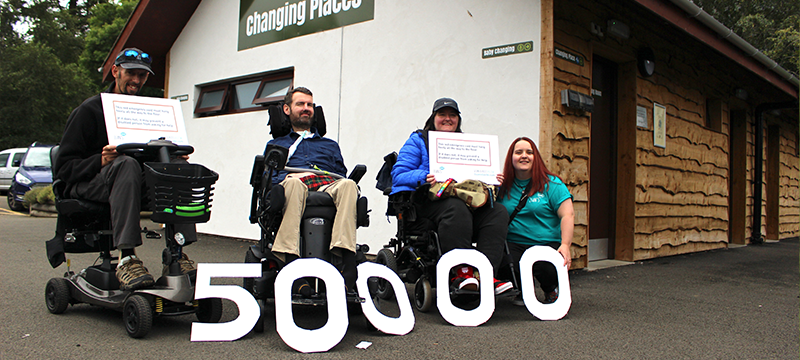 Image of: Euan's Guide co-founder Euan MacDonald with Ambassadors Jon Watkins (left), Karine Mather (right) and Sarah Mather (far right) celebrating the 50,000th Red Cord Card making its way to Blair Drummond Safari & Adventure Park
Later that year we also ran a campaign asking venues to test their red emergency cord to check the alarm was working and that their staff knew how to respond once the alarm has been raised. We were pleased to see a variety of places get involved and even more so when we heard that these tests and check were being carried out regularly.
2020 – Ready and waiting
With many of us spending so much time indoors for the last year you'd think our Red Cord Cards would hit a standstill but this was not the case. Many of you made sure you stocked up on cards ready to get back out there with them when you could. Those of you who were getting out and about were taking the cards with you or telling us about cards that were still in place years after you'd left them! 
But this is just the beginning! We know that Red Cord Cards have the power to save lives, which is why we want to see Red Cord Cards attached to every red emergency cord across the UK. 
If you want to be part of this lifesaving project, please fill in a short form and we'll send our cards out to you. 
Our Red Cord Cards are free for individuals. 
I'm an individual looking to request Red Cord Cards
As a charity, we do ask for a small fee from venues to help cover some of the costs.