A Weekend of Rugby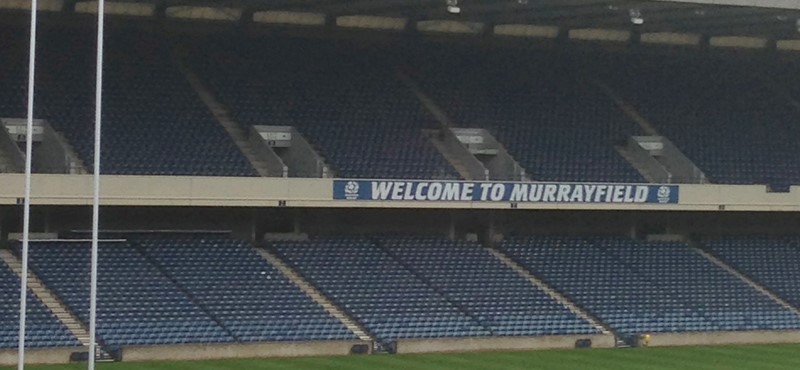 After an action packed weekend that saw Wales beat France, Scotland narrowly beat Italy and England beat Ireland the RBS 6 Nations tournament heads into their final two weekends.

At the top of the table are Ireland but there is still everything left to play for and we're looking forward to more excitement to come!

Euan's Guide is based in Edinburgh and we're across town from the home of Scottish Rugby, Murrayfield. Euan is a massive rugby fan and is a Murrayfield regular at both Edinburgh games and Scotland games. You can read some disabled access reviews of Murrayfield here.

We're asking for disabled access reviews for all of the 6 Nations stadiums and hope that you'll help! If you've visited the following venues please review them and share your experiences...

Twickenham, England
Aviva Stadium, Lansdowne Road, Dublin, Ireland
Stade de France, Paris, France
Stadio Olimpico, Rome, Italy
Murrayfield, Edinburgh, Scotland 

In addition, we would also like more information about what else there is to do/visit/see surrounding the stadiums on match day - do you have a favourite bar that you go to before or after the game for instance? Of if you can't get to the game where is best to watch it on TV?

To start the ball rolling so to speak, we've canvassed opinions and here's our guide to a great rugby weekend in Edinburgh…

How to get to Edinburgh - Train, plane or automobile? 

Edinburgh Airport is the UK's 5th biggest airport and carries an average of 25,000 passengers per day with direct flights from the major London airports, Dublin, Cardiff and Paris CDG. If you're travelling from Rome you will have to take a connecting flight. We haven't had a review in from Edinburgh Airport yet so if you've travelled through the airport please let us know what you think.

Edinburgh's main station is Edinburgh Waverly and features good connections to most of the major cities in the UK. We've had a 4* review of the station which praises the helpful staff and the accessible toilet and also mentions a new lift currently in construction that will make moving between the levels much easier.

If travelling by car is your preferred option, we must mention that finding a parking space isn't always the easiest in Edinburgh. If your accommodation doesn't come with accessible parking Edinburgh Council do publish a map and a list of parking bays for those with Blue Badges which includes postcodes for use with a Sat Nav.  

Where to stay

The Sheraton Grand Hotel & Spa came out as the favourite place to stay in Edinburgh on a rugby weekend. Not only does it feature accessible rooms but it is also one of the hotels that is regularly used by visiting teams so you might catch a glimpse of the team too!

A new recommendation that we've been given is the Hotel Indigo on York place. We're told that they have versatile wheelchair accessible rooms with a roll in shower and one of them has an interconnecting room if you'd like someone close by. Beds are accessible from both sides and they have visual and vibrating alarm clocks. If you've been please let us know what you think.

And we've one more to talk about - the Tune Hotel opposite Haymarket station. Tune Hotels are no frills hotels that have high quality basics: 5 star beds, power showers, central & convenient locations, clean environments and 24hr security. The Haymarket Tune Hotel says it has 9 accessible rooms with windows and en suite bathrooms.  Tune Hotel Liverpool Street & Tune Hotel Paddington have listed with us but as yet we have no info for hotels north of the border - let us know if you've stayed in one.

Where to eat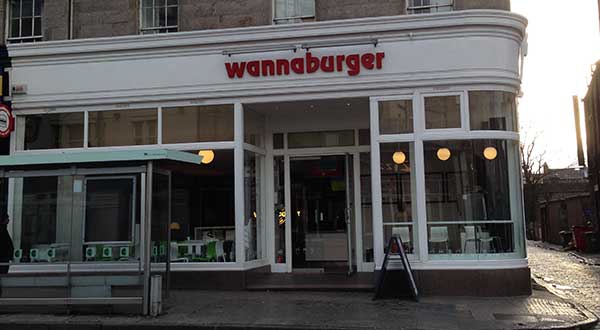 If you're like us, match day is always a bit of a rush and we are lucky if we get a moment to grab a quick something on the way to the game. We have been told that the following West End venues have good disabled access and they all serve a mean burger! Gourmet Burger Kitchen and Browns Brasserie on George Street - both have step free access and disabled loos but recommend booking a table in advance especially as they are busy at weekends. For an even faster fix McDonald's on Princes Street has step free access throughout and Edinburgh's favourite, Wannaburger, say they have a small step at the front door but that the staff are very happy to help if needed - before being step free inside. We don't have reviews or listings for any of these venues so if you can shed any light on them please get in touch.

Where to drink

Again, we've concentrated on easy to get to places in the centre and the West End. Our first recommendation is Indigo Yard (pictured below) this is a great bar and has a good vibe whether you're popping in for a pre-match beer or whether you're staying to watch the game.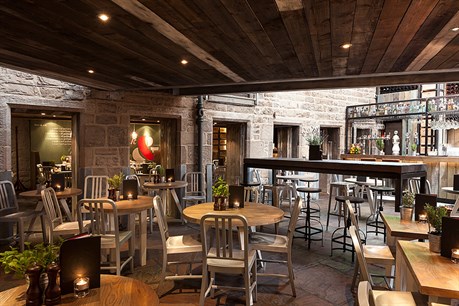 We've also heard good things about the Alexander Graham Bell on George Street. This is a relatively new addition to George Street having been recently refurbished. It's a JD Wetherspoon Pub and we're told it features step free entrance and step free access to the disabled loo.

And our favourite on the list? The Haymarket. As the name would suggest it's right slap bang in the middle of Haymarket and is a more traditional pub that features real ales and great pub grub. Be warned - it gets very, very busy on match day so get there early to get a good spot and be prepared for lots of people! (Editor's note: For the history buffs amongst you, directly outside stands the Haymarket Clock, a memorial to the Heart of Midlothian football team of 1914 that signed up en masse to fight in the First World War. They were the first British team to display such patriotic unity - and in a year in which many believed they might win the cup.)

Match day

So… when you're ready to make your way to the game how do you get there? Murrayfield is only a short trip from Edinburgh City Centre and again, you have a couple of options… 

Unusually, if you're travelling by car and are parking at Murrayfield, you need to leave the most time. This is because you need to be in Murrayfield at least 60mins sometimes 90mins - make sure you check the information you've been sent. 

The 12, 26 and 31 buses go from the city centre to Murrayfield and Lothian Buses are well known for their great accessibility. There is only one wheelchair space available per bus though so we recommend travelling early.

Taxis are another option. Both of Edinburgh's main taxi companies, Central & City Cabs, feature accessible taxis which are suitable for a variety of wheelchairs. We have however known a couple of power chairs not to fit so if you're relying on this we recommend you get in contact with them first. 

Lastly, if you're able, we can recommend travelling under your own steam and joining the flow of people walking west. It's a great vibe and it's also great to walk back into town after the game… Especially if your side was victorious!

As you would expect with all these options, the closer you get to kick off the busier it is… But getting to the stadium is not necessarily a bad thing as the Murrayfield turnstiles now open a few hours before the game with a programme of entertainment including bands, live music and plenty to do, with a range of hot food and public bars. For younger fans there is also a Family Zone which features face painting and other entertainment acts to keep the little ones amused. If there is another 6 Nations match earlier in the day, this is also shown on the big screens sometimes - make sure you check the website nearer the time for specific information on your event. 

Lastly - Murrayfield Stadium itself…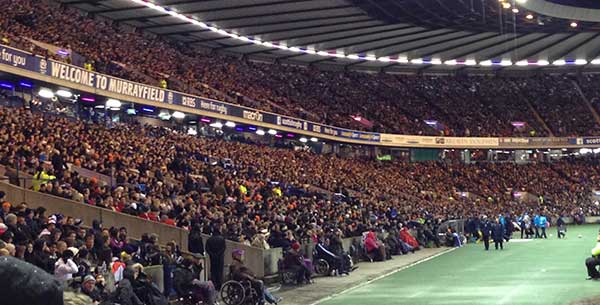 Accessible seating is in one of two places - either trackside where you hope that the Scottish weather is going to be kind to you(!) or on the Wooden Spoon terrace. Mostly you'll be trackside as the Wooden Spoon terrace is predominantly saved for disabled people who have been injured through rugby. Ticket allocation is done on a first come first served basis - annoying you can't book accessible tickets online but the ticket staff are helpful and will tell you where you're sitting at time of booking.

If you're in trackside seating make sure your bring suitable clothing as it's not covered. It's great to be trackside as you get immersed in the atmosphere, but it's not always a great view. Once you get to the stadium you will be shown to your wheelchair space which is a spot that will have been reserved for you.

To get on to the Wooden Spoon terrace you go to the main reception where there is a lift. For some powerchair users it can be quite a squeeze but then you emerge on to a good size terrace with a good size accessible loo. Wheelchair spaces are provided with seats next to them and there is also some additional seating on the row behind.

So… That's our guide to Murrayfield on match day… If you could contribute to a guide to other stadiums please do submit your reviews!
Locations: Edinburgh