Press Release: Access All Areas with VisitScotland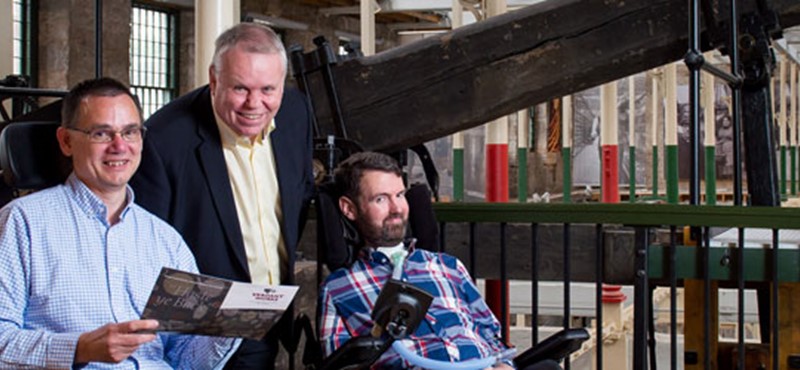 We're delighted to be working with VisitScotland on a series of guides to Accessible Tourism in Scotland. The official press release follows and we'll keep you updated with this exciting project!
Access all areas
£25k VisitScotland boost for disabled review website
Euan's Guide, which was founded by wheelchair user Euan MacDonald and his sister Kiki in 2013, received the grant through the VisitScotland Growth Fund to help create new downloadable e-guides for Dundee and Fife.
And in Scotland's Year of History, Heritage and Archaeology, the website has been given a further £5,000 by Historic Environment Scotland to help produce a guide highlighting the 'unexpectedly good access' to some of the country's most striking historic attractions.
The guides will feature accessible visitor attractions, accommodation and restaurants as well as contain information on accessible transport. According to latest figures*, tourism parties in which at least one member was identified as disabled contributed approximately £1.3 billion to Scotland's economy.
Euan, who has Motor Neurone Disease, was at the announcement of the award at Verdant Works in Dundee, along with Jim Clarkson, VisitScotland's Regional Partnerships Director for Dundee, and Paul Ralph, the website's Access and Inclusion Director.
Run by Dundee Heritage Trust, Verdant Works is a former textile mill which is now a five-star visitor attraction and is currently home to the Great Tapestry of Scotland Part II.
Euan's Guide will use targeted social media campaigns to promote its new guides to disabled people, their families and their friends within day-trip distance as well as in the North-East of England.
And as part of Scotland's Year of Young People 2018, they will enlist the help of young disabled people to share their knowledge of the accessible destinations featured.
Euan MacDonald, co-founder of Euan's Guide, said: "We hope that these new guides will give local and visiting disabled people, their families and friends great enjoyment as they discover Scotland as an accessible destination. We are thrilled to have received this Growth Fund award from VisitScotland and are looking forward to showcasing the best that Scotland has to offer in accessible tourism."
Jim Clarkson, Regional Partnerships Director at VisitScotland, said: "It is our aim to make tourism inclusive and accessible for all, so we are delighted to make this Growth Fund award to Euan's Guide. The website is already a valuable resource for disabled visitors and the new downloadable guides to Dundee, Fife and to Scotland's historic attractions will help people make an informed choice about what to visit, where to stay and where to dine."
Dr Paul Jennings, Executive Director of Dundee Heritage Trust, said: "We are very pleased that the announcement of the Growth Fund award to Euan's Guide has been held at Verdant Works which is 100 per cent disabled accessible. The new downloadable guides for Dundee and Fife will be an extremely valuable resource to disabled visitors to Scotland."
Stephen Duncan, Director of Commercial and Tourism at Historic Environment Scotland, said: "We're delighted to support Euan's Guide on this project, and look forward to collaborating on creating the downloadable guides. We continue to improve access at our sites and properties and welcome the advice and expertise of Euan's Guide to help ensure the historic environment is enjoyed by everyone."
The VisitScotland Growth Fund supports collaborative tourism marketing projects which focus on growth and ensure that visitors experience the true Spirit of Scotland. To be eligible for a Growth Fund award, applicants must place a strong emphasis on digital marketing and the creation of digital content assets. They are also encouraged to align themselves with Scotland's themed years, including the 2017 Year of History, Heritage & Archaeology.
To find out more about the VisitScotland Growth Fund, visit www.visitscotland.org/growthfund
*Great Britain Tourism Survey (GBTS) 2015 and Great Britain Day Visitor Survey (GBDVS) 2015
Photo Caption: Paul Ralph, Access and Inclusion Director at Euan's Guide, Jim Clarkson, Regional Partnerships Director at VisitScotland, and Euan MacDonald, the website's co-founder, at Verdant Works in Dundee. Picture: Fraser Band
ENDS
For further information contact: tom.maxwell@visitscotland.com; 0131 472 2409
Notes to Editors

Follow us on twitter: @visitscotnews
VisitScotland is Scotland's national tourism organisation. Its core purpose is to maximise the economic benefit of tourism to Scotland.
The organisation's core objective is to contribute to the Tourism 2020 Strategy ambition of growing tourism revenues by £1 billion by 2020.
This will be supported by five overarching strategies: Marketing, Events, Quality and Sustainability, Inclusive Tourism, International Engagement.
The organisation employs 700 people and has offices and VisitScotland Information Centres across Scotland.
Spending by tourists in Scotland generates around £12 billion of economic activity in the wider Scottish supply chain and contributes around £6 billion to Scottish GDP (in basic prices). This represents about 5% of total Scottish GDP
For VisitScotland's press releases go to http://www.visitscotland.org/media_centre.aspx, tourism statistics and frequently asked questions go to http://www.visitscotland.org/
Where possible, a Gaelic speaker will be made available for broadcast interviews on request (Far an tèid iarraidh, agus far am bheil sin nar comas, bruidhinnidh neach le Gàidhlig aig agallamh)
For holiday information on Scotland go to www.visitscotland.com
For information about business tourism in Scotland go to www.conventionscotland.com
2017 Year of History, Heritage and Archaeology
The Year of History, Heritage and Archaeology ends on 31 December 2017.  It will build on the momentum generated by previous themed years in Scotland including the 2015 Year of Food and Drink, Homecoming Scotland 2014, the Year of Creative and the Year of Natural. 2018 will be the Year of Young People.