Winners of the Euan's Guide 2019 Accessible Edinburgh Festivals Awards Announced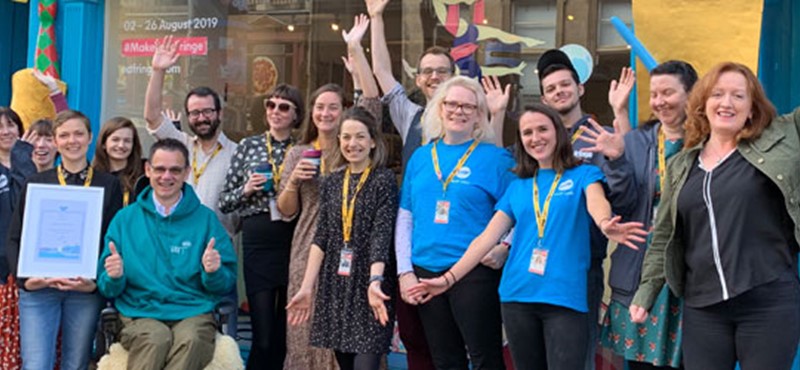 Disabled Access Charity Euan's Guide announces the winners of the 2019 Accessible Edinburgh Festivals Awards, where venues and festival organisers are rewarded for their commitment to taking steps toward inclusion. This year's winners include the Edinburgh International Book Festival, Edinburgh International Festival, Bedlam Theatre and Festival Theatre.
Each year the awards recognise the improvements that are being made to make the festivals more accessible to everyone, regardless of their disability. Now in its fourth year, this year sees the introduction of a new award, the Euan's Guide Hello Award, which is designed to recognise a venue that created a warm welcome for all of its visitors. The winner of this new award is the Edinburgh Festival Fringe Shop and Box Office, who this year held their first Disabled Access Day ahead of the festival allowing people to find out about their services in a relaxed environment.
While four out of the five awards go to venues, the Spirit of Inclusion Award is awarded to an organisation that has exceeded all expectations and has shown that disabled access and inclusion are woven within the fabric of what they offer. This year that award goes to the Edinburgh International Festival, who have a wide range of accessible performances as part of their core offering. This year they had a total of 24 accessible shows, the most they have ever offered.
Having won every year, it appears that the Edinburgh International Book Festival is unbeatable when it comes to the Most Accessible Pop-up Venue Award. Euan's Guide considered many other temporary venues for this award, but none matched the strength of the offering at the Book Festival, who have once again added to their already noteworthy accessibility services.
The Euan's Guide Award for the Most Accessible Large Permanent Venue is awarded to The Festival Theatre and its adjoining sister theatre, The Studio. These spaces are significant as they not only offer accessible experiences for their audience, but also the performers.
Student-led Bedlam Theatre has been recognised for their commitment and determination to make an old building accessible and have been awarded this year's Most Accessible Small Permanent Venue Award.
Speaking about the Awards, Paul Ralph, Access and Inclusion Director at Euan's Guide said: "At Euan's Guide we are proud to be based here in Edinburgh, a city which is home to some of the world's leading arts festivals. As a leading source of disabled access information, we established our Accessible Edinburgh Festivals Awards in 2016 to praise the work being done to improve the festivals' accessibility and to highlight best practice examples of inclusivity. Each year we're delighted to see the festivals making additional improvements through their actions and offerings. This year was no exception with a real focus being placed on pre-arrival information and creating a positive first impression."
These awards prove that despite the challenges that disabled people face when it comes to taking part in Edinburgh's Festivals, opportunities to participate are opening up each year. The increasing number of accessible performances, the additional assistance available to people and the improvements being made to venues across the city are all worthy of recognition. Euan's Guide is a charity which aims to give disabled people access to the information they need to allow them to make informed decisions on the suitability of a venue and giving them the confidence to go out and explore.
-ENDS-
Notes to editors
For further information please contact press@euansguide.com or call 0131 510 5106.
Press images are available here: https://www.dropbox.com/sh/6ceiblgogtph2uk/AADDcwN8sR85olY7_X1tNQNwa?dl=0
2019 Accessible Edinburgh Festivals Awards
Edinburgh Festival Fringe Shop and Box Office – winner of the Euan's Guide Hello Award
Euan's Guide was particularly impressed with the Fringe Shop and Box Office's commitment to making participation as easy as possible. This has been achieved through their dedicated Disabled Access Day which was held on Saturday 13th July, this event gave people the chance to meet the access booking team and discover all of the services available ahead of the Fringe. All staff at the shop and box office have had disability awareness training and there is a dedicated access ticket counter in the shop and a dedicated phone line, both of which are easy to use and offer friendly customer service. The use of the Neatebox Welcome app ensures that a disabled person's access requirements will be met while the use of the blue carpets and sensory backpacks allow people who might otherwise feel excluded take part in the festival's activities.
"Everyone should have the chance to enjoy Edinburgh's festivals and the Accessible Edinburgh Festivals Awards are testament to this. We are proud to receive the Euan's Guide Hello Award as it shows that the steps we are taking at the Fringe Society are making a difference for people with access requirements coming to the Fringe, ensuring it is more welcoming and easier for them to attend. We will continue to provide and expand these services by working with our partners to ensure that the Fringe continues to become more inclusive."
Shona McCarthy, Chief Executive of the Edinburgh Festival Fringe Society

Picture: Edinburgh Festival Fringe Society Team receive their award outside the Fringe Shop and Box Office.
Edinburgh International Festival – winner of the Euan's Guide Spirit of Inclusion Award
The Edinburgh International Festival's access guide remains one of the best examples Euan's Guide has ever seen. The guide details all of the accessible performances and includes disabled access information for each of the International Festival's venues. The growing number of accessible performances is a testament to the festival's commitment to allowing everyone to participate. They offer a wide range of accessible shows, from BSL interpretation, relaxed performances, to audio described and touch tours.
"We're absolutely thrilled to receive this award from Euan's Guide and we're delighted that our access programme enables more people to experience the International Festival, which this year features our largest number of accessible performances to date, and our first ever relaxed performances. We hope that this award will encourage more people to engage with our programme and we look forward to continuing to grow and develop this area of our work."
Brian O' Regan, Audience Development & Access Co-ordinator
Robert Softley Gale, Artistic Director at the Birds of Paradise Theatre Company added:
"Birds of Paradise are delighted that the Edinburgh International Festival, the Festival Theatre and others have been recognised by Euan's Guide for their positive approaches to disability equality and inclusion. As one of the first disability-led companies to be presenting work at EIF, we're incredibly excited by the way that disabled people are now being seen as part of the festival, be that as audience members or artists. We've still got a long way to go but recognising the great work that's taking place is crucial to encourage others to do the same." 

Photo: Brian O'Regan and members of the Edinburgh International Festival Team receive their Spirit of Inclusion award 

Edinburgh International Book Festival – winner of the Euan's Guide Most Accessible Pop-up Venue Award
For the fourth consecutive year, the Book Festival has won an award in recognition of the continual improvements being made at their site. This year they created a new safe and accessible drop off point and have dedicated members of staff based at the Information Desk in the Entrance Tent to assist any visitors with additional needs.
This year also sees the return of the Changing Places toilet and the free and drop-in Sensory Storytelling Spectacular in the Baillie Gifford Story Box, both of which enable participation beyond that which is offered at the majority of other venues.
"We want everyone to feel welcome at the Book Festival and are committed to continually improving how we achieve this. We are thrilled that Euan's Guide has, once again, recognised the changes we have made this year. Thanks to the support of Players of People's Postcode Lottery and through consultation with our visitors, we have dedicated members of staff to assist visitors with additional needs, created a new access ramp into the Gardens, and strived to improve access across all areas of Charlotte Square Gardens and George Street. House of Hearing have supported captioning in over 20 events across the adult and children's programme and we have also been able to increase the number of BSL interpreted events this year. We want everybody to enjoy the best possible experience at the Book Festival." 
Sophie Moxon, Executive Director of the Edinburgh International Book Festival

Photo: Edinburgh International Book Festival Team receive their award for Most Accessible Pop-Up
Festival Theatre and Studio Theatre – winners of the Euan's Guide Most Accessible Large Permanent Venue
Festival Theatre and Studio Theatre both go above and beyond to offer disabled access for both their audience and their performers. Often back stage areas are inaccessible which can make it challenging for disabled performers to showcase their work. By taking a holistic approach to their disabled access, Festival Theatre and Studio Theatre have taken big steps towards eradicating this challenge.
"We are delighted to have won the award for Most Accessible Large Permanent Venue. Our team work hard at our venues to make sure that everyone has a positive and happy experience and we are over the moon to be recognised in this field."
Kim McKenna, Front of House & Customer Service Manager, Capital Theatres.

Photo: Members of the Festival Theatre Team receive their award for Most Accessible Large Venue
Bedlam Theatre - Euan's Guide Most Accessible Small Permanent Venue
As a voluntary and student led enterprise, the work, commitment and enthusiasm of those involved in Bedlam Theatre is outstanding. While they are faced with a challenging older building, this does not stop those involved from taking a proactive approach and continuing to look for ways to improve their disabled access. This year the theatre has an induction loop as well as captioned and relaxed performances.
"Bedlam Fringe is delighted to receive the Most Accessible Small Permanent Venue award from Euan's Guide this year. Euan's Guide has been a great help to Bedlam over the years, advising us on how to be more accessible as a venue as well as providing us with general support across the Festival period. At Bedlam we are committed to being as inclusive as possible and we will continue to strive to further improve our venue's accessibility in the future."
William Byam Shaw, Assistant Venue Manager, Bedlam Fringe

Photo: Members of the Bedlam Fringe receive their award for Accessible Small Venue
Euan's Guide
Euansguide.com is the disabled access review site where disabled people, their family, friends and carers can find and share reviews on the accessibility of venues around the UK and beyond. Having access to good quality disabled access information inspires confidence and removes the fear of the unknown. It breaks down the barriers of exclusion and makes it easier for disabled people to find great places to go.
The charity was founded in 2013 by Euan MacDonald MBE, a powerchair user and his sister Kiki after Euan was diagnosed with Motor Neurone Disease and a lack of disabled access made everyday experiences stressful. The website now holds thousands of reviews and is an invaluable tool for many disabled people.
Locations: Edinburgh