Our Red Cord Cards in Action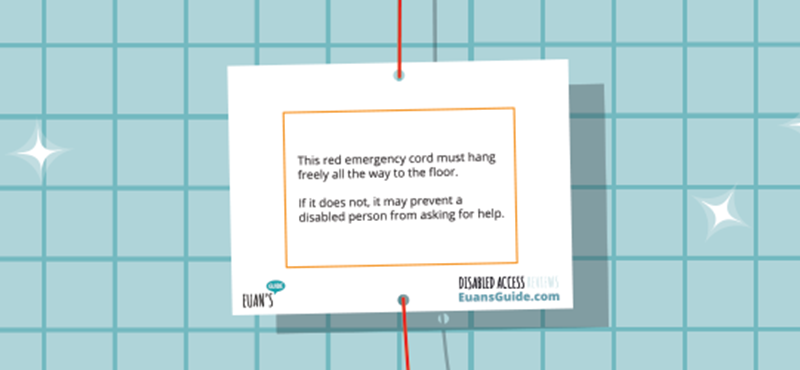 | | |
| --- | --- |
| | Written by Kayleigh O'Neill, Communications Intern  |
Our Red Cord Card campaign is becoming the biggest campaign to help disabled people access venues' toilets safely without making physical or structural changes to buildings. They are a reminder to people and venues that the red emergency cord should be easily reached from the toilet and floor if a disabled person needs to alert for help.
How to get Red Cord Cards
Individuals can order Red Cord Cards from our website using the form at the bottom of this page.
How they are used
The cards easily slide onto cords and will remain there as a visual reminder to #SetTheCordsFree! The text on each card says: "This red emergency cord must hang freely all the way to the floor. If it does not, it may prevent a disabled person from asking for help."
Below we have collated some images of Red Cord Cards in action!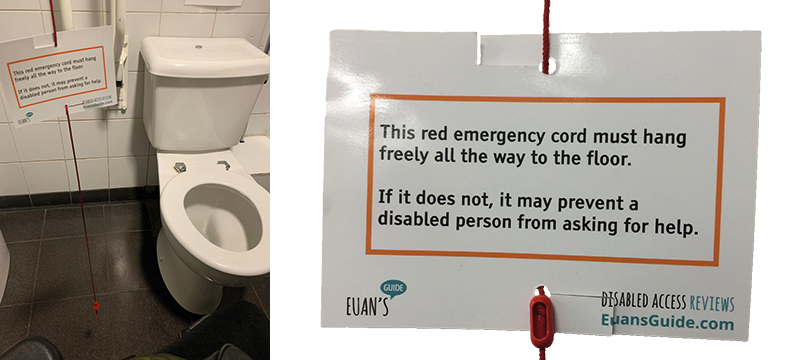 A recent review of the Gallery of Modern Art GoMA has a clear image of a Red Cord Card hanging proudly next to the toilet. (Image on left). This image help to demonstrate how far the cord must reach. A good place to put the Red Cord Card is above the middle bangle (not pictured), as this bangle is usually near eye-level when sitting on the toilet. The other bangle should be reachable from the floor.
Scroll through our Wakelet feed to see some of the pictures people have shared of the Red Cord Cards in action.
You'll see that the campaign has been supported by Tyne and Wear Fire and Rescue Service, who tweeted on the 27th February 2020, to ensure their red alarm cords in accessible toilets hang free and are not tied back restricting use when required. We loved the group shot from Renfrewshire Health & Social Care Partnership on the 6th December 2019 and if you keep scrolling you'll see a tweet by Scotland House London from 14th August 2019. They proudly put Red Cord Cards around their offices which ensures the loos are safe. Even if an accessible toilet has accessibility features - such as handrails or wider turning space - an unusable alarm system can make them unsafe.
@Tyne_Wear_FRS are supporting @EuansGuide campaign to ensure red alarm cords in accessible toilets hang free and are not tied back restricting their use when required. Red Cord Cards will be attached to all cords across TWFRS premises very soon. #RedCordCard pic.twitter.com/ZlIc2L2lJy

— Andrew Bays (@AndrewBays1) February 27, 2020
Milldale's Award-winning Café Spy group are always busy supporting @EuansGuide The group ensures Emergency Red Cords are not tied up in accessible toilets.
This week the group went to Morrisons in Johnstone to "Free the Cord" #RedCordCard. pic.twitter.com/WpjjtlB90b

— Renfrewshire HSCP (@RenHSCP) December 6, 2019
Putting our @EuansGuide red cord card to good use in London, making our office accessible for all #EqualityByDefault
Our loos have @scottishsoaps Sea Kelp moisturiser too... 🚽 #ReviewsInTheLoos pic.twitter.com/7o8idP15Pn

— Scotland House London (@ScotGovLondon) August 14, 2019
Order Red Cord Cards Today
To order your own you can use the form below. Thank you for helping to #SetTheCordsFree!