Arsenal FC's New Changing Places Toilet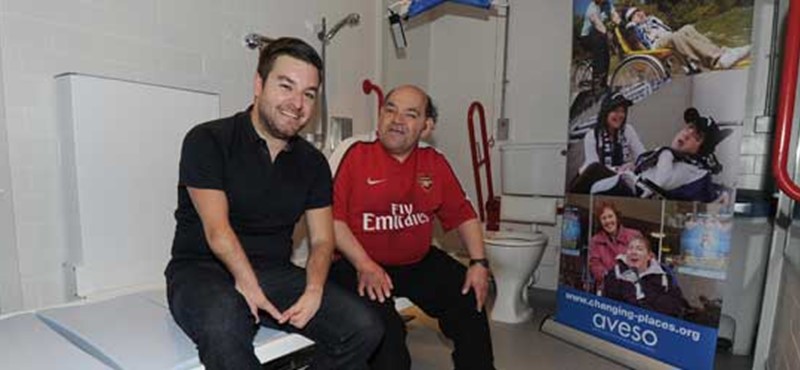 If you need to use a Changing Places Toilet, a trip to a Premiership Football Club can usually be ruled out. This changed on the 15th April 2014 when Aveso installed the very first Changing Places into Premiership Stadium: The Emirates. The Arsenal game against West Ham marked the opening of the new facility by Alex Brooker form Channel 4's "The Last Leg" and 2012 Paralympic Games. A Changing Places toilet is larger than a standard accessible toilet and includes a height-adjustable bench, a hoist and plenty of room for a wheelchair user and up to two carers. Changing Places is just one of a number of investments that Arsenal F.C. is making for its disabled supporters as part of the equality and diversity campaign 'Arsenal for Everyone' which strives to make everyone feel welcome at the club.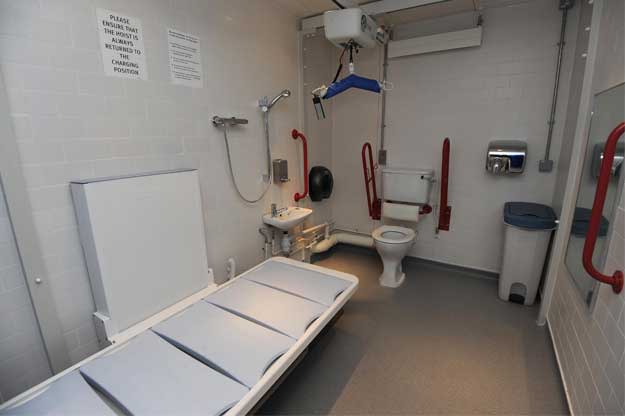 The Disability Liaison Officer from Arsenal; Alun Francis commented "We are all incredibly proud to be the first Premier League stadium to install a Changing Places toilet. Arsenal values everyone connected to the Club and we want all visitors to the Emirates Stadium to feel like they belong here and enjoy an equal match day experience without the stress that standard disabled toilets can cause". Aveso commented "we are proud to manufacture and recommend the equipment for such a valuable and important facility. The Arsenal FC Changing Places toilet will enable thousands of fans to experience and enjoy the game in the knowledge that both themselves and their family/carer can enjoy a stress free day out". The Changing Places at the Emirates Stadium has already proved its worth, not only to Arsenal football fans but also for The Brandon Trust who hosted their "100 Voices" event there in August which was attended by over 200 guests with learning difficulties, clearly showing the beneficial impact to both venue and user of a Changing Places toilet.
Not only does the Arsenal FC Changing Places mark the very first to be installed in a Premiership Stadium but also the 600th registered facility in the UK! These Changing Places have ranged from museums, shopping centres and hospitals to airports and arenas across the UK, all thanks to the success of the Changing Places Campaigners.
See how you can get involved with Changing Places on their website. 
If you would like to install a Changing Places Toilet or find out more infomation, contact Aveso. Aveso are the official sponsors of the Changing Places Campaign consisting of OpeMed and Astor Bannerman.
Locations: London