Barclays Trial New 'Beacon' App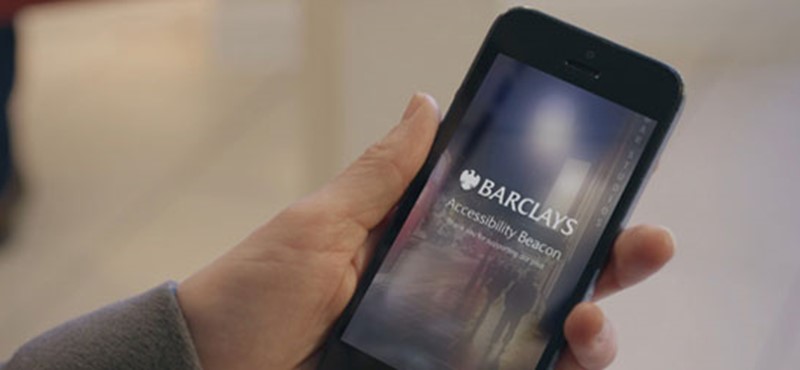 In a UK first, Barclays are trialling the use of beacon technology to help customers who have accessibility needs while they're in branch.
The process is simple — using an app on their smartphone, customers enter a few personal details and information about their disability describing how they would like branch staff to support them. Those details, along with a photo are saved securely, and using a tiny beacon transmitter, staff are discretely alerted when they enter the branch. When placed somewhere like a bank branch, beacons emit a signal over a 10-metre radius using Bluetooth technology, which is picked up by a mobile device.
Until now, beacons have mostly been used by retailers to communicate with customers, alerting them to discounts or to provide information on shopping habits. "The beauty of beacon technology is that it's not locked down to one platform or one manufacturer," says Umesh Pandya, Associate Director of user experience at digital product studio Ustwo, which advised the bank on this project. "Used this way by Barclays, it's very powerful," he added. Barclays, consulted with disability charities throughout every stage of the process, letting customers decide information to transmit, from their photo to the nature of their disability to exactly what help they'd like to receive.
Elaine Draper, Director of Accessibility and Inclusion at Barclays commented: "With beacon technology, branch staff have all their details to hand so it makes the experience much better not only for the customers but for staff as well, as they feel confident that they know how to support all our customers."
The project is currently in pilot at ten branches and they are looking for customers to test out the technology and let them know what they think. To take part, you just need to be able to answer 'yes' to the following three questions:
1. Do you have a disability or impairment you'd like to tell us about in advance so we can help you in branch? (For example, needing to lip read, receive sighted guide assistance or needing a Hearing Loop)
2. Do you have an iOS device (Apple iPhone) using iOS7 or above?
3. Do you bank in one of the participating branches? Check Barclays website for the list of branches.
This is a unique opportunity to really make a difference to people's lives, the more support and feedback that can be gathered the better the chance that the service will become a permanent fixture. If you live near any of the branches listed below get in touch and get involved. Also don't forget to write your review of the branch on Euan's Guide once you have visited!
If you are interested in taking part, know anyone that might be, or have any questions then please email accessibility@barclays.com or call 07775 551 954 (Monday to Friday 9am to 5pm).
Below are some additional links and videos that will give a little more information about the beacons pilot and accessibility in general within Barclays.
Watch a video about Barclays 'Sign Video'.
Find out more info about the Beacons.