Beyond campaigning: Gordon Aikman
The 3rd of February 2017 was a day of reflection for many as slowly we heard the news that Gordon Aikman was no longer with us. A friend of Euan's Guide, and a great pal to Euan and Kiki, and Ryan of Disabled Access Day among others; Gordon will be sorely missed by many of us who knew him, and many more who did not. Gordon was an avid fundraiser and campaigner for Motor Neurone Disease (MND) patients, and Gordon's Fightback will most likely be remembered by the next generation as one of the biggest advances toward a cure that will hopefully by then exist.
Gordon's family said: "We are heartbroken. Gordon was beautiful, kind, funny and utterly determined. He achieved more in the few short years after his diagnosis with MND than many of us do in a lifetime."
Raising over £500,000 is no mean feat, but while doing his amazing work in the fight against MND, Gordon still made time for fun and adventure. He like many other disabled people, their families and friends, chose to celebrate the people and places that were committed to ensuring good disabled access for visitors. We were delighted when Gordon wrote his first review on Euan's Guide; a small but meaningful step in our own awareness raising campaign for disabled people.
As Gordon's reviews came in, it was clear to see that he had an interest in travel and exploration. He wrote reviews about locations in Scotland, Paris, and even beneath the glow of the Northern Lights in Iceland. Closer to home, Gordon also went back to his childhood town of Kirkcaldy where he shared his experience of accessibility in the Adam Smith Theatre, and also a local favourite, The Dining Room.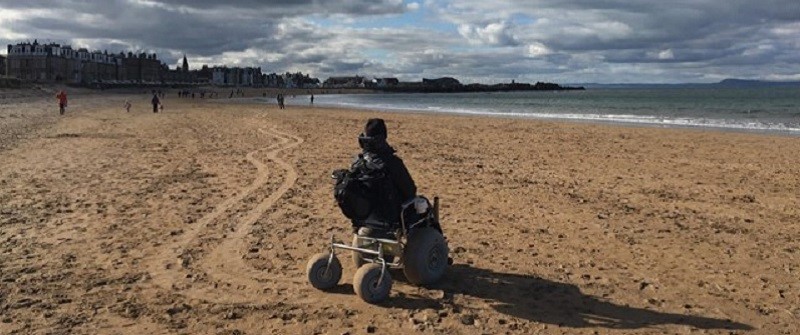 Food reviews became a bit of a speciality of Gordon's, and he began to write about his experiences of classic Edinburgh gastro-pubs such as Roseleaf, but also international restaurants such as Café Andaluz and Malaysian food at Nanyang, demonstrating that good disabled access can be achieved in cafes and restaurants of all shapes and sizes.
Our favourite review by Gordon however, was about his immensely fun experience on the beach in North Berwick where he wrote:
"Hiring a beach wheelchair meant I was able to get on the beach for the first time since I've been in a wheelchair. The big, soft, balloon wheels might look odd but give an incredibly smooth ride. Great project, fun afternoon out – give it a go!"
It saddens us that we will not read any more of Gordon's disabled access reviews on Euan's Guide, but we will keep on sharing the experiences he wrote about with the thousands of disabled people, their families and friends who are on the search for access information. With luck, they will stumble across Gordon's final review, where he writes with delight about his discovery of 'seasonal Scottish scran' in Leith. We will not stop remembering Gordon's Fightback and his incredible journey.
There will be a memorial and celebration of Gordon's wonderful life at 1.30pm Saturday 18th February at the Hub, Castlehill, Edinburgh, EH1 2NE. Children are very welcome at this celebration. The wake will follow and will also be at the Hub.