Blackwood Design Awards 2022-23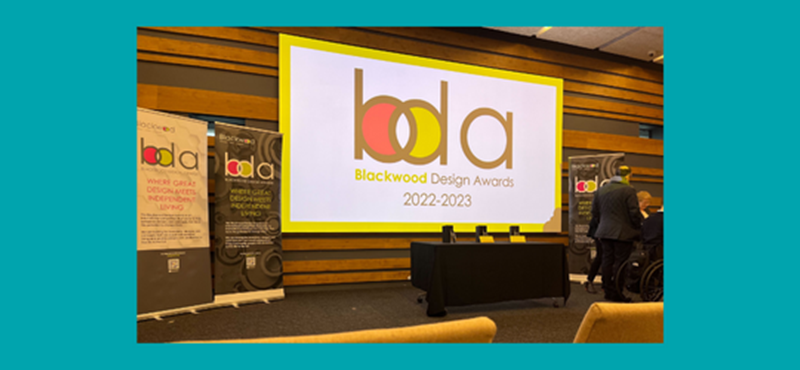 Early in December we were invited to sit on the judging panel for the Blackwood Design Awards. 
The annual competition was launched in 2013 by Blackwood Homes and Care, who help people life their life to the fullest by providing high quality housing, care and support for disabled people of all ages. 
The design awards have grown each year, becoming an international contest which attracts designers, engineers and inventors from all over the globe. The purpose of the Blackwood Design Awards is to discover and champion brilliant concepts, designs and products that have the potential to help people live independently. 
Anyone can enter, as long as they've come up with a great idea that can support disabled people. As experts in the field of disabled access, we were delighted to be invited to be on the judging panel.
The prize is currently worth thousands of pounds and, this year, there were three categories to enter. They were Best New Aid, Equipment or Tech; Best New Concept; and Best Collaborative Project by a University or Institute of Higher Education.
It was a freezing December day, so we were glad to be treated to lunch at V&A Dundee, where we enjoyed the fantastic company of our fellow judges before settling in for a few hours of deliberation, which involved reading applications as well as a live two-minute pitch from the contestants themselves. It all felt very Dragon's Den!
There were so many amazing entries and our representative, Christina, said she would have loved to have given everyone a prize. After a tough but unanimous decision, three winners were selected for the awards ceremony which took place last week. They were:

Best New Aid, Equipment or Tech
Koalaa by Nate Macabuag, who is based in London and, with his team, makes comfortable and affordable prosthetics available to people worldwide. They're also fundraising to be able to provide free prosthetics to children under 18, and have provided over 300 already. 

Best New Concept
Inclusivitea Innovative Kettle by Nick Fitzpatrick from Edinburgh, who studied product design at the University of Dundee. Inspired by his grandmother, his innovatively designed kettle makes it easier for people with visual impairments, dexterity impairments and reduced strength to operate a kettle. 

Best Collaborative Project by a University or Institute of Higher Education 
Electrical Plug Design by Charlie Wilson and the University of Strathclyde. Charlie's plug works through a pushing motion, rather than the standard pulling, to make it easier for people with arthritis to get plugs in and out of sockets without needing grip strength. 
Fanchea Kelly, Blackwood's Chief Executive, said: "The inventions created by all the shortlisted entrants are inspiring and it was tough for the judges to decide on the winners. Nate from Koalaa, Nick and Charlie are worthy winners, and it was great to host an event that gave all the entrants the opportunity to share their experiences in this showcase in the V&A.
"These inventions make a huge difference in helping people to live more independently and that's what we aim to promote and encourage with the Blackwood Design Awards."
Claire, our Volunteer Co-ordinator, went along to see the winning entries being awarded publicly at the awards ceremony. She said: "It was lovely to be invited along to the awards ceremony and see some of the amazing entries in person and I understand why Christina and her fellow judges found it very difficult to vote for one entry per category."