Blood Wedding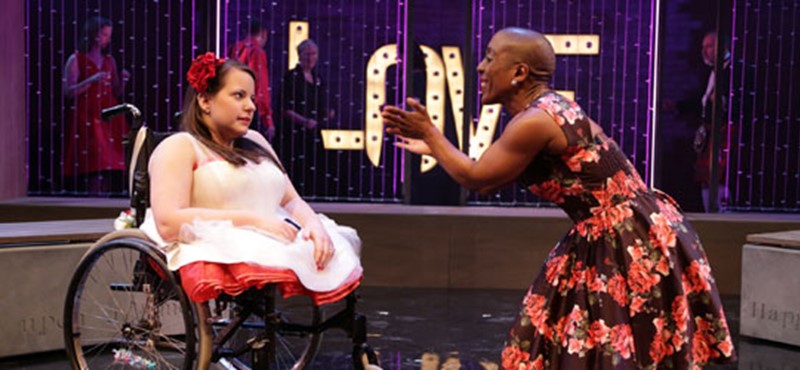 "He's ready to kill for love."
The many wonders of love are not the subject of this play. Nor could it be described as a romantic piece. This play focuses on the darker side of human desire and questions what we would do for love. The production is a retelling of a Spanish classic transported to a modern British city. The story revolves around a wedding which brings together former lovers with disastrous consequences.
Attending the wedding is a grieving mother who is forced to come to terms with the brutal murder of her husband and son. It is a tragic irony that the playwright, Federico García Lorca, was himself murdered during the Civil War just three years after publishing Blood Wedding.
As with all productions by Graeae, the performance strives to be accessible to audience members and actors alike. British Sign Language (BSL) is interwoven into the play and the actors take turns to audio describe parts of the play. Not only does this increase the accessibility of the play but it also enhances some elements of the play. The audio description directs the audience's attention and shapes their preception as the story unfolds. The use of BSL adds movement to the words of one of Spain's most treasured poets.
The theatre critic Mark Brown describes the production as 'universal in its insights into the emotions, conflicts and taboos of the human condition' and the Guardian calls it a 'lively production'. We saw the play in Edinburgh and we were enthralled by this modern take on a Spanish classic. Although the subject matter is rather heavy, it has been injected with humour making it light-hearted in places and Amy Conachan, pictured above, delivered a memorable performance as the bride-to-be.
You can see Blood Wedding at the Liverpool Everyman from the 21st to the 25th of April. All performances are relaxed performances.
Locations: Liverpool