Changing Places Awareness Day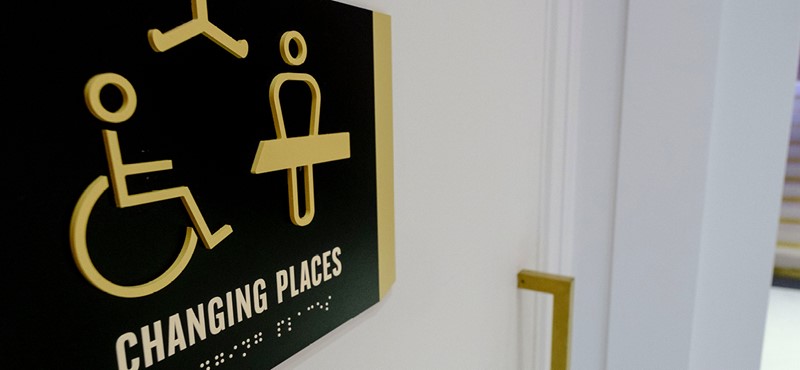 If you've never heard of Changing Places, you probably will today –it's Changing Places Awareness Day and we're proud to support this invaluable organisation with a special blog post filled with helpful information and tips.
So, for those who don't know, what exactly is a Changing Places toilet? They're accessible toilets for people with profound and multiple disabilities and other people who need to use them. These facilities have all the necessary equipment and space so disabled people and their carers can use the loo comfortably and safely.
A Changing Places toilet has a peninsula toilet, basin, ceiling hoist, and adult sized changing table, a privacy screen, wide tear-off paper roll, non-slip floor and space for a wheelchair user and up to two carers.
Another question you might have is why are they so important? Well, accessing a toilet is one of the most basic rights of any person. Research found that nearly a quarter of a million people in the UK need assistance to use the toilet and/or change continence pads. A Changing Places toilet enables disabled people to use a loo in a dignified and hygienic way. Today we want to help raise awareness of Changing Places toilets so that everyone, including venues and attractions, understands how valuable they are.
First and foremost, we want to thank everyone who has reviewed and listed venues with Changing Places toilets because it really does make things easier for people who are researching new places to visit. You can check out our Changing Places toilet reviews on our website.
We'd also like to take the opportunity to remind our reviewers and friends to keep submitting their reviews of venues and attractions that have Changing Places toilets. You know how we love up-to-date information wherever possible since we know it's invaluable to people who are looking at visiting somewhere new. We understand your time is precious but if you can give us just a few minutes to log in / create an account and review your favourite local Changing Places toilet, you'll make a positive contribution to at least one other person's day. Oh, and the team here at Euan's Guide love to see those reviews dropping into our website –it brightens our day too!
We'd also encourage our venues to make sure their listings are completely up to date, especially if they are the proud owners of a Changing Places toilet –it might seem like a small detail to some, but the difference made to the lives of disabled people can be huge.
Jill Clark, a blogger (you can find her on social media by searching 'The Toilet Woman'), spoke to us about Changing Places toilets. She said: "I am pleased to see more Changing Places have opened over the years. It's important because it allows disabled people to go to a lot of different places. Knowing there's a Changing Places toilet, I feel more confident going places."
PAMIS is the co-founder of the Changing Places Consortium and run campaigns along with Muscular Dystrophy UK to promote how these super accessible facilities make a difference for over 250k people and their families across the UK. Alongside the static Changing Places installations, PAMIS have a mobile Changing Places toilet called the Pamiloo. Available to hire, it pops up all across Scotland attending events and providing Changing Places in amazing places like the beach, festivals, and PAMIS events. Similar schemes exist in England with the Mobiloo and in Northern Ireland with Accessoloo.
Take a look at the Changing Places toilet map to find one near you.
If you're a venue that needs advice or wants to find out more about how to get a Changing Places toilet in your venue, please get in touch or take a look at the Changing Places website.