Have you tried a Paragolfer?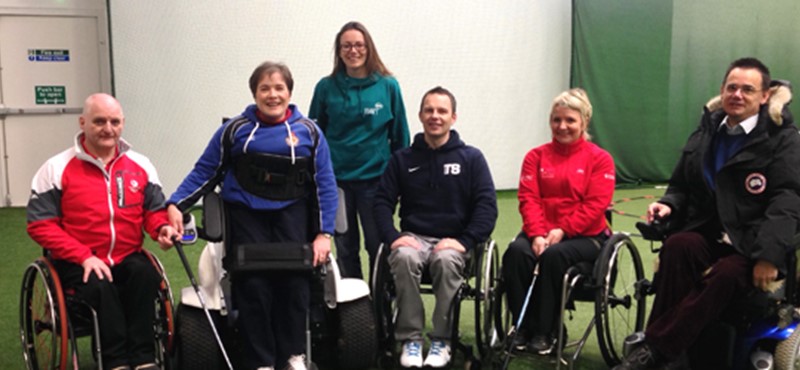 TS Sport "connect, introduce and reintroduce disabled people to sport to help unlock their independence in everyday life". They regularly run 'taster sessions' for all types of different sports and we headed over to Glasgow to take part in their latest session, golf.
The event was being held at the Glasgow Golf Centre which has an impressive set up so players can work on all aspects of their game - from bunkers to greens to teeing off - and they've also a great studio with the latest simulation technology.
For this event they had teamed up with the Scottish Disability Golf Partnership (SDGP) so there were lots of people in different groups and a great buzzing atmosphere! It was particularly great to meet Alan from the RNIB's Insight Radio who we later saw being given some pointers out on the 'course'.
The highlight of the day for many was the brand new Paragolfer that was being put through its paces. The Paragolfer has three wheels and the console to control it has a joystick that may be familiar to some Powerchair users. After transferring to the Paragolfer you are strapped in with a 'harness' over the chest and a 'strap' across your legs, there are also footplates to rest your feet on.
The Paragolfer is easy to manoeuvre and when you're in position you simply use the joystick to elevate yourself into the swinging position. We were delighted to meet some of the Paralympic curling team on the day too - pictured is Angie Malone, Michael McCreadie and Aileen Neilson with Ryan MacDonald from TSsport. Below is Angie trying the Paragolfer with Ryan.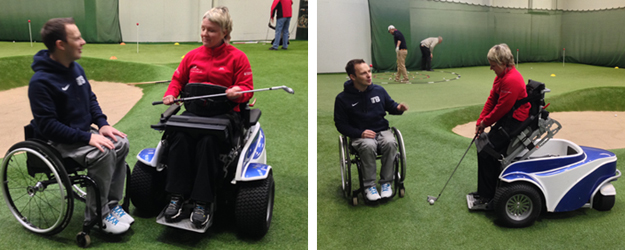 The best bit? This is available for anyone to use! Well anyone that is able to get to Mearns Castle Golf Academy. The course is the first in Scotland to have a Paragolfer available for the public to use. You can do this by calling Mearns Castle Golf Academy on 0141 644 8200 and booking the machine. Alternatively you can call TSsport project leader Ryan MacDonald on 07975 538 142 for more information. There is currently one Paragolfer available at Mearns Castle, once word gets out they expect the demand to be high, the team at the course are very enthusiastic and are already fundraising to get another. It is also hoped that many more courses might want to introduce a Paragolfer at their venue.
Thanks to TSsport for a great introduction to the world of the Paragolfer!
Have you used a Paragolfer? Send us your photos and stories… And we'd also love some reviews of your favourite accessible golf courses!
Locations: Glasgow