Disability Pride Brighton Online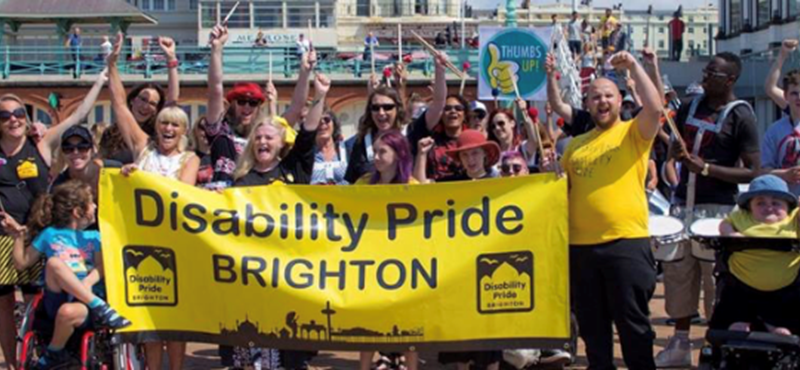 Disability Pride Brighton is back for its fourth year - with a difference!
Disability Pride Brighton is delighted to announce their fourth annual festival is going ahead - online this time.
The celebration will take place online on Sunday, 12 July 2020 in the form of a special TV programme. The TV programme is being made in conjunction with Latest TV and will be shown twice on Freeview Channel 7 on Sunday, 12 July -  from 12 noon to 2.30pm and from 2.30pm to 5.30pm. It can also be seen on Virgin Media Channel 159 as well as on Latest TV Livestream. It will subsequently be on YouTube and on Disability Pride website.
The event is organised to raise awareness of the diversity and value of disabled people with all (visible and non-visible) impairments or conditions and is organised by a diverse Committee of disabled people.
"We want to celebrate our identities and feel less isolated, as well as engaging with all the wonderful people in Brighton & Hove. Disabled people are just a natural part of human diversity, after all!" says Jenny Skelton, Founder and Chair.
Disability Pride Brighton was the first Disability Pride event in England and held its inaugural event in July 2017. Last year, in 2019, over 3,500 people attended the festival.
Throughout the TV show, there will be music, acts, performances, and speeches from disabled people; work from disabled artists and information about some of the disability organisations, communities and charities in Brighton & Hove. Disability Pride has support from some well-known local disabled people - Alison Lapper MBE, Sarah Gordy MBE and Eddie Kidd OBE.
The idea for Disability Pride came from disabled Brighton mum, Jenny Skelton, who also has three adopted, disabled children. Sadly, one of her children experienced an incident of disability discrimination and Jenny wrote about it. The story went viral and Jenny received hundreds of messages from disabled people who had had similar experiences. Hence, Disability Pride was born! Since the first year, the event has grown significantly.
---
An update from Tina, our London Ambassador, on this year's event
Disability Pride Brighton is a festival that celebrates the disabled community. It's a one-day annual event that hosts speakers and performers, all of whom have a disability or impairment. Last year I had such a great time, on my way home, I had already decided I was going to return in 2020. However, covid-19 arrived.
A huge thank you to the festival's founder, Jenny Skelton, and her team, who this year have had to swap their usual sea front location for the virtual world. This has enabled us to enjoy an entertaining afternoon of music, dance, comedy, sport, art work and guest speakers, all from the comfort of our own homes. It's been especially welcomed and appreciated this year, as many of our community have been shielding at home for months, and it really brightened up the day. Disability Pride is a time to celebrate the disabled community in all its diversity.
The online event showcased a wide range of talents, many of whom were favourites from previous festivals. The event was opened with a short speech from artist, Alison Lapper, who also later spoke on about mental health during lockdown. Other speakers included celebrities, Adam Pearson and Samantha Renke. There were many talented musical performances. From familiar sing-a-long classics, such as from the excellent Elton John Tribute to several bands and solo artists, with amazing vocals, performing their own original compositions.
The running time of this year's show was 2.5 hours and it provided a good overview of what to expect from the live festival. If you'd like to read more about last year, you can read about my previous visit. Fingers crossed that everyone stays safe and well and next year we can meet up in person again. In the meantime, enjoy the performances online.