Disabled Access Day campaign announces 2015 launch date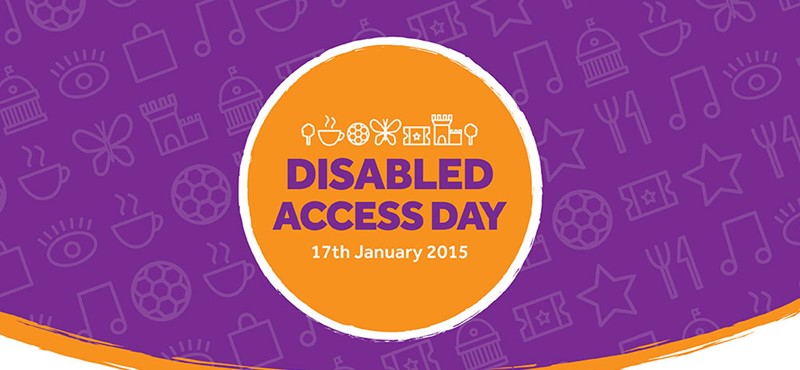 Campaign encourages disabled people and their friends and families to get out-and-about and explore somewhere new together 
Tuesday 29th April 2014, Edinburgh: The organiser of Disabled Access Day, an initiative that aims to get disabled people and their friends and families to explore somewhere new together, has announced today that it will launch on Saturday 17th January 2015.
Disabled Access Day, sponsored by lead partner EuansGuide.com, is about getting out and discovering new places, people and activities. The campaign is asking the 11.6 million disabled people in the UK and their friends, families and carers to visit somewhere that they have never been before. This can range from local places such as coffee shops and cinemas, to somewhere further afield for example famous British tourist attractions. 
The campaign will be looking to partner with well-known venues, retailers, third sector organisations, and corporate businesses, in order to motivate as many people as possible to get involved. Affiliated organisations and sponsors will be encouraged to provide promotional offers to registered participants, who have moved out of their comfort zone and challenged themselves by coming out to their particular venue. 
Through partnering with organisations, Disabled Access Day aims to highlight the best accessible businesses in Britain for disabled people, and showcase the commercial value that can be yielded from the custom of millions of disabled people in this country.
Kiki MacDonald, Co-Founder at EuansGuide.com, commented: "We're very proud to be the lead sponsors for Disabled Access Day. Promoting good disabled access is at the core of what we do, so this campaign is close to our hearts. We hope many people get involved with the initiative, and feel inspired to see a part of the country they've never seen, or engage in activities that they don't typically do."
Interested parties should email takepart@disabledaccessday.com to find out about getting involved.
-ENDS-
About Disabled Access Day
Disabled Access Day is all about getting out and visiting a venue that you've never been to before - whether a cinema, coffee shop, sports centre or anywhere else. Disabled Access Day is asking disabled people and their friends and families to visit somewhere that they've never been before on Saturday 17th January 2015. For more information please visit www.disabledaccessday.com.