Doors Open Weekend: Montrose Basin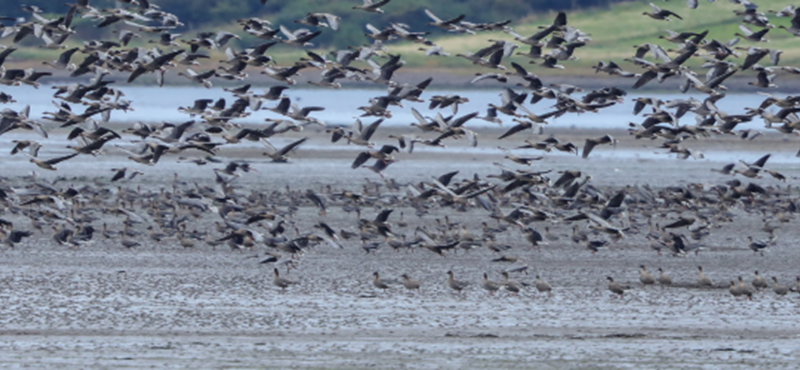 Doors Open Weekend takes place across Scotland throughout September, so the team behind the event picked out a recommendation with disabled access for Euan's Guide readers, ahead of the Angus weekend which takes place over Saturday 10 and Sunday 11 September. 
It's a wonderful time of year to spend some time in nature, and Angus has many stunning spots to visit. Montrose Basin offers panoramic views across the reserve, which is an enclosed estuary at the River South Esk covering 750 hectares of mudflats, which offer feeding and roosting ground for all sorts of birds species. There are telescopes and binoculars available at the visitor centre, and at this time of year the Basin is home to over 100,00 migratory birds so you can hope to see fishing osprey, geese, wigeon and a variety of other waterfowl and waders.  
There are a few different walks and paths around the Basin, none of which begin at the visitor centre – they all start from different car parks. The most accessible one is the Tayock walk which is located on the western side, off the A935 Montrose to Brechin Road. You can find the turn-off just after the sign for St Christopher's Caravan Park, and although there's a large tarred car park, there aren't designated spaces. It's worth noting that there are height barriers (6ft 6 in) at the car park entrance.  
Frome the car park to the bird hide is about a kilometre and although the path is gravel / stone, it is wheelchair accessible – it's predominately flat with some minor slopes. A narrower flat gravel path leads to the hide which is on a level surface and is full accessible. Sadly, the view is limited as they're too high for wheelchair users however there are lower viewing slots on the outside of the hide, so there is opportunity to watch for the birds and enjoy the view. 
If you want to spend some time at the Visitor Centre, you'll find a viewing gallery, telescopes that can be height-adjusted, interpretation and information displays, a gift shop and light refreshments on the ground level. The centre is accessed through double doors that can be opened by staff to allow access for wheelchairs and scooters, there's a fixed loop hearing system at the reception desk, and there's an accessible toilet with wall mounted grab rails at each side, low mounted mirrors and a lever-style tap.  
The lower level is accessible by a platform lift, which has Braille markings but no audio, and the lift exits via a moderate ramp which people might need assistance with from the centre staff. The only access to the gallery space on the upper level is by a tightly winding staircase with grab rails on either side. 
If you're looking for a outdoorsy activity this weekend then Montrose Basin is certainly a beautiful spot to spend a couple of hours. If you want to find out what else is happening in Angus for Doors Open weekend, take a look at the website where you can search by region, date and find lots of options to suit whatever you're in the mood for.
Image by Ron Mitchell.