Edinburgh Festival 2022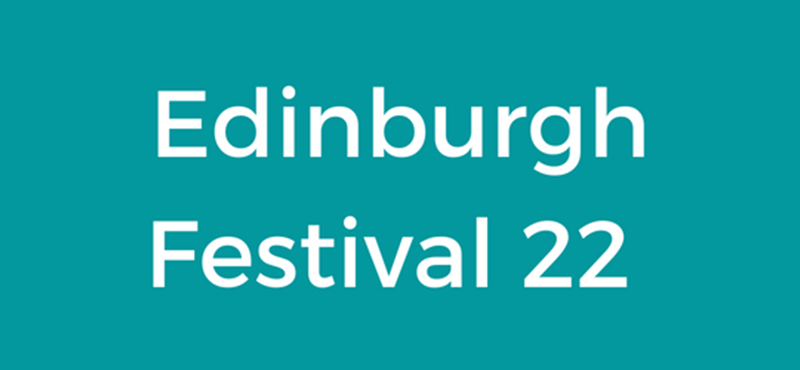 Our highlights from the Edinburgh Fringe Festival 2022, which have a focus around disability or have particularly good access options.
Edinburgh International Book Festival Inklusion Guide launch, 25 August, Baillie Gifford Sculpture Court
Find out more
Tickets are on sale for the launch of the Inklusion Guide which focuses on making literature accessible for all.
The launch event 'Celebrating Inclusion' at Edinburgh International Book Festival takes place on Thursday 25 August, where the creators will be in conversation with Jenny Kumar of Literature Alliance Scotland and Zaahida Nabagereka, Head of Social Impact at Penguin Random House UK.
The event will be chaired by disability activist Sinéad Burke, CEO and founder of Tilting the Lens and will feature a poetry reading from the amazing Jeda Pearl. 
You can book BSL and captioned events at the Book Festival, and they have a Changing Places Toilet.
Deaf Festival, 12-19 August, various times and venues
Find out more
The first ever Edinburgh Deaf Festival kicks off this week with a week-long programme featuring everything from comedy, drama and film to children's shows, magic and a rave.
Nothing quite like it has been staged before in the UK and Edinburgh-based charity Deaf Action, which is organising the festival, hopes it will bring deaf talent and culture into the mainstream.
The whole event, which runs from Friday 12 - Friday 19 August, is designed to appeal to deaf and hearing audiences alike.
The Marketplace and I, Whitespace 76, 13-24 August, 10:00
Find out more
What is it like to shop when disabled?
Celebrating the diversity of disability and prioritising ability over disability, this exhibition explores disabled experiences in shops, pubs, theme parks and more, and was developed from a research project undertaken at Lancaster University throughout 2019 by Dr Leighanne Higgins. Persons with all types of disability (ie learning, physical and sensory) were asked to create artwork(s) that express their individual commercial experiences.
This exhibition showcases song, dance, poetry, sculptures, paintings and installations, to not only explore disabled commercial experiences but to begin to challenge preconceptions towards disability.
Pain and I, Tech Cube Zero, 7-28 August, 13:25
Find out more
What does it mean to care for our bodies, ourselves, and each other in times of personal and collective pain?
Pain and I is a bold exploration into chronic pain experience by Sarah Hopfinger which unashamedly celebrates the rich complexities of living with pain. Featuring playful choreography, experimental dance, intimate autobiographical text and original classical music composition by Alicia Jane Turner, Hopfinger asks: 'what can pain teach us?' in this powerful, honest, and compelling solo performance.
Earwig, Assembly Rooms, 11-27 August, 14:10
Find out more
After the success of Greyhounds (2018) and Clouds (2019), Time & Again roar into the 1920s with vintage flair! Marigold's research into beetles is unparalleled but as a deaf woman in 1927, her work is ignored. Earwig combines the weird, wonderful world of entomology with Marigold's fight to be heard amidst flappers, jazz and an overbearing husband. Funny and fast-paced new writing incorporating illustrated projections in the style of 1920s silent movies! Earwig explores what it meant to be deaf in the early 20th century against the art deco decadence of the inter-war years.
Donuts, Assembly George Square Gardens - Piccolo, 10-14 August, 16:25
Find out more
Three friends are getting ready for a night out. The music is intoxicating, they start to dance. It's so good, they might stay a little longer...
Inspired by classic sitcoms from the 90s and 00s, follow three close friends as their friendship evolves over time. 'Feelgood and fun' (Guardian), DONUTS celebrates how music brings friends together, no matter what life throws at them. Bursting with precision and soul, it is a hypnotic and playful contemporary dance to jazz and funk.
Angela Barnes: Hot Mess, Pleasance Courtyard - Cabaret Bar, 10-28 Aug (no show 15 Aug), 19:00
Find out more
Angela Barnes (Mock The Week, Live at the Apollo, 8 Out of 10 Cats Does Countdown and former chair of BBC Radio 4's The News Quiz) has good intentions but trying to live your best life, as it turns out, is really bloody hard.
Stand-up, stories and jokes from '...a gloriously down-to-earth, straight-talking and extremely funny comic' (Guardian). 'Well thought out, quick-fire one-liners are delivered by a down-to-earth and likeable stage persona' **** (BroadwayBaby.com). 'An extremely entertaining fresh slant' **** (One4Review.co.uk). 'Great punchlines galore' **** (EdFestMag.com).
Blood and Gold, Royal Lyceum Theatre Edinburgh - The Lyceum Studio, 11-28 Aug (no show 15, 22, 23 Aug), 18:00
Find out more
Ancient mythology and modern storytelling collide in a contemporary exploration of the legacy of colonialism and slavery by award-winning Scottish/Kenyan storyteller Mara Menzies.
A dying mother gives her daughter a box containing three clues to a priceless treasure. This sets in motion a journey filled with humour and tragedy that considers the importance of ritual, identity and belonging.
'An exquisite piece of storytelling performed with choreographic grace and a mesmerising delivery' **** (Guardian).
Breathless, Pleasance Courtyard - Bunker Two, 11-29 Aug (no show 17 Aug), 15:00
Find out more
What happens when the things we covet hide us from ourselves?
Opening up to new experiences in her late 30s, Sophie is exploring long repressed sides of herself. When a secret she's keeping from those she loves, and even from herself, threatens to unravel it all, she has to make a choice. Who or what will she decide to give up?
Breathless is a funny, honest and stylish exploration of the knife-edge of hoarding, from the joy, to the addiction and suffocating shame. From Laura Horton, Plymouth Laureate of Words, own experience of clothes hoarding.
Beware the Beasts, Scottish Storytelling Centre - Library at Fringe, 11 and 13 Aug, 10:45
Find out more
Scotland was once full of magical beasts, absolutely full of them: bog goblins, dragons, naughty fairies, brownies, bony-backed horsemen... all sorts.
For the last 200 years they've kept themselves to themselves but recently, with lockdown and humans quietly stuck in their homes, the beasts have become braver, now they're back.
For your protection, storyteller Shona Cowie introduces the most fearsome of these creatures, provides case studies from successful monster-evaders such as Granny and wee Jamie and will instruct you on the most effective ways to avoid being squashed, trapped in a rock or turned into a nugget.
You Know We Belong Together, The Lyceum, 25-27 August, 14:30 and 19:30
Find out more

You Know We Belong Together has just come to Edinburgh after its UK debut at London's Southbank centre. The show brings the untold stories of performers with Down Syndrome to life in a heartfelt and upbeat show, inspired by performer Julia Hales' passion for the classic Australian soap opera Home and Away. It's a joyful celebration of community spirit and a call for greater inclusivity from a community rarely represented on stage or screen. All set in the famous diner at Summer Bay!
General accessibility at Edinburgh Fringe
Find out more about accessibility, including Changing Places toilets, at Edinburgh Fringe.  
The Royal Edinburgh Military Tattoo, 5 - 27 August
Find out more
The Tattoo attracts thousands of visitors from around the world to the heart of Edinburgh, to the famous Edinburgh Castle Esplanade. As part of an ever-expanding and ambitious international programme, this unique display of creativity is trail blazing across the world. Enjoy exciting performers as they come together with other talented individuals from across the globe for this annual extravaganza.
Information on accessibility is available on the Tattoo website.