Euan Opens Accessible Playpark
On the 11th of June, our co-founder Euan MacDonald had the great opportunity to open a new playpark on Victoria Road in Lundin Links – with features which make it accessible to everyone! The new children's playpark features an accessible roundabout which Euan was delighted to test out during his visit to the park.
This new inclusive playpark is a positive step in the right direction. By designing buildings and playparks such as the one at Lundin Links with accessibility and the needs of disabled people in mind from the outset, access as well as inclusion is achieved. This park is designed to be fun for both disabled and non-disabled children, allowing them to interact and play together in a shared space. This mutual enjoyment makes it a truly inclusive space and a real breath of fresh air!
When Euan's Guide was founded, its mission was to open more doors for disabled people to explore new places and try new things. The Victoria Road playpark is a great example of this mission being realized, and we look forward to seeing more projects like this become a reality in the near future.
Fife is truly outperforming other areas when it comes to its accessibility offerings and their attitudes towards inclusivity. They have numerous highly rated accommodation options, a good number of changing places facilities and some great attractions accommodating different access requirements.
This new playpark has been a truly collaborative effort from the Park Development Group, the Council, LARCS and the local community. Our co-founder, Euan MacDonald was invited to give a speech at the opening of the new park and in it he praised those involved in making this project a reality. He said: "I'm obviously delighted that inclusion has been a priority in your planning. It's important that bit by bit the barriers that are placed in front of disabled people can be removed. All it takes is the right attitude and determination, which you have shown in abundance… I may be a bit big now for the swings, but I know this park will provide the kids here with hours of fun."
Children of all ages will be able to enjoy this playpark together, making new friends and play mates.
Will you be visiting the Victoria Road playpark? Don't forget to leave a review on Euan's Guide to let others know about your experience at the park.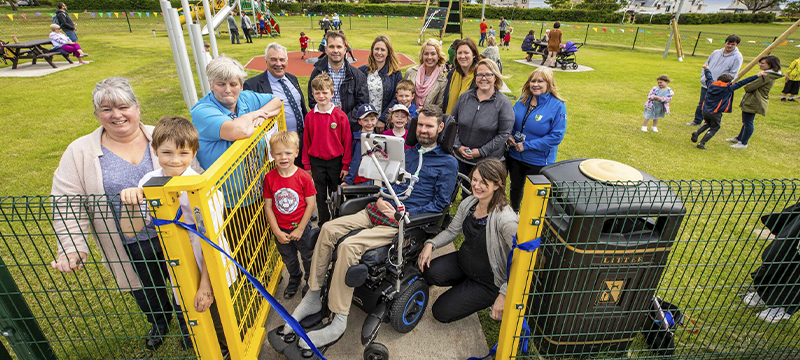 Photo of Euan MacDonald (centre), Kiki MacDonald (centre right), and others at the opening of Victoria Road playpark, Lundin Links.